Desperate to prove that Russia still has friends amid the ongoing war in Ukraine, the Kremlin is turning to African nations in hopes of finding an unexpected new ally.
On Monday, Russia's Foreign Minister Sergey Lavrov headed to South Africa to kick off his second African tour since the invasion of Ukraine began nearly a year ago. Lavrov's visit and his upcoming trips in February have been seen as a wider effort from Moscow to play offensive at African diplomacy.
The stop in South Africa has already signaled a shift, and hinted towards a possible new alliance for Russia. Despite previously calling on the Kremlin to withdraw from Ukraine unilaterally, South African Foreign Minister Naledi Pandor said the country was no longer taking that position as of Monday.
Pandor said to maintain that stance would "make me appear quite simplistic and infantile, given the massive transfer of arms [to Ukraine]," Reuters reported.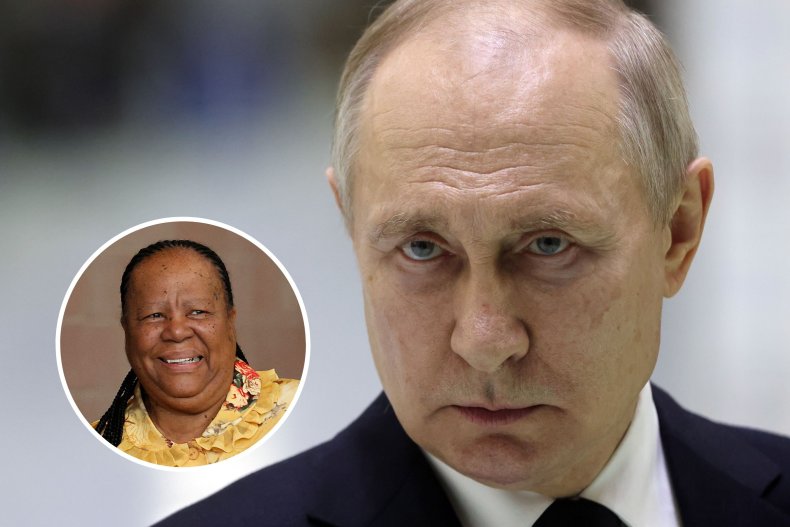 While her remarks are somewhat in line with South Africa's unusual position—the country has not formally condemned Russia's invasion of Ukraine—the outright reversal seemed to stun academics and experts.
Michael Kimmage, who previously held the Russia/Ukraine portfolio on the State Department's policy planning staff, told Newsweek that the new criticisms of Ukraine put the Russian narrative of the war on the world stage, showing the West that Putin does have supporters who, to varying degrees, are buying into their version of the conflict.
"Russia is eager to show the U.S., Europe and all the countries that are supporting Ukraine that Russia has a vigorous presence on the world stage, that it's welcomed in these kinds of places and that it's sort of life as usual," Kimmage said. "Russia is looking for pillars of support and finding none of them in Europe and the United States." So, he said the Kremlin is now looking to build those pillars wherever they can find them.
South Africa is a good starting point for Russia. William Reno, a political science professor at Northwestern University who also specializes in African conflict and warfare comparisons elsewhere, told Newsweek that the reason the South African government held the meeting with Lavrov in the first place is to signal displeasure with American sanctions.
Reno said rather than looking to align themselves with Moscow at the moment, South Africa is making a statement to what it sees as an overreach by the U.S. Treasury Department, and subsequently, an American effort to intimidate it into stepping in line with Western antipathy to Russia.
"These US policies strain relations with many African countries because they target Africans who do business with Russia," Reno said. "Russia's government recognizes that they can exploit this tension to their benefit," and pointed to the docking of a sanctioned Russian container ship at a naval port outside of Cape Town.
Because Russia is currently desperate for friends, Reno said the Kremlin is strengthening its ties to African countries like South Africa, Mali, Burkina Faso, and the Central African Republic.
"Moscow wants to show that even if the West tries to isolate it, it still manages to find trade and security partners who won't stop doing business with Russia because of its invasion of Ukraine," Eleonora Tafuro, a senior research fellow at the Russia, Caucasus and Central Asia Centre at the Italian Institute for International Political Studies, told Newsweek.
To African nations that were once European colonies, Russia has been able to position itself as an alternative, setting "a good political stage for Russian officials on tour in Africa," Reno added.
While Moscow's international efforts are unlikely to change the West's steadfast solidarity for Ukraine, if they are successful, it will give Kyiv, Washington, D.C., London, Berlin, and other Western governments reason to double down on their approach, Kimmage said.
However, whether Russia will be successful or not will ultimately depend on whether it is able to deliver on its economic promises and whether African states see cooperation with Moscow worthwhile, according to Tafuro.
"It can't be denied that big powers are increasingly trying to win Africa's hearts and minds as relations among themselves deteriorate," she said. "But ultimately, African governments and political elites are not just 'objects' of the policies of great powers. They shape those relationship as well."