Prince William and Prince Harry's relationship has been the focus of intensified media scrutiny in recent weeks with the publication of Harry's "raw" and "unflinching" memoir Spare, in which he set out to dispel the established public image that the two were inseparably close prior to his meeting Meghan Markle.
In the book itself and extensive TV interviews promoting it, Harry revealed just how strained his relationship with his older brother has become, recounting a breaking point in 2019 when William physically attacked him in an argument at Kensington Palace.
As the fallout from these revelations still occupies news coverage around the world, videos of the princes in happier times have circulated online. Two separate clips of the princes dancing on individual royal visits have gone viral on social media platform TikTok.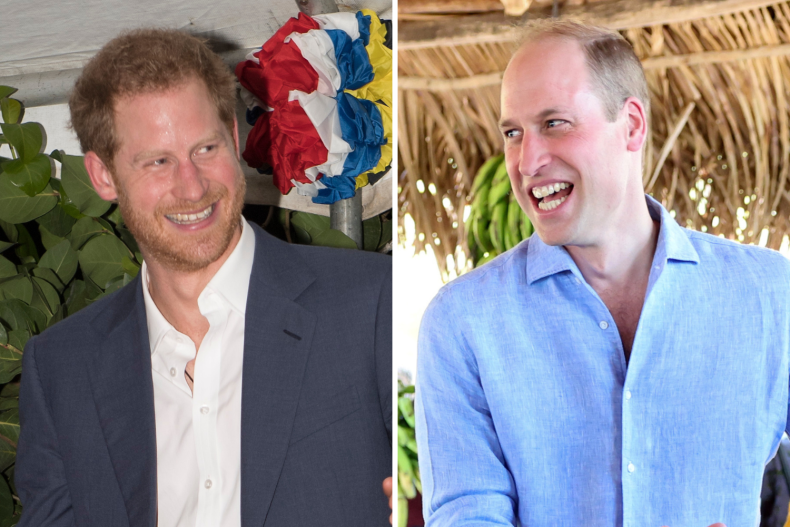 A video of William, uploaded to TikTok by user royalfamilyfanpage5, taken during his March 2022 visit to Belize in the Caribbean, has been viewed over 1.7 million times since it was uploaded on January 14, and receiving in excess of 170,000 likes.
The clip shows the prince participating in a traditional Garifuna festival on the second day of his Platinum Jubilee tour of the Caribbean with Kate Middleton. Though there were a number of light-hearted moments during their visit, including dancing together in Belize, the tour was met with several anti-monarchy and pro-reparation protests.
William's free and easy dance moves, played over the TikTok viral song "Bloody Mary" by Lady Gaga, have won praise from fans, one of who was moved to write: "Prince moves a little like shakira.. 😳😂😂 love it."
"Wow he's got the Moves," said one comment, while another added: "Okay Prince William….. we see those moves! 👀😏."
Alongside this video going viral, another of Prince Harry dancing while on a Caribbean visit in 2012 has also captured the attention of TikTok users.
Uploaded to the platform by the account stylechitect, the clip shows the prince during a say in Jamaica celebrating Queen Elizabeth II's Diamond Jubilee.
While visiting a youth project in downtown Kingston, Harry was asked to dance by a group gathered to welcome him, in front of the gathered news cameras the prince confidently took part before returning to sit with his hosts.
The video has been viewed over 200,000 times on TikTok, gaining in excess of 15,000 likes and 2,000 comments.
Similar praise has been heaped on Harry's dance moves as William's, with one user commenting: "Aye he got some moves 🤣."
"Can we make this a dance trend his moves are inspiring 😫😂💕," said another.
The video's caption: "Harry revealing he's responsible for 90% of Shenseea's 2022 streams," relates to a parody tweet, claiming that the prince gave the Jamaican music artist a shoutout in his memoir which soon went viral.
Shenseea herself responded to one of the tweets, saying that her hit song "Rebel" would likely be the prince's favorite.
"I know Rebel is his song! That intro is it," she said.
The brothers' Caribbean dance clips are not the only royal dance videos to be going viral on social media following the publication of Harry's Spare on January 10.
A section of the audiobook version—narrated by the prince—has been used as a sound by TikTok creators who have put it over videos of interpretive dances and clipped it together with hit pop songs such as Shania Twain's "Man I Feel Like A Woman."
The clip which has been widely circulated hears Harry describing his experience with penile frostbite following a 2011 trek to the North Pole.
James Crawford-Smith is Newsweek's royal reporter based in London. You can find him on Twitter at @jrcrawfordsmith and read his stories on Newsweek's The Royals Facebook page.
Do you have a question about King Charles III, William and Kate, Meghan and Harry, or their family that you would like our experienced royal correspondents to answer? Email royals@newsweek.com. We'd love to hear from you.