Prince Harry and Meghan Markle must decide whether to call a time-out on their royal bombshells after almost two years of high-profile public criticism.
The Duke and Duchess of Sussex first made damaging allegations against both the monarchy and Harry's family in their March 2021 Oprah Winfrey interview. Since then, they have continued their royal swiping, from Harry's appearance on the Armchair Expert podcast to his Apple TV+ documentary The Me You Can't See to Meghan's Archetypes podcast.
The decision to do the Winfrey interview came to be the defining moment of the Sussexes' first few years outside of the royal family, blowing open the rift between the couple and Harry's family. More recently, the couple took aim at the family in their Netflix docuseries, Harry & Meghan; Prince Harry's new memoir, Spare; and a series of interviews he did to publicize the book.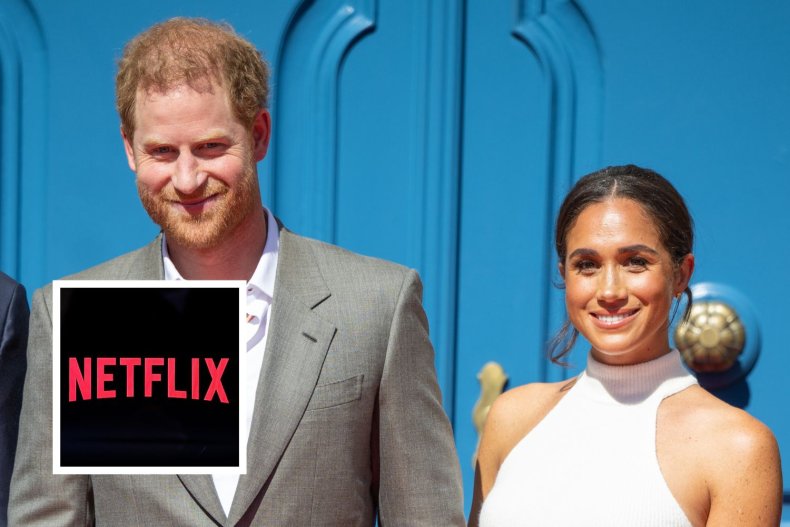 Back in December, even before the book tour, Andrew Wallenstein, president and chief media analyst at Variety Intelligence Platform, wrote that "it's well past time for Harry and Meghan 2.0."
His article in Variety said: "Just when the Duke and Duchess of Sussex would seem to be proving their enduring popularity, it's the very thing any media company in business with them should be questioning. That's because some skepticism is warranted regarding whether they've finally gone to the well one too many times with their oft-repeated tale of mistreatment at the hands of England's royal family."
Since then, Harry's book appears to have made a significant dent in how the couple is seen in the U.S. Both are down into negative numbers in their American net approval rating, according to exclusive polling done for Newsweek.
This comes at a time when they have finished a first round of projects. With the content provided for all of their major deals, including those with Netflix and Spotify, only one previously announced project is still to be released.
On Netflix, Heart of Invictus will document the journeys of competitors in Harry's Invictus Games, a tournament for veterans and military personnel who have suffered life-changing injuries or illnesses. It is slated for release this summer.
With a blank canvas now in front of them, the Sussexes' could go in a new direction from here. Still, their projects that criticized the royal family appear to have attracted by far the biggest audiences, compared with those that focused, for example, on their causes.
Harry's memoir is the fastest-selling nonfiction book ever, quickly racking up 1.6 million sales in America alone. Perhaps unsurprisingly, it outsold Meghan's children's picture book, The Bench, which moved 16,000 copies in its first week, according to Publishers Weekly.
Meghan's Spotify podcast, Archetypes, knocked Joe Rogan off the top of the Spotify charts when it was first released to a tidal wave of headlines, and early episodes included swipes at the royal family.
After Queen Elizabeth died in September 2022, the show took a break, and when it returned it pivoted away from more dramatic royal revelations. It also lost the top spot and did not claim it back again.
Harry & Meghan spent four weeks in Netflix's TV top 20 globally but the couple's less controversial project, Live to Lead, did not make the list at all.
Meanwhile, Meghan's children's animated project Pearl, which sought to shine a spotlight on inspirational women from history, was canceled before it was completed.
If the couple's U.S. popularity does not recover, Harry and Meghan may have to choose between commercial success and their reputations. Their Netflix and Spotify contracts were multiyear deals, meaning there is every reason to expect further projects. Unconfirmed rumors suggest Harry's deal with Penguin Random House may involve multiple books.
Spotify has had only one project that did not include Harry, leaving open the possibility that the prince will launch his own podcast.
The decision about which direction to go in next could define not only Harry and Meghan's 2023 but their lives for many years to come.
Jack Royston is Newsweek's chief royal correspondent, based in London. You can find him on Twitter at @jack_royston and read his stories on Newsweek's The Royals Facebook page.
Do you have a question about King Charles III, William and Kate, Meghan and Harry, or their family that you would like our experienced royal correspondents to answer? Email royals@newsweek.com. We'd love to hear from you.