Prince Harry and Prince William's Childhood Rivalry Goes Viral in Old Clip
Prince William and Prince Harry's childhood rivalry can be seen in archive footage of them playing with their mother, Princess Diana.
Clips of the royal brothers as children resurfaced on TikTok after Harry's book described a rocky relationship throughout their lives.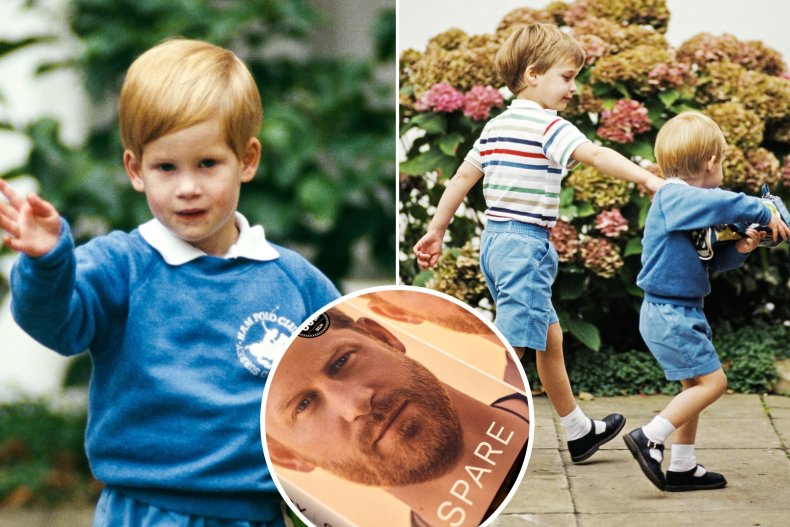 Among allegations, Spare said: "Willy told me to pretend I didn't know him" when Harry first started school and quoted the Prince of Wales saying: "You don't know me, Harold. And I don't know you."
A post on TikTok showed a montage of moments in the relationship between the brothers and has been viewed 1 million times and has almost 60,000 likes.
One clip shows Diana calling William, who does not come, leading to her saying: "OK, well, Harry will have all the fun then."
William, a young child at the time, shouts, "No," over and over again as he runs to Diana.
In the second, William appears to turn down the chance to hold a rabbit but then repeatedly asks, "Can I hold him?" as the bunny is given to Harry.
A third shows a TV clip of Harry on his first day at kindergarten posing for pictures and then walking away from Prince William.
The newsreader says: "The Princess of Wales made sure young Harry was center stage for the well-practiced wave. Then the elder brother tried to take charge, but Harry wasn't having any of it."
The video, by the account sussexmood, was captioned "Willy to Harry: 'I just want you to be Happy'" while the post itself read: "William was only doing what comes naturally."
The quote about William wanting Harry to be happy comes from a passage of Spare that describes a conversation between William, Harry and King Charles III after Prince Philip's funeral in April 2021.
Harry wrote: "He grabbed me again, twisting me to maintain eye contact. Harold, you must listen to me! I just want you to be happy, Harold. I swear… I swear on Mummy's life.
"He stopped. I stopped. Pa stopped. He'd gone there. He'd used the secret code, the universal password. Ever since we were boys those three words were to be used only in times of extreme crisis. On Mummy's life.
"For nearly twenty-five years we'd reserved that soul-crushing vow for times when one of us needed to be heard, to be believed, quickly. For times when nothing else would do," the passage read.
"It stopped me cold, as it was meant to. Not because he'd used it, but because it didn't work. I simply didn't believe him, didn't fully trust him. And vice versa."
Elsewhere in the book, Harry describes William bundling him to the ground and breaking his necklace during an argument about whether Meghan was "rude" and "difficult."
Harry wrote: "He set down the water, called me another name, then came at me. It all happened so fast. So very fast. He grabbed me by the collar, ripping my necklace, and he knocked me to the floor.
"I landed on the dog's bowl, which cracked under my back, the pieces cutting into me. I lay there for a moment, dazed, then got to my feet and told him to get out."
Jack Royston is Newsweek's chief royal correspondent based in London. You can find him on Twitter at @jack_royston and read his stories on Newsweek's The Royals Facebook page.
Do you have a question about King Charles III, William and Kate, Meghan and Harry, or their family that you would like our experienced royal correspondents to answer? Email royals@newsweek.com. We'd love to hear from you.