After weeks on the sidelines, former President Donald Trump waded into the hotly contested race to lead the Republican National Committee over the weekend, giving his endorsement to a candidate to try to clear the field and unite a divided Republican conference after weeks of bitter infighting.
Not for the incumbent, Ronna McDaniel, the embattled three-term chairwoman who has been shouldering the blame from the MAGA wing of the party for the GOP's underperformance in the 2022 midterm elections. Not for the favorite of the party grassroots—Harmeet Dhillon—who once represented Trump in court. Not even for MyPillow CEO Mike Lindell, the multimillionaire conservative hardliner who has spent swaths of his fortune looking to overturn Trump's 2020 defeat in courtrooms across the country.
Trump's endorsement was centered on the race for co-chair of the party, with his golden stamp of approval going to North Carolina Republican Party Chairman Michael Whatley, who helped deliver Trump narrow victories in the battleground state in 2016 and 2020 on the way to a number of significant state-level victories in November's midterms.
"In addition to leading North Carolina to tremendous success in the recent election, including the victory by Sen. Ted Budd, he has helped turn North Carolina, with my help, of course, red," Trump said in a statement announcing the endorsement. "Mike is MAGA all the way! He has been with me and real Republicans all the way, has helped America First candidates get elected, and will be a great Co-Chair of the RNC."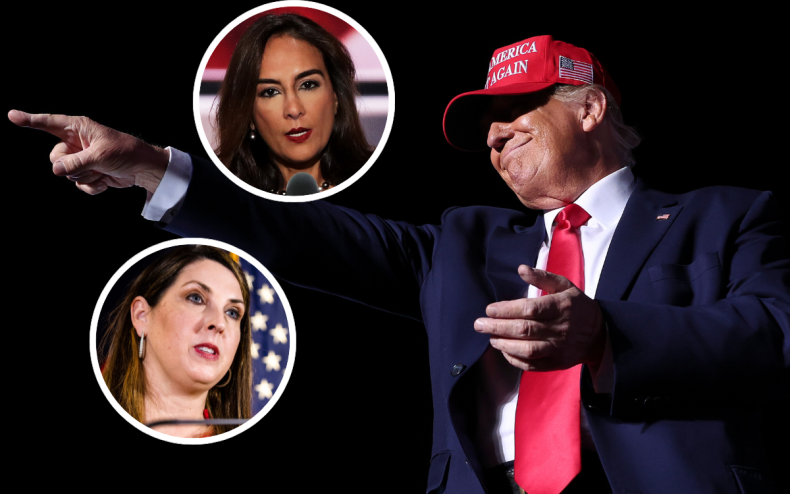 For some, the announcement was astonishing.
Trump had already declined to get involved in the race between McDaniel and Dhillon, saying "let them fight it out" when asked whom he supported in a recent interview on the conservative "Water Cooler" podcast. And Whatley, for all his conservative bona fides, is clearly in McDaniel's camp.
"We could not have flipped the NC Supreme Court over the last 2 cycles (from 6-1 Democrat to 5-2 Republican majority) without historic support from @GOPChairwoman and the RNC, as well as record-setting grassroots support from thousands of Republican Activists from across NC," Whatley tweeted on January 4 amid mounting discontent toward McDaniel from party activists.
For some, the endorsement was a betrayal of the movement Trump had arguably begun but had since abandoned in favor of a more establishment brand of conservatism.
"Whatley is Ronna ROMNEY McDaniel's choice to be her co-chair because he is a weak nobody she can control," tweeted John Cardillo, a former New York City police officer, Newsmax host and supporter of Florida Governor Ron DeSantis for president in 2024. "Trump is 100% behind Ronna. Just stop with your dumb '4D Chess' excuses. Trump is firmly establishment at this point. He's not the same guy he was in 2016."
Others disagreed, arguing that disputes between the MAGA wing of the party and the "Never Trump" wing—which McDaniel has been accused of courting to secure a win in the RNC chairmanship vote—were not as binary an affair as national media had depicted but merely dissatisfaction with leadership that has largely failed to deliver.
Whatley, they said, is not in that camp—even if he appears to support McDaniel.
"That's a dishonest talking point," Alex Bruesewitz, a pro-Trump political strategist and Dhillon supporter who had several heated exchanges with Cardillo over the last several weeks, told Newsweek. "That's not being spread by Harmeet's camp, it's being spread by DeSantis' camp. He's got a lot of these paid-for online allies that are wrongly saying that Trump is backing Ronna when he's publicly saying that he's staying out of it.
"It's important to remember that North Carolina was a swing state before Donald Trump. Donald Trump won that state twice. Who was the NCGOP chair during both of those victories? Whatley."
Even though McDaniel helped lead Republicans to a majority in the House of Representatives, the Senate went the other way—largely due to wedge issues like abortion and defeats in winnable races by candidates closely aligned with Trump. A loss is a loss, however, and McDaniel lost the right-wing base's confidence because of it.
"There is no case for Ronna McDaniel getting another term," Kurt Schlichter, a columnist for the conservative website TownHall, wrote Monday. "She did not get it done in her three chances to date, and there is no indication she will start getting it done in the future. Maybe she's a nice lady. Maybe not. I don't care. Nor should you. More importantly, the 168 committee members who will cast their secret ballot on 1/27 should not care either."
Some already appear openly hostile about another McDaniel term.
Over the weekend, the state Republican committees in Nebraska and Washington voted to back Dhillon for RNC chair, building on the discontent exhibited in states like Arizona, Texas and Florida, which all have sizable coalitions of anti-McDaniel members. In the latter, 71 members of the Florida Executive Committee reportedly took off work to hold a meeting separate from the pro-McDaniel state party leadership, where they informally voted 69-2 for new leadership at the RNC.
"Although the some in party leadership worked hard to suppress turnout & avoid a quorum, the group STILL met to vote," tweeted Anthony Sabatini, a former member of the Florida House of Representatives and member of the Florida GOP who organized the meeting. "Vote Result: a SUPER MAJORITY of the 71 voted to FIRE RONNA!"
A recent poll by the conservative Trafalgar Group conducted with Convention of States Action found that 86 percent of respondents supported Dhillon as their pick to become the new RNC chairperson.
"The era of the establishment is over," Convention of States President Mark Meckler said in a statement after the poll's release. "The grassroots are pushing back and making their voices heard. And—contrary to what Ronna McDaniel has stated publicly—the leadership of the RNC should ultimately reflect the will of the Republican voter and move Republicans forward at the ballot box."
McDaniel has denied allegations of dodging a debate with Dhillon on social media.
Facing allegations of misusing spending during the 2022 midterms and reported attacks on Dhillon's Sikh faith, McDaniel denounced what she claimed were misleading or false claims about her on former Trump adviser Steve Bannon's "War Room" podcast over the weekend, though she did not elaborate on how—or even what—lies were being spread about her.
"I'm running a unity campaign, and part of that is, as party chair, not attacking other Republicans," she told Politico in a wide-ranging interview over the weekend. "I just think that's what the Democrats want us to be doing."