Reports that classified documents were recently found at former Vice President Mike Pence's home have resulted in a new wave of pressure for Attorney General Merrick Garland to appoint a special counsel to investigate.
Pence's lawyer, Greg Jacob, told the National Archives in a letter that documents with classified markings were discovered in his Indiana home last week, according to the Associated Press, which obtained the letter.
Jacob wrote in the letter that the records "appear to be a small number of documents bearing classified markings that were inadvertently boxed and transported to the personal home of the former vice president at the end of the last administration," according to the AP.
The lawyer also said that Pence "engaged outside counsel, with experience in handling classified documents, to review records stored in his personal home after it became public that documents with classified markings were found in President Joe Biden's Wilmington residence."
The Pence classified documents discovery was the latest in a series of similar instances involving Biden as well as Donald Trump. As Jacob noted in the letter to the National Archives, classified documents have been found in Biden's possession, with some first discovered in November 2022 at his former office at the Penn Biden Center, a Washington, D.C., think tank. Later, more were found in his Wilmington, Delaware, home and in his garage.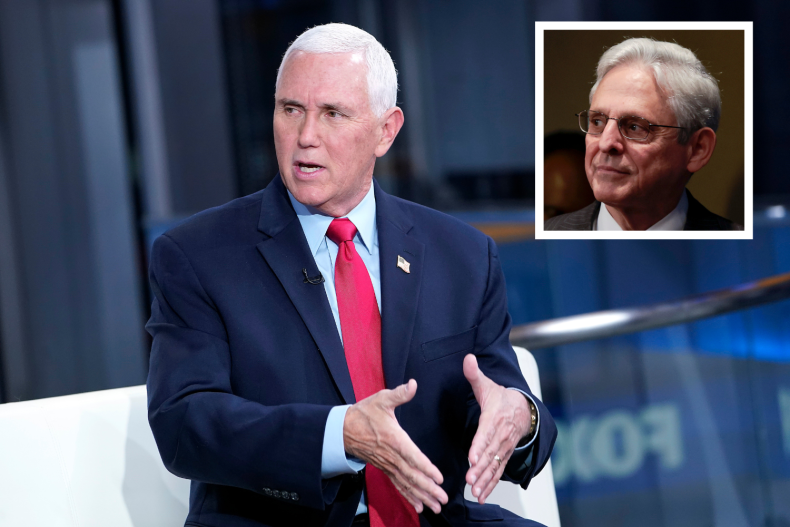 The FBI also discovered classified documents during a search of Trump's Mar-a-Lago home in Florida in August 2022. Trump has insisted that he did nothing wrong in regard to the documents.
Garland announced in late November that he was appointing prosecutor Jack Smith as special counsel in the Justice Department's investigation into the Mar-a-Lago documents. Smith is also overseeing the department's probe of Trump's actions in connection with the January 6, 2021, riot at the U.S. Capitol.
The time between the discovery of Biden's classified documents and Garland's appointment of a special counsel in the matter was quicker. The documents at the Penn Biden Center were found just days before the November midterms, according to an AP timeline, and the discovery was first revealed by CBS News and then other news organizations on January 9.
Garland then announced the appointment of special counsel Robert Hur on January 12, a move that angered some who believed the appointment was an attempt to appear politically neutral after the DOJ received strong criticism for its Trump probe.
Now, some on social media users say they want Garland to make another special counsel appointment, this time for the Pence matter. Twitter user @Trishalla2012 asked on Tuesday afternoon when Garland will hold a news conference to announce the appointment of a special counsel for a Pence probe.
Nathaniel Livingston, Jr. took to Twitter to share a report about the Pence documents and ask when Pence would get his own special counsel.
Another Twitter user, @kellie_carter, asked Garland in a post if he would seek a special counsel for Pence as quickly as he did for Biden.
Newsweek reached out to Jacob and the DOJ for comment.