An owner has shared the story of his cat who at 23 years old is the same age as his son.
Kitty Kat—full name Kitty Kat Margaret Anne Perry—arrived at the home of James and Jacqui Perry when one of their other cats brought her home as a kitten in its mouth.
It was the year 2000, and with a newborn baby, the family were amazed when the tiny cat appeared in their home.
"We fed her baby formula as she was not expected to survive according to our vet," owner James Perry told Newsweek. "To this day she is about half the size of a normal cat."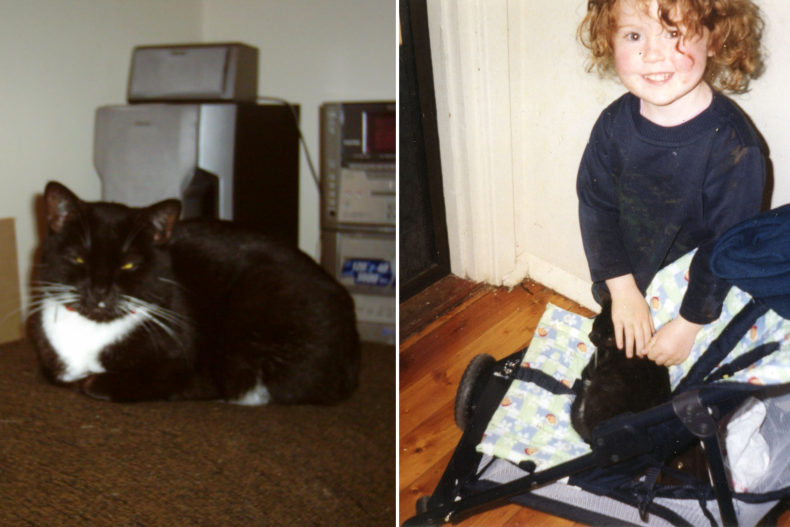 While they do not know her exact age, the family estimate that Kitty Kat is around the same age as their son—give or take a few weeks.
Perry explained that his daughter chose Kitty Kat's moniker: "She named her when she was two years old, and named another cat 'Pussy Cat' at the same time," he explained.
Kitty Kat instantly settled in although "she was always aloof when she was young," said Perry.
Because of her small size, she is often mistaken for a kitten, but at 23 years old, Kitty Kat has far surpassed the average life expectancy for a household cat which is around 12-14 years.
Cat life expectancy depends on many factors, including health, diet and environment.
The cat currently confirmed as the world's oldest is 27-year-old Flossie who lives in the U.K. In December 2022 Guinness World Records confirmed that Flossie, who was born in 1995, is the oldest living cat.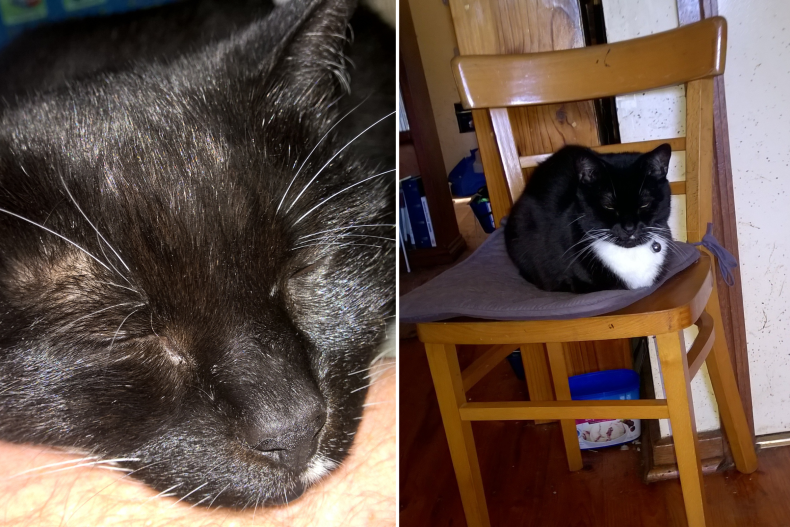 Flossie was signed over to a shelter in 2021 but has since found a new lease of life with owner Vicki Green who, at 27, is the same age as her new pet. Flossie's age equates to an incredible 120 human years.
Kitty Kat spends most of her time enjoying home comforts.
"[She] has a favorite pillow she sleeps on when not cuddling me," said Perry. "On the floor there are pillows for her to land on now as she is a bit elderly.
"During [the] winter she cuddles against my chest and against my neck to sleep. She loves her pouches of food in gravy, of course. Also lightly cooked fish, chicken and rice that I cook first. She still plays with her ball on a string toy for short periods with me."
Perry's 23-year-old son grew up with Kitty Kat, and is now happily married with two adopted cats of his own.
While nobody knows how much longer Kitty Kat will be around, Perry is determined to make the most of the time they have.
"I will miss her when she leaves me, but being a fighter, I think we'll have at least one more Christmas together," he said.
Do you have funny and adorable videos or pictures of your pet you want to share? Send them to life@newsweek.com with some details about your best friend and they could appear in our Pet of the Week lineup.