Over 100 Russian Soldiers Buried Under Rubble After Strike on Base—Ukraine
Ukraine's forces have said they launched a strike on a base and field hospital where Russian troops were being housed with Ukrainian sources saying on Twitter that more than 100 people had been left under the debris.
On Sunday, the Ukrainian military's Strategic Communications Directorate (AFU Stratcom) reported that its forces had launched a strike on the building of the hospital of a former-machine building plant in the Russian-occupied town of Kadiivka, around 30 miles south of Lysychansk.
AFU Stratcom said the former hospital had been housing Russian soldiers, particularly those linked to Chechen leader Ramzan Kadyrov, who has criticized Moscow's war commanders.
"The former dispensary of a machine-building plant was struck with high-precision weapons," Ukraine's armed forces said in a Telegram post which described how the site had been turned into a location for Kadyrov's soldiers. "They won't do it again," added the post, according to a translation.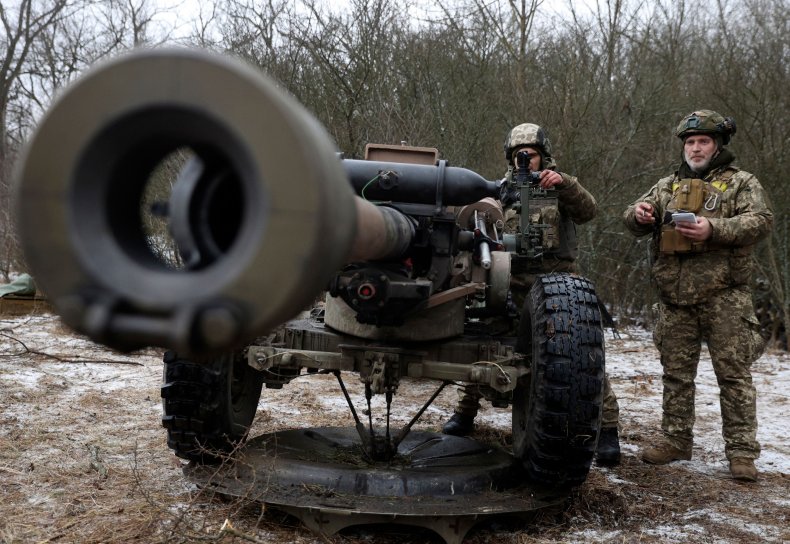 Twitter user Slavko Slovkovich, who writes about Ukrainian gains in the war, tweeted on Monday, according to a translation, "the occupiers' base and field hospital were destroyed in Luhansk region. It is reported that under the debris there are more than a hundred people." With the message were images of a destroyed building which were also shared by other Twitter users.
The Twitter account of "Citizen of Ukraine", which touts the successes of Kyiv's forces, referred to the strike on the hospital, writing, "They say, 200 soldiers have finally got their black plastic bags."
Russian-controlled militants in Luhansk Oblast admitted the Ukrainian attack on Kadiivka and that a Ukrainian HIMARS strike on Saturday had destroyed the dispensary of the plant, the Kyiv Independent reported.
There were no independent reports on casualties in the reported strike and no confirmation of the attack or death toll from Russia.
Newsweek has contacted the Ukrainian and Russian defense ministries for comment about the claims.
They come as the governor of Donetsk Oblast Pavlo Kyrylenko said on Monday that Russian blasts had injured four civilians over the past day. Three people were injured in Bakhmut and one in Avdiivka, Kyrylenko said in a Telegram post.
Earlier this month, Russia admitted to its worst ever reported loss, after it said Ukraine forces struck a base in the occupied town of Makiivka in the eastern Donetsk region where Russian soldiers were stationed. Russia's Defense Ministry said then that Ukraine rocket attacks on one of its bases killed 63 soldiers on New Year's Eve.
The casualty count was the single largest incident loss Russia has recognized since President Vladimir Putin launched a full-scale invasion in Ukraine on February 24.
The General Staff of Ukraine's Armed Forces said in a briefing on Monday that Moscow is sending additional troops to occupied parts of Kherson Oblast.
They had arrived in the Vynohradove and Brylivka settlements between January 18 and 21 equipped with small arms and bulletproof vests although they did not arrive with any military equipment, according to Kyiv.
Meanwhile, Russia's Defense Ministry said on Sunday that troops from its Western Military District inflicted damage on Ukrainian units in the Kharkiv and Luhansk oblasts and that Kyiv's forces had suffered losses of more than 130 in strikes, RIA Novosti reported.
Kherson Oblast Governor Yaroslav Yanushevych said Russian troops attacked Kherson Oblast 25 times using artillery, multiple launch rocket systems (MLRS), mortars, and tanks, leaving three people wounded.
Russian attacks were also reported in the Sumy, Dnipropetrovsk, and Zaporizhzhia regions, according to local authorities.