Oklahoma Backtracks on 'Unsustainable' Plan to Execute One Inmate a Month
Oklahoma's Court of Criminal Appeals on Tuesday granted a request by the state's new attorney general to slow down the pace of upcoming executions.
Last year, John O'Connor, Oklahoma's former attorney general, asked the court to set 25 executions spaced about a month apart. The state's new attorney general, Gentner Drummond, filed a motion last week requesting at least 60 days between executions, arguing that carrying out an execution a month was not sustainable.
"One aspect that has become clear over time is that the current pace of executions is unsustainable in the long run, as it is unduly burdening the [Department of Corrections] and its personnel," Drummond wrote in his motion. "This is especially true given the extensive and intensive nature of the training DOC personnel undergo to prepare for each execution."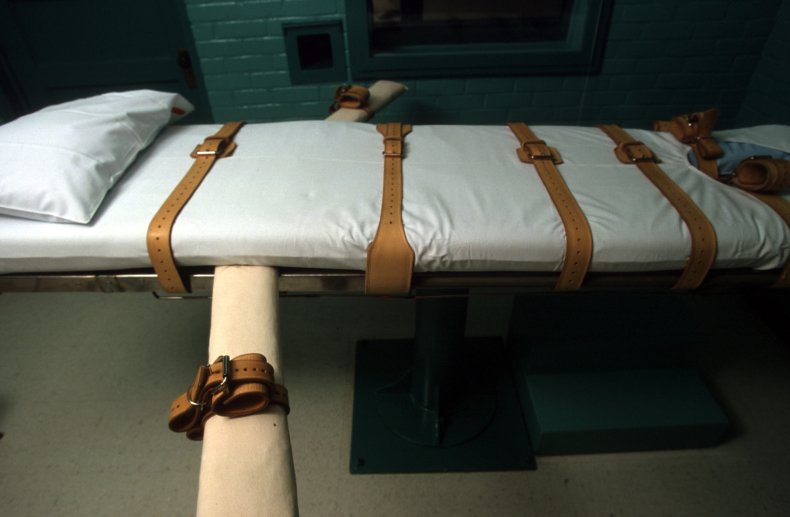 On Tuesday, the court issued an order resetting execution dates for seven death row inmates, starting with Richard Glossip on May 18.
The court also set execution dates for Jemaine Monteil Cannon on July 20; Anthony Castillo Sanchez on September 21; Phillip Dean Hancock on November 30; James Chandler Ryan on February 1, 2024; Michael DeWayne Smith on April 4, 2024; and Wade Greely Lay on June 6, 2024.
Execution dates for other death row inmates who have exhausted their appeals will be set "at an appropriate time in the future," the court said in the order.
In a statement, Glossip's attorney, Don Knight, told Newsweek: "We deeply appreciate the efforts of Attorney General Drummond to recognize that the current pace of executions is unsustainable."
Drummond said he was grateful for the court's decision in a statement on Tuesday. "This decision will help maintain confidence in our protocol in this solemn and important process," he said.
He continued: "The dedicated individuals of the Department of Corrections will continue their rigorous training and preparations for upcoming executions. As I have stated before, this was not a request I took lightly. Victims' families have waited many years to see that justice is done, and I am thankful for their understanding."
Drummond said he filed the motion after meeting with DOC leaders and staff and family members of victims. He made the request after attending Scott Eizember's execution on January 12—the eighth that Oklahoma has carried out since resuming lethal injections in October 2021.
A de facto moratorium on capital punishment followed problems with executions in 2014 and 2015. Glossip was just hours away from being executed in September 2015 when officials realized they had received the wrong lethal injection drug.
It later emerged that the same wrong drug had been used to put Charles Warner to death earlier that year. The drug mix-ups followed the botched execution of Clayton Lockett in April 2014.
The moratorium ended with the execution of John Grant on October 28, 2021. Witnesses said he convulsed repeatedly on the gurney and vomited before he was declared dead.
After a federal judge rejected a challenge to the state's lethal injection protocol last June, Oklahoma's Court of Criminal Appeals in July set execution dates for 25 inmates.
James Coddington, the first of those inmates to be put to death, was executed on August 25, followed by Benjamin Cole on October 20, Richard Fairchild on November 17 and Eizember on January 12.
Although these took place without any reported problems, a record number of "botched" and failed executions took place in 2022, according to a report by the nonprofit Death Penalty Information Center. Seven of the year's 20 execution attempts were "visibly problematic," the report said.