Nikki Haley announced her 2024 presidential bid Tuesday with a video. She followed it up with her first campaign rally in Charleston, South Carolina, on Wednesday, walking out and waving to a cheering crowd as the song "Eye of the Tiger" played.
Haley, who formerly said she wouldn't run for president if Donald Trump decided to run again, announced her campaign after months of speculation that the Republican and former South Carolina governor would decide to throw her name into the race.
As part of her campaign kick-off, Haley held a rally in her home state that included "Eye of the Tiger" by Survivor. Republicans have a troubled history with the song, with several politicians facing legal trouble for using it without permission.
Jim Stewartson, co-host of the podcast Radicalized: Truth Survives, tweeted about Haley's use of the song and included a summary pulled from Wikipedia of other Republican politicians who were sued by Survivor for using the song without permission.
"Nikki Haley picked 'Eye of the Tiger' for her theme song because she's a survivor who wants the thrill of the fight and stands up to the challenge of her rivals I guess. Anyway, I hope Survivor sues her like every other Republican who tried it," Stewartson tweeted Wednesday.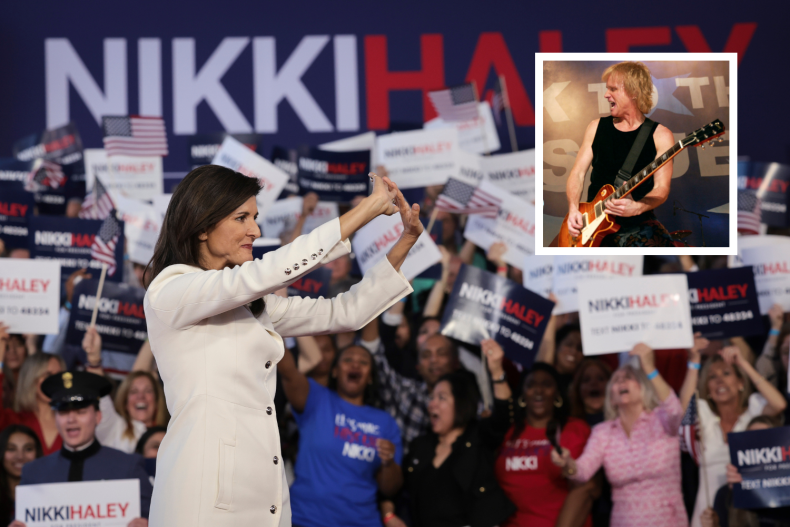 Other Republicans who have faced legal trouble for using the song include Newt Gingrich, Mitt Romney and Mike Huckabee. All three politicians used the song during their political rallies and were later sued.
The lawsuit was settled out of court in the Gingrich case, and Romney agreed to stop using the music in his rallies. Huckabee also settled his lawsuit out of court with founding band member and guitarist Frankie Sullivan, who co-wrote the song.
In a Rolling Stone article, Sullivan said he was frustrated by the situation when Huckabee used the song without permission.
"I do not like mixing rock 'n' roll with politics; they do not go hand in hand," Sullivan told Rolling Stone for the 2015 article. "What upset me most [about Huckabee's use] was that, once again, my song was being used to further a political agenda—and no one even bothered to ask for permission."
Other Twitter users also were keen to point out Republicans' troubled history with using the song.
"Wanna bet Nikki Haley didn't have permission to use 'Eye Of The Tiger' as her campaign music? Mike Huckabee was forced to pay Survivor $25,000 after using the song at a rally for anti-gay clerk Kim Davis," a user tweeted.
Several others replied to the tweet, poking fun at the Republican for using the song and writing that they hoped the band sued Haley.
Newsweek reached out to Survivor and Haley for comment.