Republican presidential candidate Nikki Haley was met on Friday with chants for former President Donald Trump, who is also running for president in 2024, after she delivered a speech at the Conservative Political Action Conference (CPAC).
A number of videos and pictures circulated on Twitter showing Haley surrounded by crowds and taking selfies with her supporters while "Trump!" and "We love Trump!" chants broke out, according to Jess Bidgood, senior national political reporter at The Boston Globe.
"This appearance at CPAC was real test of Nikki Haley's popularity in the wider party. But it probably didn't go as well as she would have hoped. It was a polite rather than warm reception," wrote Alan Fisher, an Al Jazeera English correspondent, on Twitter.
Haley, the former governor of South Carolina, said during her Friday speech that the fact that Republicans struggled to win the popular vote in recent elections indicates that the party needs a change in leadership. The GOP lost the Senate majority to Democrats in the midterm elections last year, but narrowly won the majority in the House of Representatives, whose speaker is Kevin McCarthy.
"If you're tired of losing, put your trust in a new generation and if you want to win not just as a party but as a country then stand with me. I am here to ask for your vote, but I want something else even more. I want us to inspire our country again," Haley told attendees at CPAC.
In her speech, the Republican candidate also criticized the way the Biden administration is handling national debt and claimed that "socialist" Democrats will not stop when it comes to "destroying our freedom."
"I am running for president to stop America's downward spiral towards socialism and end the self-loathing that has taken over our country. I am running for president to renew an America that is strong and proud, not weak and woke," said Haley, who also served as the U.S. ambassador to the United Nations under Trump.
Haley's presidential bid announcement came after she said in April 2021 that she wouldn't run in 2024 if Trump ran, the Associated Press reported at the time.
"I would talk to him about it. That is something that we'll have a conversation about at some point if that decision is something that has to be made," she said.
Some cheers can be heard among the crowd throughout Haley's speech on Friday, but she appears to be less popular in the polls compared to Trump and Florida Governor Ron DeSantis, who hasn't announced yet if he'll run for president in 2024.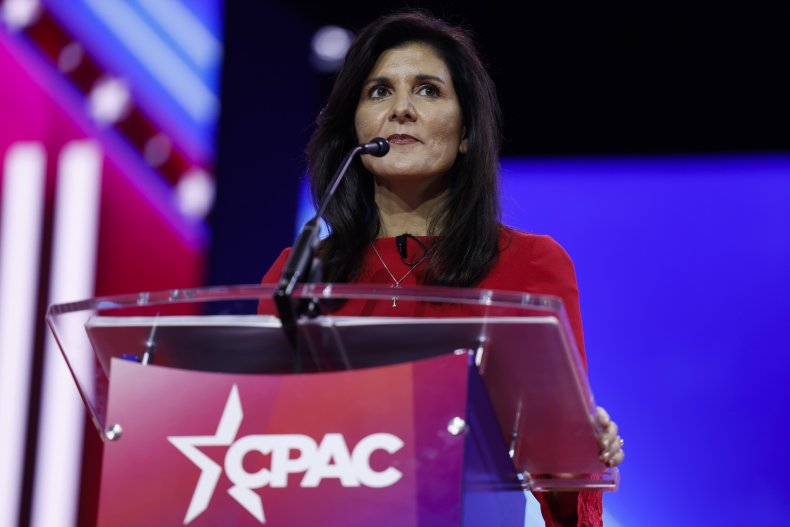 What the Polls Show
A Yahoo News/YouGov poll that was published this week showed that Trump is ahead of DeSantis, who is viewed as the former president's strongest opponent for the GOP nomination.
The survey found that in a head-to-head matchup, Trump leads DeSantis among Republicans and Republican-leaning independents with 47 percent compared to the governor's 39 percent. A further 13 percent said they weren't sure.
Trump was also leading in a Fox News poll conducted from February 19-22. He was ahead by 15 percent voter support over DeSantis, and 36 percent over Haley. The poll, which surveyed 1,006 registered voters, did not show its margin of error.
Additionally, in a recent Remington Research Group poll, Haley received only 8 percent of support from likely voters compared to 38 percent who plan to back Trump in 2024. The poll was conducted between February 8 and 9, surveying about 820 likely voters.
Trump's Response to Haley Running in 2024
The former president has welcomed Haley's presidential bid and said in a recent interview with Fox News that he is "glad she's running," and added "the more the merrier."
"I'm glad she's running," he said. "I want her to follow her heart—even though she made a commitment that she would never run against who she called the greatest president of her lifetime."
Newsweek reached out to Haley's press team for comment.