Embattled Representative George Santos' favorability rating among New York Republicans in a new poll rivals President Joe Biden's low rating among the GOP in the state.
The Siena College survey, released Monday, polled registered New York state voters and found a similarity in how New York Republicans view the GOP congressman and Biden, despite their different parties.
Among those polled, 13 percent of New York Republicans said they had a favorable opinion of Biden. Another 86 percent said they had an unfavorable view of the Democratic president.
As for Santos, a slightly higher number, 15 percent, of New York GOP voters said they had a favorable view of him. Another 56 percent said they had an unfavorable view of Santos, while the remaining 29 percent said they didn't know or had no opinion.
A majority, 59 percent, of all New York voters surveyed in the Siena College poll said that they believe Santos should resign.
Santos was elected to represent New York's 3rd Congressional District in this past November's midterms, but his short time in the House has been filled with controversy. After a New York Times investigation found falsehoods, discrepancies and misleading statements in his résumé, Santos admitted to "embellishing my résumé" in an interview with the New York Post.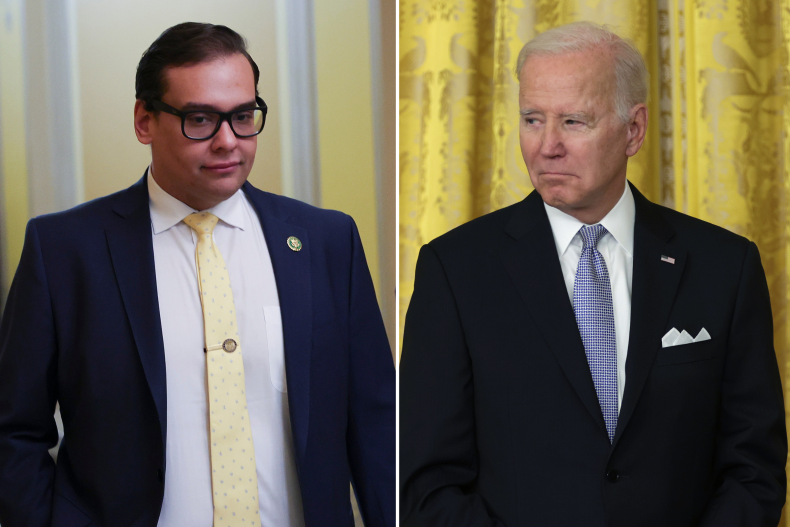 But that was only part of a string of revelations that have shed a negative, or at least confusing, light on Santos. He wrote in a July 2021 Twitter post that "9/11 claimed my mother's life," but his official campaign website said his mother survived the attacks on the World Trade Center that day even though she was in the South Tower at the time. Santos' website said that she died of cancer a few years later.
A disabled veteran from New Jersey told Patch in an interview published last week that Santos, who was running a pet charity at the time, helped him raise money for his dying dog and then disappeared with the funds. Santos responded by tweeting that "reports that I would let a dog die is shocking & insane."
Democrats, and even some Republicans, have called on Santos to resign over the résumé controversy, but he has pushed back against these suggestions.
"I was elected to serve the people of #NY03 not the party & politicians, I remain committed to doing that and regret to hear that local officials refuse to work with my office to deliver results to keep our community safe and lower the cost of living," he wrote in a January 11 tweet. "I will NOT resign!"
This was after officials with the Nassau County Republican Party demanded that Santos immediately step down.
Newsweek reached out to Santos' office for comment.