'New World Order' Remarks at Davos Spark Flood of Conspiracy Theories
Remarks by Pakistan's Foreign Minister Bilawal Bhutto Zardari at Davos about a "new world order" have sparked a deluge of conspiracy theories online.
Friday marked the last day of the World Economic Forum in Davos, Switzerland where billionaires, politicians, business leaders and celebrities congregated in the Swiss Alps to discuss global challenges. The annual summit is a playground for the global elite and is therefore ripe for conspiracy theories.
Zardari, 34, was speaking on a panel on Friday entitled "A New Helsinki," in reference to the Helsinki Final Act of 1975, a major diplomatic agreement signed during the détente era between 35 countries agreeing on issues including sovereign equality, peaceful settlement of disputes and territorial integrity. Zardari is the youngest foreign minister in Pakistan's history.
The panel intended to work out how countries can cooperate and contain tensions even in a factious and fluid geopolitical situation.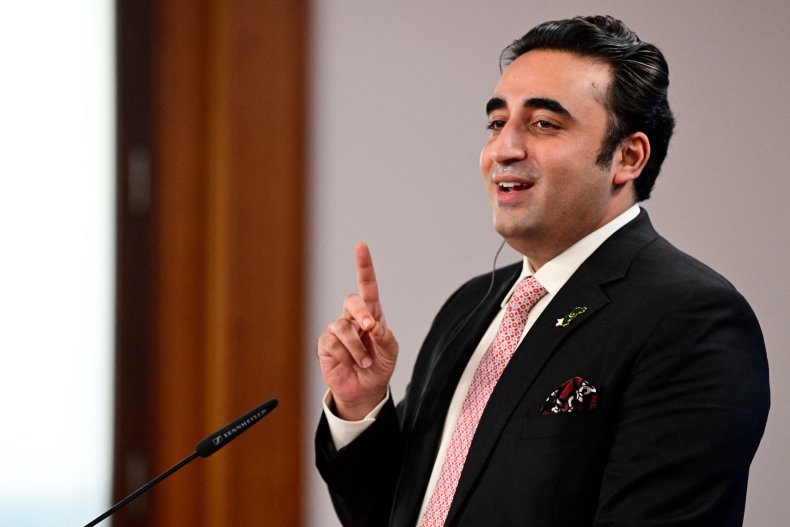 "Here at WEF…there's a lot of discussion about what the new world order will be or how, even in the context of a 'new Helsinki'…how do we work towards that new normative international order that allows us to address our differences and disputes as the civilized world," Zardari said.
"I believe perhaps we are at the moment we are in such a hyper-partisan, hyper-polarized time that we're not going to be able to form that new Helsinki today, but I hope going forward we are able to, I mean we must form and improve our normative and international institutional order internationally so that we can address these complaints," he said.
"I hope this time around, once we're building this new world order or new rules-based order, the voice of the global south and the developing world is included."
At the beginning of the panel, Tanja Fajon, Slovenia's minister of foreign affairs, complained about countries placing their own sovereignty over the interests of the "world order." She used Russia's invasion of Ukraine as an example.
Drew Hernandez, a conservative commentator and conspiracy theorist, tweeted a video of Zardari's remarks, along with the caption: "The WEF declares they must establish a NEW WORLD ORDER They also openly acknowledge they may not be successful establishing a NWO right now due to times being "hyper partisan and polarized" but are hopeful to establish it in the near future."
Replying to Hernandez's post was a user posting conspiracy theory-based videos with WEF founder Klaus Schwab, Ukrainian President Volodymyr Zelensky, U.S. President Joe Biden, and former White House chief medical officer Dr. Anthony Fauci, who is often the subject of such theories.
Another person tweeted: "No ones pointing who will run this One World Government, we know who it is, [Saudi Arabia Crown Prince] Mohammed bin Salman the 1st beast of Revelation once he confirms the Abraham Accords with Israel the final 7 years will begin, during middle he will be killed and rise with Judas."
One Twitter user wrote: "Sounds like they are planning a new crisis to try and take over, like crashing the world economies and blaming it on cyber terrorism."
It's not the only conspiracy theory to come out of Davos this year. Before the event even began, the News Punch website, which has published stories based on conspiracy theories, erroneously claimed that WEF had said that "pedophiles will save humanity" and that WEF Chairman Klaus Schwab allegedly had called pedophilia "nature's gift" to humanity, which a WEF spokesperson called "completely made up."
Newsweek reached out to the World Economic Forum for comment.