The Ukrainian Defense Ministry calculates that deaths of Russians during the war keep mounting at a rate higher than earlier in the war. The amount of Russian deaths is almost at 3,000 just over the last four days, Ukraine reports.
The defense ministry on Sunday listed 600 Russians killed, which brings the four-day total to 2,290 Russian casualties. Russia has now lost an estimated 120,760 soldiers since the war began in late February 2022.
Ukraine President Volodymyr Zelensky during his New Year's address to the nation said Russia is "afraid" and that he senses "fear."
"They are afraid. You can feel it. And they are right to be afraid. Because they are losing. Drones, missiles, anything else will not help them. Because we are together. And they are together only with fear," Zelensky said.
Russia's war of aggression in Ukraine is nearing the 11-month mark. Russia invaded Ukraine on February 24 (2022), but failed to take the capital of Kyiv, getting pushed back by Ukrainian fighters. Ukraine fighters have also shown a staunch defense in northern cities like Kharkiv, where they have pushed Russian troops back toward the nearby border.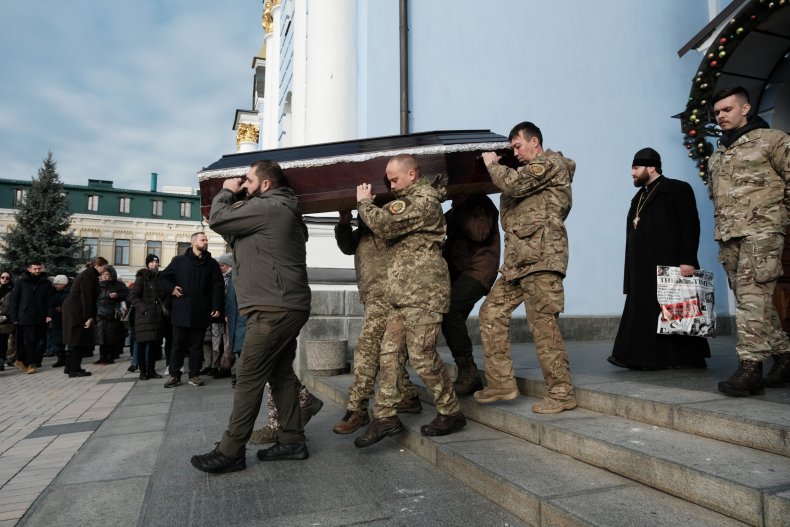 Russia, despite many losses in the war entering its 49th week, has shifted focus to eastern and southern Ukraine. That includes a strong presence in the Black Sea.
Ukraine is gaining more support from the West, particularly from the United States and Germany for tanks and new air defense systems that can protect the country from Kh-22 missiles, like the ones that destroyed Dnipro a week ago.
Ukraine's office of the Prosecutor General said it was Russia's 52nd Guards Bomber Aviation Regiment.
"According to preliminary information, the Kh-22 missile was used. This type of missile leads to the greatest human casualties, because the missile is extremely inaccurate, has a huge deviation. Therefore, the use of such weapons for targets in densely populated areas is clearly a war crime," the Ukraine office said in a Telegram post. "This type of rocket was used in Sergiivka and Kremenchuk. It can be launched by a single Russian unit – the 52nd Guards Bomber Aviation Regiment."
The Kh-22 missiles were largely responsible for massive destruction and deaths Saturday in Dnipro, located in the contentious Eastern Ukraine, where Russia has already occupied many territories and battles to save that territory.
Ukrainian President Volodymyr Zelensky last Saturday released a video that showed a nine-story apartment in Dnipro that had been reduced to rubble, killing at least five people.
"Eternal memory to all whose lives were taken by [Russian] terror! The world must stop evil. Debris clearance in Dnipro continues. All services are working. We're fighting for every person, every life. We'll find everyone involved in terror. Everyone will bear responsibility. Utmost," Zelensky wrote.
Newsweek reached out to the Russia's Defense Ministry for comment.