Approximately just one-fifth of the former Russian prisoners recruited to fight against Ukraine as part of the Wagner Group remain, according to a Russian journalist.
Olga Romanova, head of the Rus Seated charity foundation, said in a YouTube video published by the My Russian Rights project that the private military company (PMC) headed by Russian financier and longtime Vladimir Putin ally Yevgeny Prigozhin had recruited in the range of 42,000 to 43,000 prisoners by the end of last year.
That tally has most likely surpassed 50,000 fighters in the present state of the war, she said, according to a translation from news outlet Meduza. But of those approximate 50,000 soldiers, only "10,000 are fighting at the front, because all the rest are either killed…or missing, or deserted, or surrendered."
She also suggested that Prigozhin does not keep statistics on missing or defected prisoners, instead writing off such soldiers as deceased whether or not it's factual.
Meduza reported on Friday about a woman who received an empty coffin from the Wagner Group, though she was unaware it was empty at the time.
Following a burial service for her husband this winter, the woman—cited by the alias of Angelina—told media outlet TV Rain, or Dozhd as it is known in Russian, that she found out her husband was still alive and fighting in Ukraine.
The woman also said she found out her husband, who had been serving a sentence in an unspecified Russian penal colony, was fighting for the Wagner Group only because the relative of another convict had informed her.
She added that she doubted her husband joined the cause voluntarily because "he treated Ukraine well."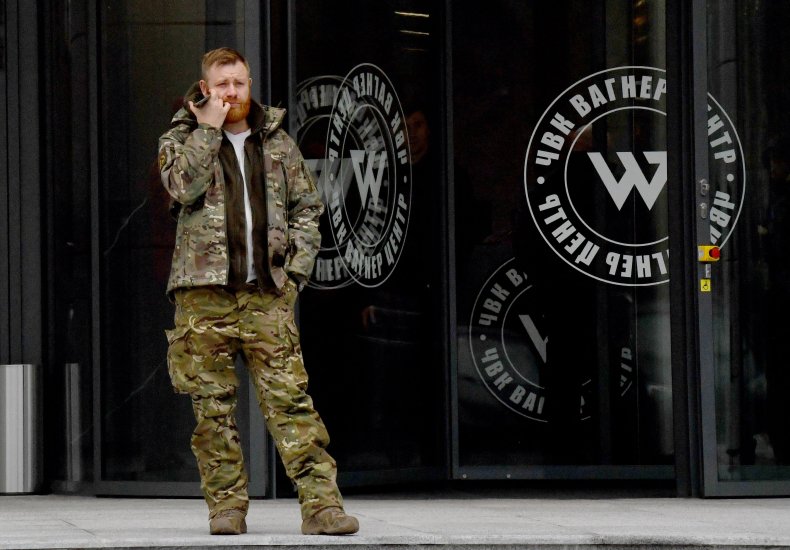 After beginning his assignment in the fall, the woman said her husband stopped communicating by the winter. She later received a call from the Wagner Group itself, informing her that her husband was allegedly killed in the Bakhmut region of Ukraine.
Her family was later given a closed zinc coffin, medals, a certificate of honor and a death certificate.
"They told us that there was no need to open the coffin, because before sending [fighters to the war], they take some DNA, and when the corpses are found, they compare them," said the woman. "They told us that they gave us a 100 percent guarantee that it is him."
Claims of a mostly depleted force comprised of prisoners and mercenaries accompany new reports of tension between Prigozhin and Putin, due to the group not living up to its advertised military prowess.
The Institute for the Study of War (ISW) said Prigozhin's "star has begun to set" after failed promises of capturing the Donetsk city of Bakhmut.
"Prigozhin's comments reflect a cowboy approach to war that is unsuited to the development and maintenance of an effective large-scale and disciplined modern military," ISW reported in one assessment.
Prigozhin has even taken matters into his own hands to dispute a statement on Friday from White House national security spokesman John Kirby that the Wagner Group had been designated a "transnational criminal organization."
"Could you please clarify what crime was committed by PMC Wagner," Prigozhin wrote in a short letter in both English and Russian that was shared on his Telegram social media channel.
Newsweek reached out to the Russian Foreign Ministry for comment.