M&M's on Monday responded to criticism from right-wing outlets about being "woke" by announcing an "indefinite pause" on its "spokecandies."
In a statement, M&M's said its candy mascots will be replaced for the time being by Maya Rudolph, a comedic actress who has expressed liberal opinions in the past.
The parent company for M&M's—Mars, Incorporated—first announced "inclusive" changes were coming to the spokescandies in January 2022. The most noticeable changes involved the shoes worn by the mascots.
The Orange mascot's shoes were no longer untied, while Brown received lower heels. But the biggest change, which drew the ire of the right, was that Green's go-go boots were swapped for sneakers, and a Purple mascot was recently introduced.
Fox News host Tucker Carlson condemned what he called "woke M&Ms" in a broadcast, while Fox News anchor Martha MacCallum and The Daily Wire's Ben Shapiro also ridiculed the new look of the candy-covered chocolates.
"In the last year, we've made some changes to our beloved spokescandies," M&M's said in a statement. "We weren't sure if anyone would even notice. And we definitely didn't think it would break the internet. But now we get it—even a candy's shoes can be polarizing. Which was the last thing M&M's wanted since we're all about bringing people together."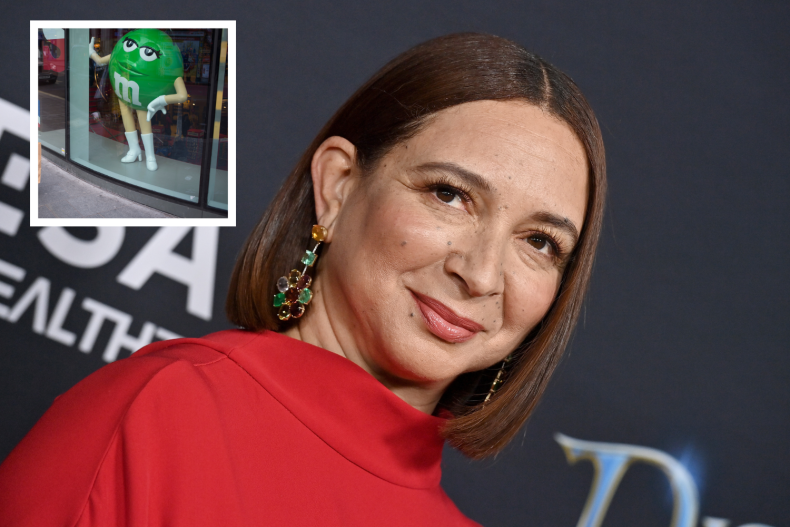 The statement continued, "Therefore, we have decided to take an indefinite pause from the spokescandies. In their place, we are proud to introduce a new spokesperson America can agree on: the beloved Maya Rudolph. We are confident Ms. Rudolph will champion the power of fun to create a world where everyone feels they belong."
Earlier this month, Carlson speculated during a segment of his show that the Green M&M "apparently is now a lesbian," and he called the new Purple M&M "plus-sized" and "obese."
Also angry about M&M's was conservative author Nick Adams, who was upset about Mars releasing special packaging for the candy featuring only female mascots. (Some of the profits for that limited-edition line of M&M's went to organizations that support women in creative industries.)
"I am DONE with M&M's! Not one M&M will pass my lips until Mars issues a formal apology and releases an all-male package of M&M's to demonstrate their commitment to gender equality," Adams tweeted with his video. "These female M&M's are a slap in the face to men everywhere. We MUST band together and boycott!"
Thus far, none of the right-wing personalities upset about M&M's have commented on Rudolph stepping in as the new spokesperson for the candy. However, Rudolph has shown her support for prominent Democrats in the past.
In a 2015 interview with Yahoo, Rudolph described meeting former President Barack Obama when she was a cast member on Saturday Night Live, calling him "charismatic" and "handsome." A year later, she recounted on Late Night with Seth Meyers how she once exchanged notes with Obama when he borrowed her dressing room for an NBC appearance.
More recently, Rudolph returned to Saturday Night Live—where she was a cast member from 2000 through 2007—several times as a featured guest to portray Vice President Kamala Harris.
Speaking to Jimmy Fallon on The Tonight Show in 2020, Rudolph remarked that it was her "civic duty" to overcome COVID-19 protocol obstacles in order to show up and play Harris on SNL, adding she had to do "whatever I need to do to make sure that she wins this election."
When reached for comment, a representative for Mars Wrigley responded with a statement.
"There are lots of stories out there but let me say conclusively that this decision isn't a reaction to but rather is in support of our M&M's brand, which we will always continue to evolve to bring people together through the power of fun," Gabrielle Wesley, chief marketing officer of Mars Wrigley North America, wrote. "So, yes, today Mars announced something we've had in the works for a while, which is that beloved actress and comedy icon Maya Rudolph will serve as M&M's Chief of Fun and spokesperson."
Wesley added, "The original colorful cast of M&M'S spokescandies are, at present, pursuing personal passions. Check out what the M&M'S spokescandies are up to over the next few weeks before, during and after Super Bowl LVII."
Newsweek reached out to Rudolph for comment.