At least 14 people have been killed by a powerful tornado that struck Mississippi and Alabama as videos of widespread destruction emerged on social media.
The coroner in Mississippi's Sharkey County, Angelia Easton, told ABC News that at least seven people had died as a result of the tornado in the state, while Mississippi Highway Patrol trooper Joe Watson told the outlet that another person had also been killed.
Three further people were reported dead by the coroner in Carroll County and another two were killed in Monroe County.
The National Weather Service issued an alert describing the tornado as "a life-threatening situation."
"Flying debris may be deadly to those caught without shelter. Mobile homes will be destroyed. Considerable damage to homes, businesses, and vehicles is likely and complete destruction is possible," the National Weather Service warned.
Videos shared to social media showed the scale of destruction from the tornado late on Friday and early Saturday morning.
The Mississippi Highway Patrol shared some images of the damage on one of its official Twitter accounts. Those pictures showed destruction in Silver City, in the state's Humphreys County.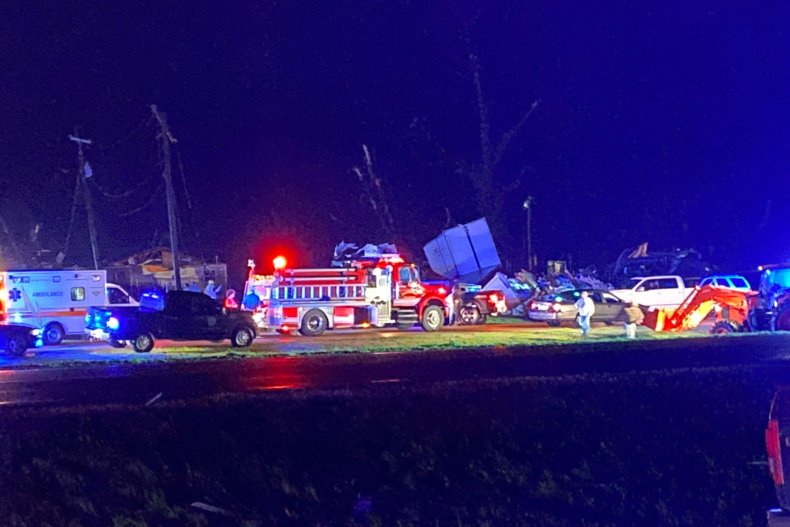 Arkansas storm tracker Zachary Hall sharing footage showing the tornado and flashes of lightning in a dark sky in Rolling Fork, Mississippi.
"This was a violent tornado and we will never forget some of the things we've experienced on this night," Hall tweeted.
Hall shared another video that showed what he described as "Vehicles tossed, building demolished" in Rolling Fork. The footage showed a damaged vehicle and a large amount of debris.
A video shared by BNO News Live also showed widespread destruction in Rolling Fork.
This is a breaking news story and will be updated as more information becomes available.