Mike Pence's Words Come Back to Bite Him
A video of former Vice President Mike Pence denying that he took classified documents from the White House has resurfaced amid reports of classified documents being discovered in his Indiana home.
Pence, who served as vice president for Donald Trump, is the latest politician encountering a classified documents scandal, joining Trump and President Joe Biden. Last week, the documents found in Pence's possession were turned over to the FBI, although there are conflicting reports on the process.
A CNN exclusive report said that Pence's lawyer discovered "about a dozen" classified documents at Pence's home and turned the documents over to the FBI.
Fox News reported that Pence alerted the National Archives of a "small number" of "potential classified documents" in his home last week, and that the documents were immediately put into a safe once discovered. According to the Fox News report, the FBI collected the documents from the home while Pence was in Washington, D.C., last week.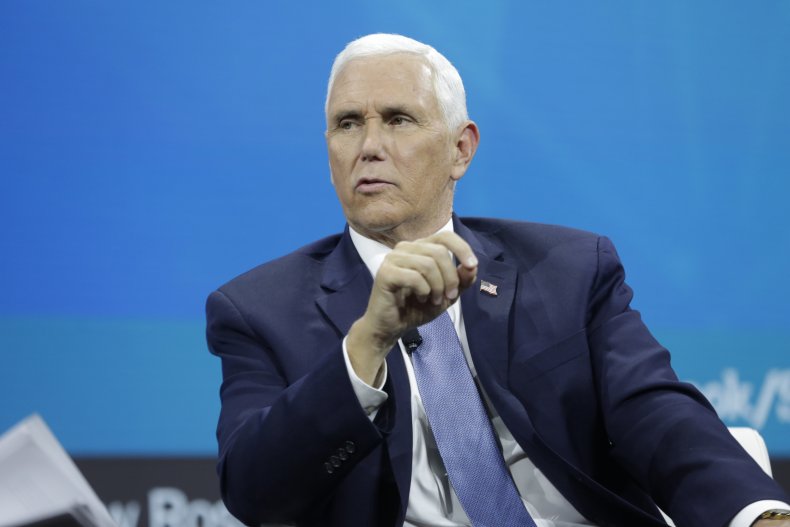 Since the discovery, the FBI and the Department of Justice have started a review into the documents.
Trump and Biden also both face investigations into the documents discovered in their possession.
Trump has claimed that he declassified the documents before taking them to Mar-a-Lago, and Biden was surprised at the discovery of documents in a Washington, D.C., office he used at the Penn Biden Center think tank. A further search yielded more documents in a garage at his Delaware home.
Since the raid on Trump's Mar-a-Lago home in August, Pence has assured Americans several times that he didn't take any classified documents when he left office.
In an August interview with the Associated Press, when asked if he took documents upon leaving office, Pence responded: "No, not to my knowledge."
A few months later, Pence sat for an interview with ABC's David Muir.
During the interview, Pence denied taking classified documents from the White House after Muir directly asked him if he did so.
"I did not," Pence answered.
When Muir pressed him further on why someone would take classified documents, Pence said there would be no reason to do so "particularly if they were in an unprotected area."
Earlier this month, Pence criticized Biden for keeping classified documents in an unsecure location.
"The handling of classified materials…is a very serious matter, and as a former vice president of the United States, I can speak from personal experience about the attention that ought to be paid to those materials when you're in office and after you leave office," Pence said in a Fox interview. "Clearly that did not take place in this case."
Pence's former words on the matter are quickly spreading throughout Twitter. Twitter users are mocking the former vice president, claiming his words "didn't age well."
It is unclear how the documents ended up in Pence's home or what information they included. In addition to the documents, vice presidential papers also were discovered, according to Fox.
CNN reported that the documents were discovered in an unsecure area before they were moved to the safe. After the discovery, Pence's office in Washington, D.C., was searched and no more documents were discovered.
Pence's interview with Muir came just a few months after the FBI raided Trump's Mar-a-Lago home and found classified documents.
Newsweek reached out to Pence's spokesperson for comment.
Update 1/24/23, 2:00 p.m. ET: This article has been updated with additional information.