By the summer, Meghan Trainor will be preparing to give birth, but she's also hoping she'll have a certified "summer banger" out at the same time.
Trainor announced on Monday that she and husband Daryl Sabara are expecting their second child together. The "Made You Look" singer isn't slowing down though, as she's already penned what she hopes will be another hit single later this year.
Newsweek spoke to Trainor ahead of her upcoming collaboration with snack brand Quaker Rice Cakes, and also discussed how 2023 is looking in her personal and professional life.
Trainor released her fourth (not including the Christmas album) studio album Takin' It Back in October 2022, and when asked about the next album, she said recently made her mind up about what's next.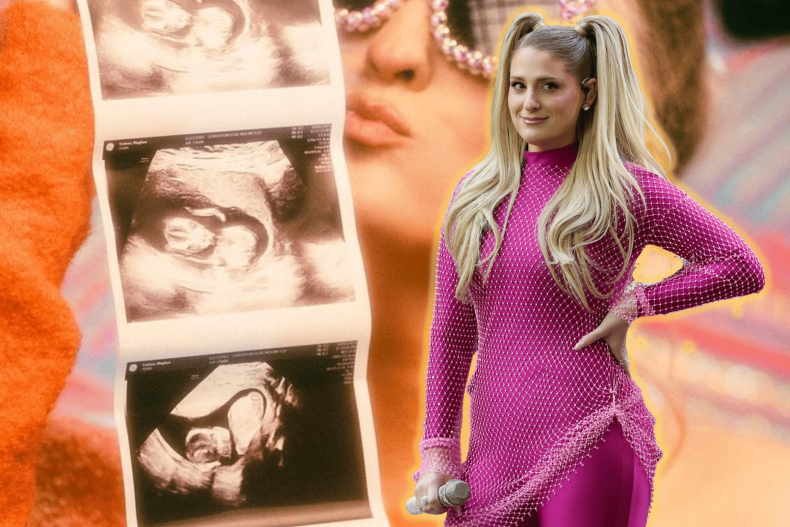 "I literally just decided days ago, because I'm gonna go do Australian Idol for two months, but I already wrote a song the other day," Trainor told Newsweek.
"They [management] were like, 'what if while you're giving birth, we pop out a summer banger?' And I was like, 'I hate you guys,'" she joked. "So I wrote it, and it's like this awesome, fun new song and I'm like, 'dang… Shall we start album number five?' And they were like 'it wouldn't be a bad idea.'"
Streamlined Writing and Recording
So Trainor stated she'll start work on said album when she's back from Australian Idol, six months pregnant, and promoting a new book. Luckily, the writing and recording process has become more streamlined in recent years.
"My younger brother is my producer. Now it's in my house. It's easy for me. I don't have to drive to work. I can just be like, 'I have an idea. Let's go sing it real quick.' So that's how I work. It's quick," Trainor said.
Homebody Trainor admitted she prefers to do things like write from her house than tour for nine months. When pressed for a time frame of the potential album, Trainor said it's likely to be early next year.
"Well, I'm giving birth in July and then I'm like, 'How many months do I want to get my body in shape again?' To be able to do a music video all damn day. So, I need at least like five months to recover from whatever is about to happen. Maybe not this year, but maybe like early after, right?" Trainor looks over to look at her manager.
"Ooh my manager likes that. You like that? Definitely not this year. He was like, 'No! You're giving birth.'"
Newsweek's reporter asked Trainor if there was any differences singing when pregnant. She let him off for asking the dumb question.
"I get that question way more than I should and it's fine, that's okay," she joked. "I even like got veneers and they're like, 'but your voice?' And it's not gonna do anything. But there is a difference with my breath control. I'm already winded constantly. But this, I have to take so many breaks and like cut it line by line because I'm out of breath. So when I'm recording a song now I'm sweating. It's a full workout. It's just a little more power that I need."
All About the Quaker Rice Cakes
Before the "summer banger" drops, and before she goes down under for work, Trainor will be collaborating with Quaker Rice Cakes, adding a new meaning to her breakout hit All About That Bass.
There had been speculation that Trainor had been hinting at her pregnancy on social media with clues before making the announcement, but she confirmed that wasn't the case.
Her fans may be interested to know that one of her videos holds the clues as to the gender of her baby, but she's keeping that in house for now.
"I'm gonna tease TikTok forever with the gender and the name but I have at all [decided]." She continued: "What's funny is that the video I teased where I said I'd been hiding the secret for so long. It looks like I'm doing the pregnancy announcement but those were all the gender announcement reveals. Now everyone's gonna watch them again.
"Literally, in one of them my husband's like 'I think I'm saying it. I think I'm saying [the gender] take it down' but I said no, you can't tell," Trainor said.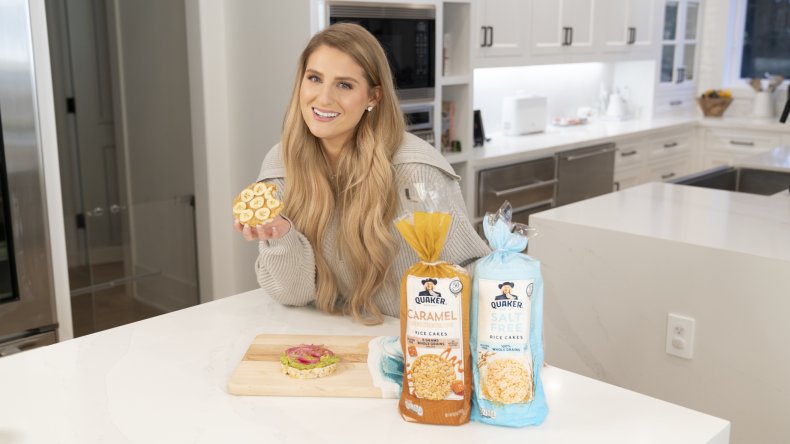 Later this month she'll be sharing videos on her social media channels of herself using the rice cakes as a base for a variation of snack options.
"They're good enough on their own and I could eat it plain all day long. I would always put peanut butter on them but I didn't even think of it as like a perfect base," she said.
Trainor continued: "That's what we want to promote. People can do their own recipes and TikTok or put online on social media their own recipes of their amazing rice cakes. What do you do? So, I'm out here trying to be a chef, trying to show my ingredients and try to learn other recipes because now I'm all in."
Some of Trainor's early suggestions include adding peanut butter topped with bananas to a caramel base, and adding avocado on top of the lightly salted Quaker Rice Cakes.
She encourages her fans to get involved with her snack journey, and they can compare recipes.
"If you use the hashtag Quaker Rice Cakes, I will come find you, and I will learn from your recipes. Because there's so many amazing talented creators online now. I'm always looking up new recipes, especially on my TikTok. So yeah, do the hashtag and let me come find you and teach me something."