Mary Trump, political analyst and niece of former President Donald Trump, accused her uncle on Friday of giving "poisoned water" to the residents of East Palestine, Ohio.
Donald Trump made the visit on Tuesday, a few weeks after the rural town was devastated by the crash of a Norfolk Southern train carrying hazardous chemicals. The fallout of the accident exposed the community to dangerous chemicals and raised serious concerns about safety and regulations in the railway industry.
During his visit, in addition to giving speeches and visiting an area McDonald's location, the former president also distributed palettes of bottled water branded with his last name, as he has commonly done with numerous products in the past. This led to speculation that the water was from an old line of Trump-branded water that was discontinued 13 years ago, which would now be potentially toxic to drink given the nature of plastic bottles over time.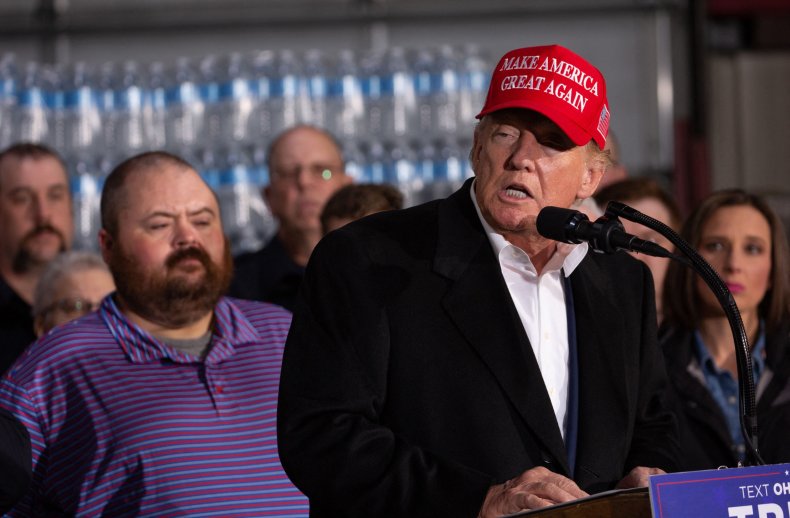 Mary Trump, an outspoken critic of her uncle and his political career, echoed these claims during an episode of her podcast series, The Mary Trump Show, while comparing Donald Trump to President Joe Biden.
"I think the difference, the contrast between Biden and Donald could not be more stark," she said. "And yes, Democrats do need to get better. And I think they are getting better at touting their accomplishments, which are extraordinary. I mean, just absolutely extraordinary."
She continued: "And, you know, you look at President Biden in Poland and Donald…and what President Biden is doing for the environment, and Donald Trump going to a train derailment in Ohio, that his policies were directly responsible for causing while handing out poisoned water because, sorry, folks, if a bottle of water is ten years old and that bottle is plastic, that is probably not something you want to be drinking."
As reported by outlets like Reuters, however, the claims that Donald Trump distributed old and contaminated bottles of water in East Palestine are not true. Citing various reports about his numerous branded products and photos of old "Trump Ice" branded bottles, the outlets determined that the bottles brought to Ohio are seemingly from a more recent product offering.
Mary Trump's discussion of the visit also touched on the widely reported fact that in 2018, her uncle cut regulations for train brakes meant to help avert crises like the one that befell East Palestine.
"I am continuing to get rid of costly and unnecessary regulations," Donald Trump tweeted about the move in 2018. "Much work left to do but effect will be great! Business & jobs will grow."
Newsweek reached out to Trump's team for comment.