Last week on Married at First Sight (MAFS), Season 16 contestant Domynique opened up to her new in-laws about dating as a bi-racial woman.
The star, whose mom is Black, revealed to her husband's mother that growing up in the South meant her race has been a "bigger hurdle" in her romantic life, adding: "Those types of things do weigh heavy on my heart… I really just want to be accepted for who I am."
Now, in a clip released exclusively to Newsweek ahead of the next episode of MAFS, due to air on January 25, Domynique's mom Toya sits down with her new son-in-law Mackinley, who is white, to speak to him about dating outside of his race.
In the clip it appears to be the morning after Domynique and Mackinley's wedding, which was also the moment that the new spouses met for the first time.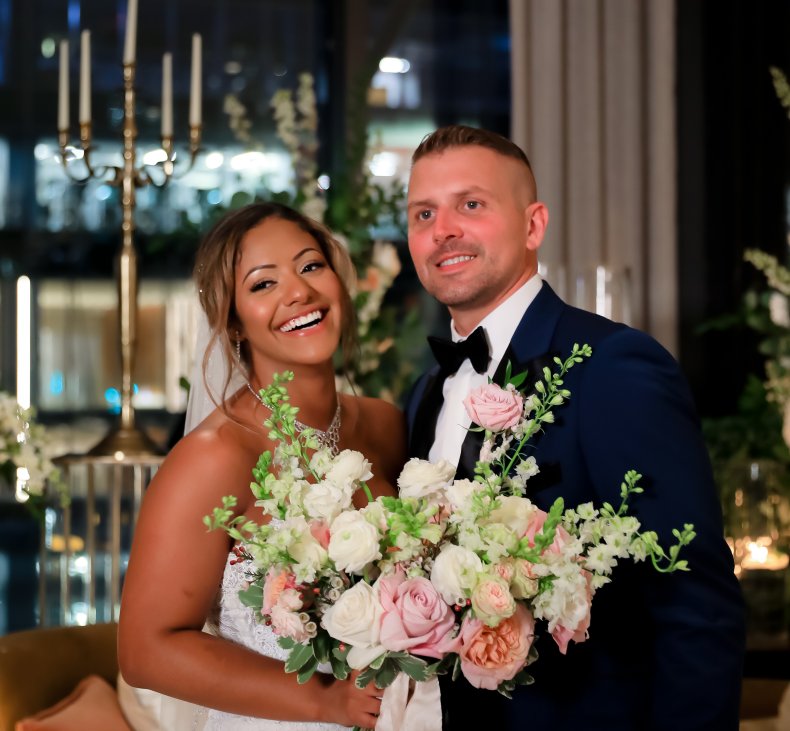 As MAFS fans know, the Lifetime show's panel of experts—Dr. Pepper Schwartz, Pastor Calvin Roberson, DeVon Franklin and Dr. Pia Holec—pair the contestants through an extensive matchmaking process, and they only get to meet at the altar.
The teaser for the next episode of MAFS begins with Mackinley joining Domynique's mom, her aunt Tiea, and grandmother Leah, at an outdoor bar.
Toya quizzes Mackinley, also known as Mac, on how he's feeling after the wedding.
"So far I'm very happy! I'm eager to learn more, and dive into all the things about her, and tips and tricks and any advice you guys have for me!" he responds.
Mac then tells the women that he's never been engaged before, leading Leah, Domynique's grandmother, to ask him: "How in the world did you get away? There's so many women out here that are hungry for men!"
Laughing, Mac, 34, says: "I have had a couple of serious relationships, I have been a bit of a rambler in my 20s, I got into my 30s and got into more of [a] career focus.
"I am where I want to be in life and I think that's where I'm at now and what makes me ready. I am looking for the real deal."
Tiea then asks Mac if he has ever dated outside of his race before, to which he says: "I have mostly dated white and Latina women. I have gone on dates with Black women, honestly I just haven't had a lot of return luck on that side."
Leah then tells the cameras in a separate interview: "My concern is the racial thing. Domynique is used to dealing with it but it might be a new thing to Mac and that's the reason why we're asking these questions."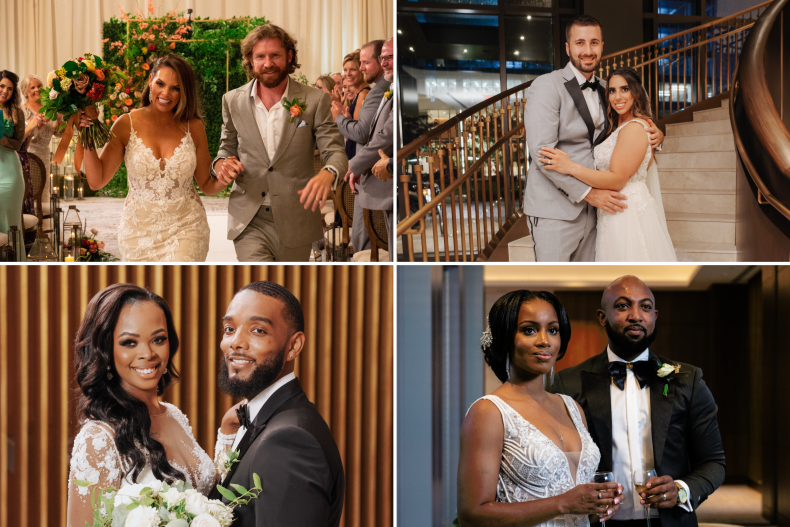 "We want to make sure he will stick by Domynique through their lifetime," she adds.
MAFS fans will need to tune in to the rest of the season to see how Domynique and Mac's romance progresses, and whether they choose to stay together at the end of the experiment.
Clint and Gina, Christopher and Nicole, Airris and Jasmine, and Shaquille and Kirsten are the four other couples taking part in the current season of the long-running show.
Lifetime has promised plenty of drama to come in the upcoming episodes, revealing that one bride's husband is set to make an "indecent proposal" to another man's wife.
Married at First Sight, produced by Kinetic Content, airs Wednesdays at 9 p.m. ET on Lifetime.