While defending the Pentagon documents leak suspect, Republican Congresswoman Marjorie Taylor Greene said on Twitter that she believes the U.S. government is gearing up to censor Americans by "coming after our personal data online."
"Here we are again with the government on the verge of creating more power and control," Greene said on The Charlie Krik Show on Friday.
Jack Teixeira, a 21-year-old member of the Massachusetts Air Force National Guard's 102nd Intelligence Wing, was detained on Thursday after allegedly leaking a trove of classified intelligence documents through a Discord chat group in recent months. Greene appeared to defend Teixeira in several Twitter posts, while suggesting the administration of President Joe Biden was targeting him for "exposing the truth."
Greene claimed that Americans are on "the verge of losing more freedoms," saying in the wake of the document ordeal government officials will pass the Restrict Act, which she opposes. The Restrict Act, introduced in March, is described as "a systematic framework for addressing technology-based threats to the security and safety of Americans." The bill would give the Secretary of Commerce the authority to review certain business transactions.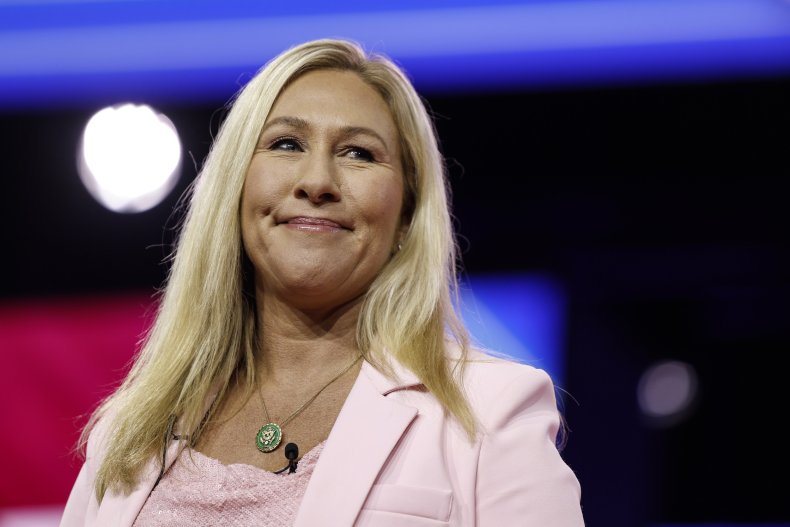 Greene's comments came shortly after she called Teixeira a hero for "pulling back the flimsy transparent curtain and revealing what we suspected all along." The documents contain highly sensitive material—including national security and military secrets, such as intelligence U.S. information on the Russia-Ukraine war.
Greene said she also believes that someone is setting up Teixeira and blamed the Biden Administration. Former President Donald Trump echoed similar baseless claims last week when he suggested President Joe Biden was the leaker.
"I can't comprehend, and it doesn't make any sense to anyone I've talked to, how this 21-year-old National Guardsman was capable of getting all of this information all on his own," Greene said while speaking to Kirk.
On Friday, Greene tweeted that Teixeira was a victim of "the Biden regime" for being a "white, male, christian [sic], and antiwar." Greene suggested on Thursday that President Joe Biden's administration was "the real enemy" after the FBI arrested Teixeira.
Members of the Discord group told The New York Times that the documents Teixeira shared online were meant to only be informative but started garnering more attention when one member posted some of the materials on a larger public forum. The Pentagon called the leak a "deliberate, criminal act." It's unclear how long the documents had been circulating online before they were discovered.
Newsweek reached out via email to Greene, the Biden Administration, and the Department of Defense for comment.