Representative Marjorie Taylor Greene, a Georgia Republican, has hit out at Attorney General Merrick Garland amid violent protests in Atlanta.
In a series of tweets shared on Saturday, the GOP lawmaker slammed left-wing protesters who carried out a brief riot in downtown Atlanta before police brought the situation under control.
"Atlanta police are under attack by Antifa terrorists. Left-wing terrorism is the biggest threat to democracy. When will Merrick Garland and DOJ (Department of Justice) go after actual terrorists instead of MAGA/ Trump supporters," Greene wrote.
She later posted a photo of a burning vehicle and added in another tweet: "It's happening again tonight in Atlanta. When will our federal agencies start taking left-wing terrorism seriously? Looking at you Merrick Garland. Antifa/ BLM (Black Lives Matter) = domestic terrorists."
It is not known if protesters on Saturday had any affiliation to Antifa.
Garland's DOJ has overseen the arrest of hundreds of Donald Trump supporters who were charged with crimes in connection with the storming of the Capitol building in Washington D.C. on January 6, 2021.
Greene has previously expressed support for several defendants who have been held in prison on charges related to the riot, and has said that more focus should be put on violent protests involving left-wing groups.
Protesters had gathered in Atlanta to demonstrate against the killing of Manuel Esteban Paez Terán by police on Wednesday as they cleared the site where a public safety facility will be built. Detractors have dubbed the planned center "Cop City," and have been fighting against its construction since 2019.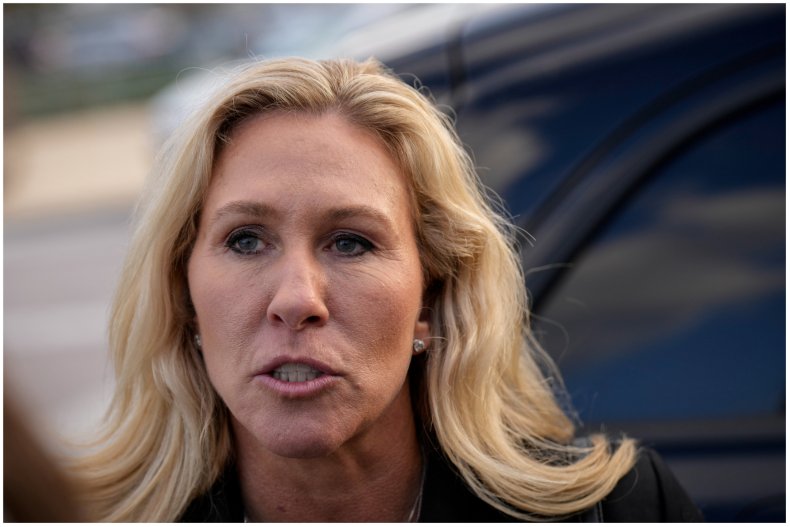 Earlier this week Georgia officials said Teran fired on officers after failing to comply with commands, while activist groups have questioned this account.
Saturday's demonstration, which started peacefully, turned violent with masked protesters throwing fireworks and rocks at buildings as well as setting a police car on fire, according to Reuters.
Videos and photos were shared online and highlighted the brief chaos before police were able to bring the situation under control without injury.
Atlanta Mayor Andre Dickens said six people had been arrested in connection with the violence, and that some "were carrying explosives."
"Atlanta is safe and our police officers have resolved the disruptions downtown from earlier in the evening," he added. "The City of Atlanta and the Atlanta Police Department will continue to protect the right to peaceful protest. We will not tolerate violence or property destruction."
Police Chief Darin Schierbaum did not state whether the group of protesters was affiliated with Antifa, a decentralized left-wing movement with groups based around the world. He did, however, describe the actions by demonstrators as "terrorism."
Greene joins several other Republicans who want Antifa to be designated as a domestic terrorist organization. Trump said he would designate it as such, but it was not carried out through during his term in office.
Conservatives and critics of Antifa and BLM believe rioting and demonstrations over the years, including following the 2020 murder of George Floyd, provide evidence that both are violent and that both should be designated as terrorist groups.
Heather J. Williams, acting associate director and policy researcher at global policy think tank RAND, said in a 2020 post that designating Antifa as a terrorist organization could have consequences regarding counterterrorism.
"Antifa's designation could raise broader questions about U.S. counterterrorism laws. The United States has no list of domestic terrorist organizations, only a Foreign Terrorist Organizations (FTO) list," she said. "Antifa does not clearly meet the definition of the F, the T, or the O—it is primarily domestic, it is unclear whether their acts of violence rise to crimes of terrorism, and it is a loosely oriented movement."
She continued: "None of these issues are necessarily prohibitive in designating it as an FTO. Groups like Antifa clearly more closely meet the definition of domestic terrorism, but the only requirement for being considered 'foreign' terrorism would be to have some means that transcends national boundaries."
Newsweek has contacted Greene's team and the Atlanta Police Department for comment.