Representative Marjorie Taylor Greene, a Georgia Republican, criticized Hungarian-American billionaire and philanthropist George Soros, questioning his citizenship on Sunday in light of possible charges against former President Donald Trump in relation to an investigation led by the Manhattan district attorney's office.
The office of Manhattan District Attorney Alvin Bragg, a Democrat, has been investigating a $130,000 reimbursement to Trump's former attorney Michael Cohen for a payment made as hush money ahead of the 2016 election to adult film star Stormy Daniels, who claims she had an affair with Trump in 2006, in order to keep it a secret.
Trump, who has denied the affair, strongly criticized the investigation and on Saturday urged his supporters to protest as he predicted that he will be arrested on Tuesday. This would be the first indictment of a former president if Trump was charged in this case, which could weaken his chances of winning the 2024 presidential election.
The former president recently lashed out at Bragg, who was backed by Soros in his race for district attorney, according to the National Police Association. Before his current role, Bragg served as an assistant attorney general for New York and an assistant U.S. attorney for the Southern District of New York.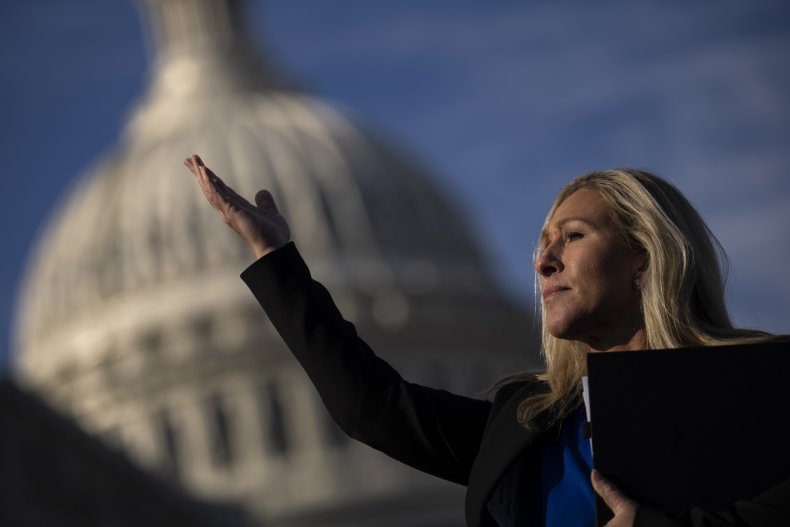 The ex-president previously described Bragg as "this Soros-backed radical left prosecutor" who had been "placed" in the office by the "Department of Injustice" to "get Trump."
"No other person has undermined our democracy more than George Soros. Why is [he] still allowed to maintain his citizenship?" Greene tweeted on Sunday.
Though Greene has previously defended Trump amid reports of his possible indictment by New York prosecutors, she dismissed his calls for protests to break out in case he was arrested.
"We don't need to protest about the Communists Democrat's planning to arrest Pres Trump and the political weaponization of our government and election interference," Greene tweeted on Saturday. "These idiots are sealing their own fate in 2024 because the silent majority has two feelings right now about the current regime. Fear and anger. That is the most powerful combination when election time comes. And the Democrats are driving that force with their own corrupt actions."
Meanwhile, Soros and Bragg have been the subject of criticism in Trump's recent Truth Social posts, including a rant that was posted Sunday afternoon in which the former president claimed an "assault" on democracy.
"Biden wants to pretend he has nothing to do with the Manhattan D.A.'s Assault on Democracy when, in fact, he has 'stuffed' the D.A.'s Office with Department of Injustice people, including one top DOJ operative from D.C. who is actually running the 'Horseface' Witch Hunt. Bragg is a (Soros) Racist in Reverse, who is taking his orders from D.C. I beat them TWICE, doing much better the second time, and despite their DISINFORMATION campaign, they don't want to run against 'TRUMP' or my GREAT RECORD!" Trump wrote.
Meanwhile, an op-ed published by the New York Post in January echoed Trump's and Greene's remarks about Soros, claiming that the billionaire spent millions of dollars on "installing left-wing DAs" across the country. The article also listed other reasons why "George Soros is the most dangerous man in America."
Newsweek reached out to Greene's spokesperson via email for comment.