Representative Marjorie Taylor Greene has praised 60 Minutes host Lesley Stahl amid backlash over the program's decision to feature her in a segment.
Greene, an outspoken and controversial GOP congresswoman representing Georgia's 14th Congressional District, is set to be featured in a sit-down interview on Sunday's edition of the venerated CBS News program, 60 Minutes. The move has generated significant pushback online, with many criticizing the program and Stahl, who will interview the GOP lawmaker, for platforming a politician accused of spreading antisemitic, transphobic, homophobic, white supremacist, and far-right ideologies.
"Georgia Republican Rep. Marjorie Taylor Greene, nicknamed MTG, isn't afraid to share her opinions, no matter how intense and in-your-face they are," the program's official Twitter account wrote in a post advertising the episode.
In response to the backlash, Greene took to Twitter on Saturday to praise Stahl and thank her for the opportunity to appear on 60 Minutes, no matter their own disagreement on "some issues."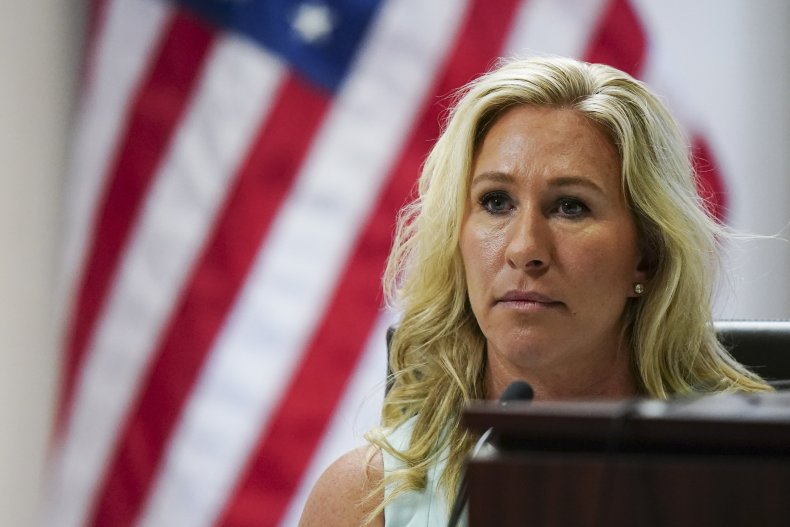 "It was an honor to spend a few days with the legendary icon Leslie [sic] Stahl and talented crew [of 60 Minutes]," Greene tweeted on Saturday, promoting her upcoming appearance on the long-running "news magazine" program. "Leslie is a trailblazer for women in journalism. And while we may disagree on some issues, I respect her greatly."
CBS has yet to officially comment on the controversy surrounding Greene's upcoming 60 Minutes appearance. Newsweek reached out to the company via email for comment.
"Disgusted by this. 60 Minutes turns its prestigious platform over to Marjorie Taylor Green, normalizing a conspiracy theorist, antisemitic troll, insurrectionist, white supremacist, racist, and homophobic and transphobic extremist," former NBCUniversal executive Mike Sington tweeted. "Shame on CBS, 60 Minutes, and Lesley Stahl."
"It's disgusting that Lesley Stahl did a [60 Minutes] propaganda infomercial for fascist Marjorie Taylor Greene," politician Jon Cooper wrote in his own tweet. "Anything for ratings, amirite?"
"Opinions such as calling a Parkland shooting survivor 'Little Hitler'?" NBC News senior reporter Ben Collins tweeted, in response to the 60 Minutes tweet about Greene not being "afraid" to share her opinions. "What are we doing here guys?"
"So many of us in the media were trained to find these seemingly neutral ways of framing extreme ideas," journalist and author Anand Giridharadas added in his own tweet, criticizing the show's soft language surrounding Greene's outspoken stances. "'Intense,' 'in-your-face.' But this training doesn't work for the moment we're in. These aren't intense opinions. They're a recipe for the end of liberal democracy."