A majority of the assailants in mass casualty attacks in recent years engaged in behaviors that made observers fear for their own safety, as well as the safety of the attackers and others, before the violence took place, according to a new report.
The U.S. Secret Service National Threat Assessment Center (NTAC) released a report on Wednesday titled "Mass Attacks in Public Spaces: 2016 – 2020", which looked at 173 instances of "targeted violence" from 2016 to 2020 in public or semipublic locations in the U.S. It also detailed key commonalities and trends regarding the assailants and the attacks.
Out of the 180 attackers involved in these 173 instances, 76 percent of them exhibited behavior that caused concern in others or shared "concerning communications" before their attacks, the report said. Additionally, for 57 percent of the attackers, the behaviors they exhibited prior to their attacks "caused others to be concerned to the point that the observer feared for the safety of the attackers, themselves, or others."
Behaviors that elicited concern included the attackers' demeanor and mental well-being, disturbing communications or threats, physical violence, stalking and harassment, weapons-related activity and self-harm, among other types of conduct.
The report's release came as the U.S. contends with the aftermath of two recent mass shootings in California amid the ongoing debate about gun violence in America. Back-to-back shootings at Monterey Park and Half Moon Bay on Saturday and Monday, respectively, claimed 18 lives and left others injured. Hundreds of instances deemed as mass shootings, though the definition of a mass shooting lacks a consensus, rocked the U.S. last year alone, according to the nonprofit research group Gun Violence Archive.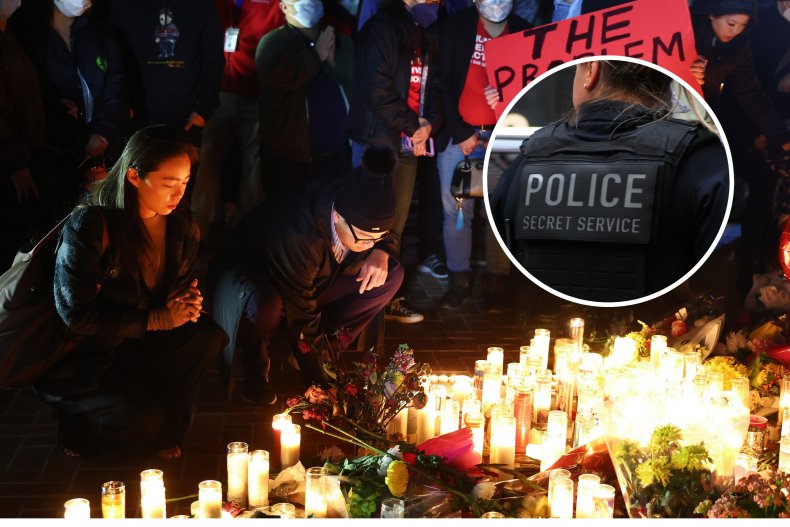 U.S. Secret Service Director Kimberly Cheatle said in a statement with the NTAC report's release that the prevention of mass violence in the U.S. is "as critical as ever."
"Far too often, communities and families have been devastated by the impact of these tragedies, and public safety professionals continue to work toward preventing future attacks," Cheatle said. "The information revealed in this report is intended to guide those prevention efforts."
Not all of the 173 instances the NTAC report considered involved firearms, though they did constitute a significant majority. Nearly three-quarters, or 73 percent, of the weapons used in the attacks were firearms. Bladed weapons accounted for 16 percent and vehicles accounted for 10 percent, while the remaining 9 percent was divided between blunt objects, explosives, arson or incendiary devices and other methods.
In nearly a quarter, 23 percent, of the attacks that involved firearms, at least one of the firearms was illegally acquired by the attacker, the report said.
Newsweek reached out to a Secret Service Spokesperson for clarification on what percentage of firearms used in the attacks were acquired legally.