Louis C.K. Makes 9/11 Joke During Joe Rogan Podcast—'Am I In Trouble?'
Comedians and old pals Joe Rogan and Louis C.K. reunited on Rogan's podcast at the weekend, swapping stories and laughing at a 9/11 joke during a three-hour conversation.
The pair, both 55, are known for boundary-pushing content that attracts controversy as well as huge followings. Their lengthy discussion on The Joe Rogan Experience has been criticized by some: journalist Keegan Kelly likened it to "listening to your dad's friends talk about society."
Louis C.K.—whose career seemed over after multiple accusations of sexual misconduct were made against him in 2017 and he admitted that "the stories are true"—has told jokes about 9/11 in the past and returned to the topic on the podcast.
He shared how in September 2001, he and his then wife were living in Brooklyn. On the day of the attacks, he was away working in Los Angeles while his pregnant wife was at home.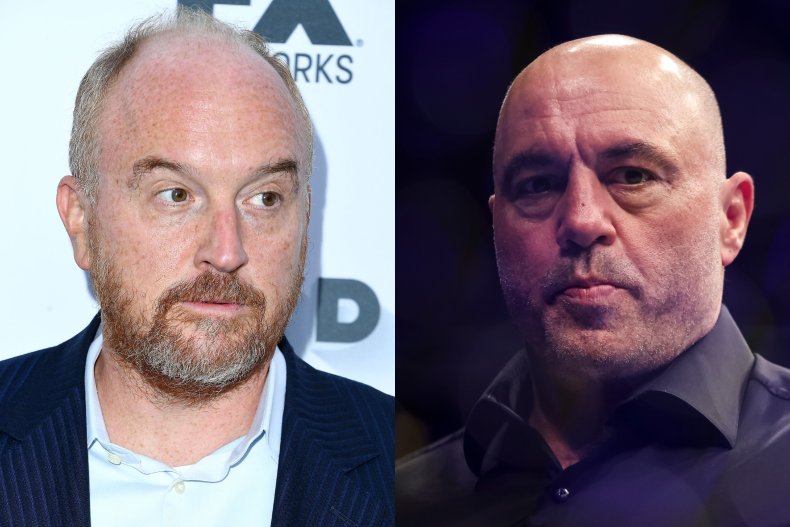 "She was there six months pregnant and 'Whammo' and she called me at like [six] in the morning in LA. She called me and she was just bawling. And I was like, 'What's wrong?' And she couldn't say anything.
"And I was like, 'What the…?' Part of me was like, 'Am I in trouble?'" he recalled, as Rogan laughed.
"Then she says 'turn on the TV' and I saw the towers were on fire. I was like, 'Phew, OK.'"
The pair laughed again, then Louis C.K. continued: "That's nothing to do with home. That's a world problem, not a me problem. I'm pretty sure that's not my fault."
He added that his then wife had handled the situation well and he had encouraged her to get out of New York for her own safety.
Many fans of the two comedians celebrated their podcast reunion on social media, with clips from the January 21 episode shared widely.
Kelly, a writer for entertainment website Cracked, was less complimentary.
"You couldn't assemble a better brain trust of 'guys from whom aimless 20-year-old male comedy fans borrow their entire worldview' than the tandem of Joe Rogan and Louis C.K." he wrote.
On social media, fans of either comedian were seemingly dismayed that their favorite was friends with the other.
"[Joe Rogan] I'm begging you to stop interviewing Louis C.K.," wrote @plzwatchursteph.
Twitter user @whduryea took the opposite view, writing: "Just saw a couple of clips from Joe Rogan's show for the first time ever. Don't get the wrong idea about me though, I was just watching for Louis C.K."