Legal analyst Norm Eisen on Monday downplayed the potential impact of the man Donald Trump called his "most important witness" in the Stormy Daniels "hush money" investigation.
Rumors have exploded in the past week that former President Trump will face a criminal indictment from the Manhattan District Attorney's Office this week, with Trump himself claiming in a Truth Social post that he expects to be arrested on Tuesday. District Attorney Alvin Bragg has been probing allegations that Trump orchestrated a 2016 plan to pay adult film star Stormy Daniels $130,000 in exchange for her keeping quiet about an affair they allegedly had a decade earlier. Trump has denied that the affair ever happened and has frequently dismissed the legitimacy of Bragg's investigation.
On Sunday, it was reported that the former President's defense team had called Robert Costello as a last-minute witness in the case. Costello previously served as a legal adviser to Michael Cohen, a former lawyer to Trump who pleaded guilty to his involvement in the "hush money" scheme and served time in prison. Costello previously represented Trump allies like Steve Bannon and Rudy Guiliani, with the Associated Press reporting that his testimony is expected to try and delegitimize Cohen, who has become a key witness for the prosecution.
"Just reported that the most important witness to go before the New York City grand jury, a highly respected lawyer who once represented convicted felon, jailbird, and serial fake storyteller and liar, Michael Cohen, will be doing so tomorrow afternoon," Trump wrote about Costello on Truth Social. "The information he will present will supposedly be conclusive and irrefutable! Witch hunt!!!"
The following day as the news about Costello emerged, legal analyst Eisen appeared on CNN and downplayed the potential impact that he will have on the Manhattan DA's investigation. Eisen previously served as an ambassador to the Czech Republic under former President Barack Obama and served as co-counsel for the House Judiciary Committee during the first Trump impeachment trial in 2020.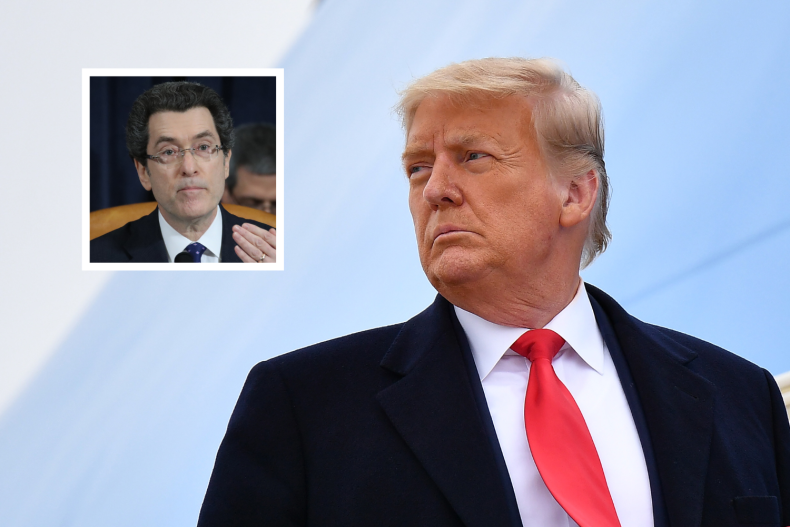 "Now Costello is going to come in and share information from that attorney-client relationship [with Cohen], apparently saying that Cohen was telling a different story before he cooperated [with the Manhattan DA]," Eisen said. "But…we know that already. Cohen has admitted to that. So they'll bring in Cohen, possibly, if Costello needs to be rebutted, to say, yes, I wasn't candid before I cooperated, I've been candid since."
Eisen further stated that he had analyzed all of Cohen statements on the case since he began to cooperate with prosecutors, and concluded that they have been "rock solid" and consistent.
Newsweek reached out to Trump's communications team via email for comment.