Lake Powell Water Levels Update: What Needs to Happen to Return to Normal?
It took decades for Lake Powell to reach catastrophically low levels, and according to one expert, it'll take a long time to restore the levels, too.
Lake Powell has fallen victim to excessive water use as a 20-year drought parches the region. Shortages have been implemented by the U.S. Bureau of Reclamation in areas like Arizona as water levels in the reservoir have consistently dropped for the past 10 years.
Lake Powell is so low that it is nearing a dead pool, in which water levels aren't high enough to deliver water downstream. Some Arizona cities have implemented drought management plans to conserve water, but the area continues to use water at a rate that negates Lake Powell's recovery.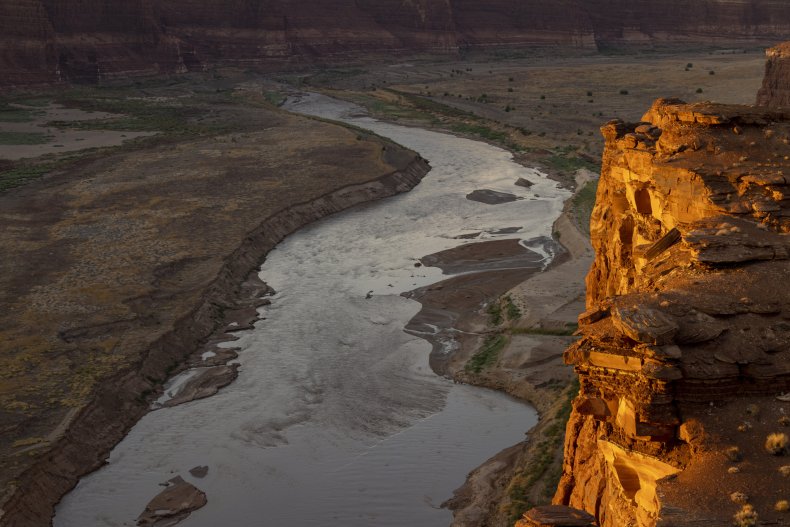 According to Jay Lund, vice director for the Center for Watershed Sciences and a professor at the University of California, the long-term average use in the lower Colorado River Basin exceeds the long-term flow of water, meaning the only solution is to "substantially reduce water use" in the basin. Up to 80 percent of water use in the basin is for agricultural purposes, but urban water conservation serves an important purpose, too.
Lund said that throughout the reservoir's history, it has refilled to its original levels just once. The reservoir's levels rise after consistent rain or snowpack melt in the area. But the region is battling a multidecade drought with rain harder to come by.
Climate change also plays a part. As air warms over time, less precipitation makes it to the reservoirs due to evaporation. Although developing snowpack in the area is "fairly good" and might stave off dead pool in Lake Powell for another year or so, according to Lund, the solution lies with people conserving water.
"We might get lucky with the weather, but the idea of the system recovering is really hard unless you reduce water use in that basin," Lund told Newsweek.
Lund said he expects water use in the basin to have "capped out," but the reservoir can't continue to supply water at the pace in which the area consumes it.
"These reservoirs are huge," Lund said. "This is probably the largest reservoir system in the country in terms of storage. It can store about five times the average annual flow. So, it takes awhile to fill and it takes awhile to empty."
Newsweek reached out to the U.S. Geological Survey for comment.