Lake Powell Water Level Projections Revealed in Report
Lake Powell's water-level projections have been revealed in a report from the Bureau of Reclamation. The reservoir—which sits on the Colorado River in Utah and Arizona—is one of many impacted by the ongoing megadrought gripping the Western U.S.
The lake's water level has been falling for about 10 years. In March 2022, it fell below a critical level of 3,525 feet above sea level—the lake's target elevation. As of Wednesday, the water level was 3,524.22 feet.
The lake is set to reach its lowest point this year in April, dropping to 3,519.01 feet, according to a study released Thursday by the Bureau of Reclamation. The projections said that the water level should fluctuate throughout the year. By the end of 2023, the Bureau projects that the level will be 3543.40 feet. Just five years ago, it was 3,622 feet.
Lake Powell is formed by the Glen Canyon Dam, which generates hydroelectric power for millions of homes. The reservoir is also an integral source of water for millions.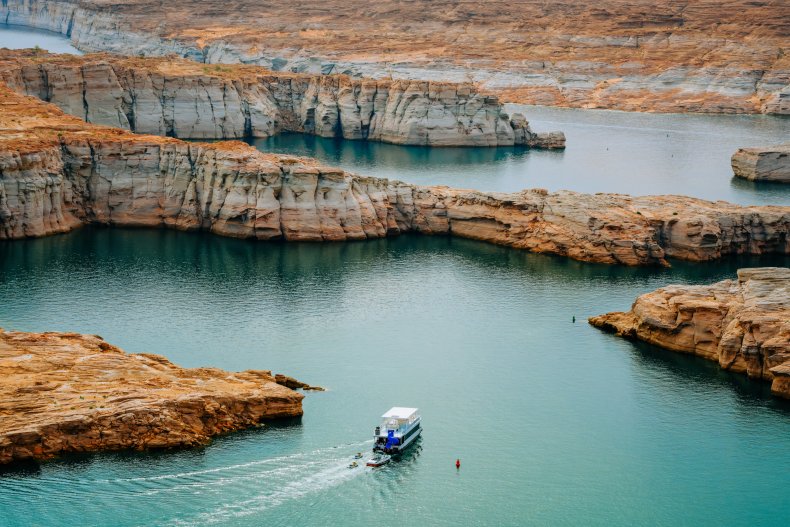 But if the lake's water level were to reach 3,370 feet, it would be at dead pool, which is when the water level drops so low that the water can no longer turn the dam's turbines. That would stop it from producing power.
Lake Powell feeds water into Lake Mead—another reservoir in Nevada and Arizona, that is also experiencing a rapidly declining water level.
"Lake Mead is mainly filled by releases from an upstream reservoir called Lake Powell, which captures runoff in the Upper Colorado River Basin," Elizabeth Koebele, an associate professor of political science at the University of Nevada, Reno, told Newsweek. "These reservoirs were built to store water in wet years in order to mitigate occasional drought.
"However, due to a combination of prolonged drought over the last two decades, increasing aridification from climate change, and a set of historical laws that has promoted overuse of Colorado River water in the Lower Basin, both reservoirs are at their lowest levels since being constructed."
The megadrought in the West has meant that weather patterns have been harder to predict, so surrounding states are using water more quickly. Communities have started putting drought management plans in place to mitigate the amount of water being released from the reservoirs.
"We have also had to limit releases from Lake Powell to protect critical infrastructure that was not designed to move water at such low reservoir levels," Koebele said. "Fixing this problem requires dealing with increasingly limited supplies and diversified demands throughout the Colorado River Basin."
Do you have a tip on a science story that Newsweek should be covering? Do you have a question about Lake Powell? Let us know via science@newsweek.com.