Lake Powell Shrinking Water Levels Could Hurt These Areas Next
Arizona is starting to feel the impacts of the U.S. Bureau of Reclamation's Tier 2a shortage, which began reducing the amount of water allocated to areas receiving water from the Colorado River at the start of this year.
The Tier 2a shortage reduces the allocation amount by an additional 80,000 acre-feet in an effort to combat the ongoing drought in the area. Colorado River and its associated reservoirs—Lake Mead and Lake Powell—have suffered from decreasing water levels for years. Arizona has already endured water allocation cuts when a Tier 1 shortage went into effect last year and cut the state's allocation by a little more than 500,000 acre-feet. With the additional reduction implemented by the Tier 2a shortage, Arizona will see a 21 percent decrease in its annual allocation from the river. Nevada and Mexico's allocations also were impacted.
"The decrease in Colorado River water doesn't impact all areas of the state equally; it first largely impacts the CAP service areas," Arizona State Climatologist Erinanne Saffell told Newsweek in an email.
Areas serviced by the Central Arizona Project (CAP), a diversion canal that delivers Colorado River water to Pinal, Pima and Maricopa counties, will be affected the most. The agricultural sector will bear the brunt of the cuts, with municipal and industrial sectors seeing a slight impact.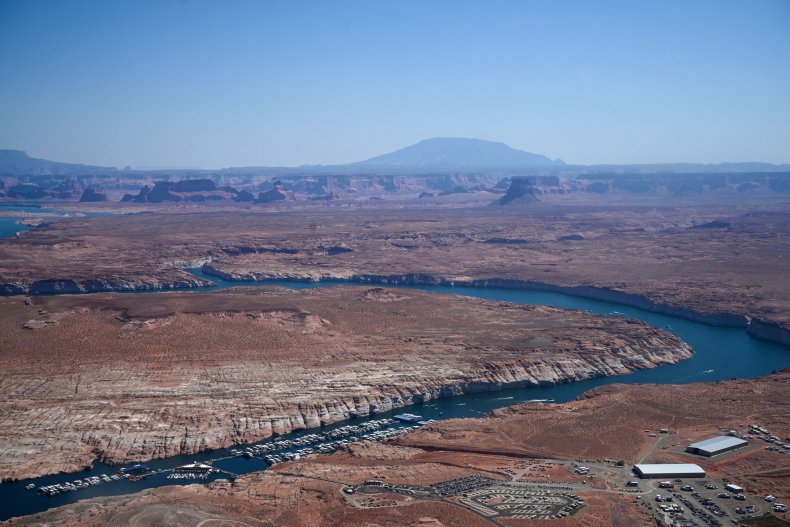 Some areas in Arizona, such as Scottsdale in Maricopa County, have already started implementing drought management plans to address the reduced allocation. More than 5 million people live in the CAP service areas of Pinal, Pima and Maricopa counties, making up 80 percent of the state's population. Much of the shortage will affect agriculture, which consumes 80 percent of Arizona's allocated supply from the Colorado River.
Saffell said last year, the Tier 1 cuts hit farmers in Pinal County. As the stronger reductions went into effect at the start of 2023, Pinal County will again see a reduction. Saffell said farmers will have to rely more on groundwater for their crops, like alfalfa and hay, that are grown to feed livestock.
However, the reductions implemented by the Tier 2a shortage won't be enough to fix the Colorado River lower basin's problems. Jay Lund, vice director for the Center for Watershed Sciences and a professor at the University of California, previously told Newsweek that humans must reduce their use even more if they hope to see reservoirs like Lake Powell recover their depleting water levels, an effort that could take decades.
Lake Powell is replenished by rain and snowpack melt, but climate change has affected how much precipitation Lake Powell receives in a year. Global warming also contributes, evaporating some of the precipitation that does fall, meaning it could take even longer for Lake Powell to recover.
Newsweek reached out to CAP for comment.