A fearless Labrador puppy has been filmed trying his hardest to climb into an armchair in footage sent to Newsweek by his owner.
Sherman the dog may have failed to reach the comfort of the soft seat, but he's already something of a hero, having helped his new family through a difficult time.
In periods of difficulty, a cat or dog can prove an invaluable source of love and friendship. It's why an increasing number of us lean on emotional support animals to get through the tough times.
These four-legged or occasionally feathered friends have been shown to be of huge benefit to those suffering with mental health issues, anxiety or depression.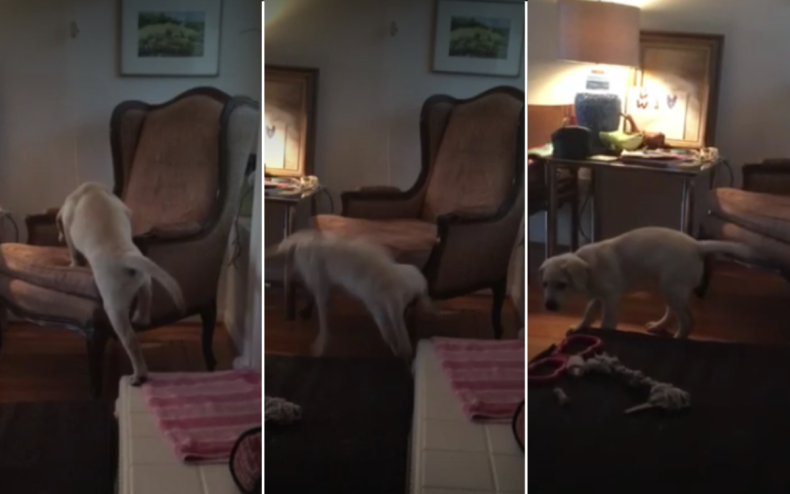 The benefits were most recently chronicled in a 2021 peer-reviewed study by researchers from the University of Toledo, which concluded that just a year after adopting a pet, participants reported a significant reduction in anxiety, depression and loneliness.
Sherman certainly came to his owner, Heather Martini, when she needed him most. It's no exaggeration to say that the mother-of-two and her family went through hell and back during the pandemic.
"My husband of 25-years had a widowmaker heart attack and died…twice…and was zapped back to life…twice," she told Newsweek. "Two weeks later our 7-year-old Landseer dog got an aggressive form of bone cancer that came out of nowhere and died soon after."
Martini, who lives in British Columbia, Canada, with her partner and their kids, 12 and 15, admitted: "The whole situation was, well, depressing."
Eager to lift the gloom by bringing a new dog into the home during lockdown, the family initially set their sights on getting a black Labrador puppy from a local breeder.
But with demand for dogs high at the time, Martini said they found themselves way down on a waiting list with the breeder while most others seemed to be selling puppies at "stupidly expensive" prices.
However, in an unexpected development, one of the breeder's female yellow Labradors ended up getting pregnant. "They were not planning on breeding her," Martini said. "A male got into her pen and suddenly there was another litter coming."
'Sherman the Tank'
That was how they ended up with Sherman who they later dubbed "Sherman the tank" on account of his destructive qualities.
"Labradors are amazing dogs but terrible puppies and he was no exception," Martini said. "He would bite and bite hard. We called him crocodile but that is how we taught him to bring things. He's wrecked most of his toys."
Despite this, Martini knew first hand how smart Labradors could be, having volunteered with the British Columbia Alberta Guide Dogs, where she noted them for being the "perfect mix of kind, trainable and hard working."
Having Sherman around during the pandemic proved a blessing to the family. "We lived by a dog park then and socialized him so much," Martini said. "He loves people and dogs though he has been known to lose his mind and chase a squirrel every now and then."
Since then the family have moved to a townhouse, with Martini taking up work as a seasonal plant expert while her husband has been busy losing what she describes as a "bassett hound of weight." It's a recovery she credits to having Sherman around noting that he has "kept off the weight by regularly walking our yellow labrador."
Despite his many successes, Martini said that Sherman has yet to attempt another climb up the armchair. That will come eventually. Now two years old, she said they are just happy spending time with their "amazing, smart, kind dog."