Russia on Friday pushed back against a report that claimed President Joe Biden offered Russian President Vladimir Putin a portion of Ukraine in order to end the ongoing war.
"That's a canard," Kremlin spokesman Dmitry Peskov said when asked by media about the report, according to TASS, the Russian state-controlled news outlet.
On Thursday, the Swiss-German newspaper Neue Zürcher Zeitung (NZZ) wrote that CIA Director William Burns had traveled to Moscow with a peace proposal from Biden that would see Ukraine giving up 20 percent of its territory to Russia. The newspaper's story followed an article by The Washington Post last month that said Burns had recently met in secret with Ukrainian President Volodymyr Zelensky in Kyiv, Ukraine.
However, Sean Savett, a spokesperson for the National Security Council, previously told Newsweek that the report from NZZ was not accurate. A CIA official also called the information "completely false."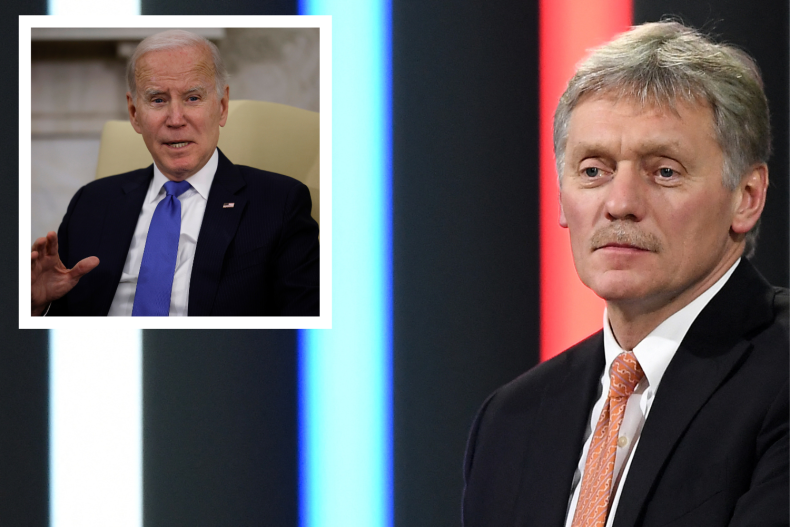 When asked another question on Friday about whether or not Burns met with Putin in Moscow last month, Peskov answered: "In January? All this news is a canard."
The Neue Zürcher Zeitung report comes as Russian officials have recently said that any negotiations for peace with Ukraine do not currently seem possible.
On Monday, Peskov told reporters that peace talks between Moscow and Kyiv "are now impossible since there are no conditions for them either de facto or de jure."
Earlier this month, Russian Foreign Minister Sergei Lavrov said that Moscow would be willing to consider peace negotiations, but added that Ukraine had not provided any serious proposals. "There can be no talk of negotiations with Zelensky," Lavrov said during a news conference, according to Reuters.
Reuters reported that Lavrov also brought up the 10-point peace plan that Zelensky introduced last November. The Kremlin official reportedly said the Ukrainian leader's plan was comprised of "completely absurd initiatives."
"As for the prospects for negotiations between Russia and the West on the Ukrainian issue, we will be ready to respond to any serious proposals. [But] we don't see any serious proposals yet. We will be ready to consider them and decide," Lavrov said.
Analysts have said that a major sticking point in any future negotiations between Russia and Ukraine will be the four territories Putin illegitimately annexed in September. Moscow has said the territories must be recognized as part of Russia, while Zelensky has stated the land must be returned to his country.
Crimea has also emerged as a stumbling block to peace talks. Zelensky in recent months has said he wants the peninsula, which was annexed by Russia in 2014 following a previous invasion, to once again be part of Ukraine.
Newsweek reached out to the Kremlin for further comment.