Kari Lake Teases New 'Shocking' Evidence to Overturn Arizona Election
Failed Republican Arizona gubernatorial candidate Kari Lake is teasing pivotal new evidence she claims "will wake [people] up" to alleged election fraud that caused her to lose her November election to Democrat Katie Hobbs.
Lake's new claims come as rumors abound of her intentions to run for Senate in 2024 against Democrat-turned-independent Senator Kyrsten Sinema. While she has neither confirmed nor denied the speculation, Lake blamed "the fake news" on Tuesday for attempting to distract from her continued legal battles.
Her election lawsuit has gained some traction in recent days, due to the Arizona Court of Appeals agreeing to expedite her case to be heard by February 1 rather than in March.
"We have evidence that has come to light that is very shocking," Lake told conservative commentator JD Rucker in a video posted on the Kari Lake War Room Twitter account. "I can't get into the details right now because I'm not privy to release it.
"We're double, triple, quadruple-checking it and I think it's earth-shattering evidence in our case and we're hoping to somehow get that to the courts because it is really shocking, the levels that they went to to cheat. And I believe that when additional evidence comes out, people will wake up—even people who have been reluctant to accept that there's any problem."
Lake has vowed to take her case to the Arizona Supreme Court and the U.S. Supreme Court.
During a recent appearance with former President Donald Trump in Mar-A-Lago, Lake used her pulpit to compare her situation to what happened in Donald Trump in 2020—even though Trump's repeated efforts to overturn that election never held up in numerous court cases.
"Sometimes something that appears very negative is actually a positive," Lake told Drucker. "Look at President Trump's stolen election in 2020. If we would have had just an average candidate we wouldn't have seen that election fraud, would we have? But we had such a superstar president running against such a deadbeat drip that it was so obvious to many of us. Some people still have their head in the sand."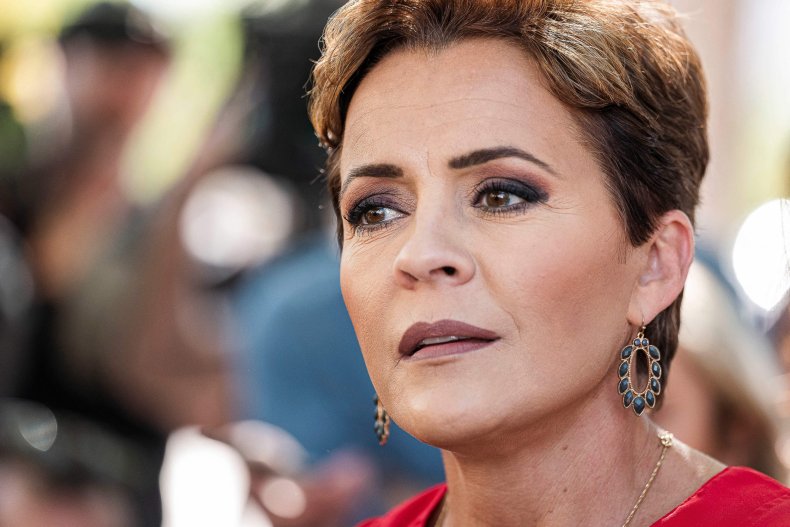 She also claimed that she "led the greatest political movement the state of Arizona had ever seen" and said "the steal had to be even bigger" due to the national and international attention her campaign drew.
"Even though it was painful, it woke us up to the fact that we don't really have elections; we have selections and that's a very painful pill to swallow, but it's one we have to swallow and deal with," she added. Now we're in the process of dealing with it and correcting it."
A survey released January 11 by website Blueprint Polling showed Lake with a polling advantage in the hypothetical three-candidate Senate race between her, Sinema and Democrat Ruben Gallego, a congressman representing the state's 3rd Congressional District.
Results showed Lake receiving 36 percent of support and Gallego receiving 32 percent of support. Sinema trailed considerably at 14 percent.
Gallego commented on Lake's Senate speculation, saying she could never run for such office without first admitting she lost her gubernatorial election.
"Arizona has a very strict resign to run law," he tweeted. "It's not possible for her to be Arizona's shadow governor and a Senate candidate at the same time."
Newsweek reached out to the Lake campaign for comment.