Failed Republican Arizona gubernatorial candidate Kari Lake has told her supporters to "mark your calendars" for a mysterious coming announcement.
Lake, who lost to Democratic Arizona Governor Katie Hobbs in November, has repeatedly made baseless claims that the election results were fraudulent in the months since her defeat. Her lawsuit to overturn the election outcome was dismissed last month by a judge who said that the complaint was bereft of any "clear and convincing" evidence.
On Friday, Lake told supporters to keep their eyes peeled for news that is set to arrive only days before an appeal of her election lawsuit is set to be heard by the Arizona Appeals Court on February 1.
"January 29th. Mark your Calendars. More details to come. Stay tuned!" she tweeted alongside an "eyes" emoji.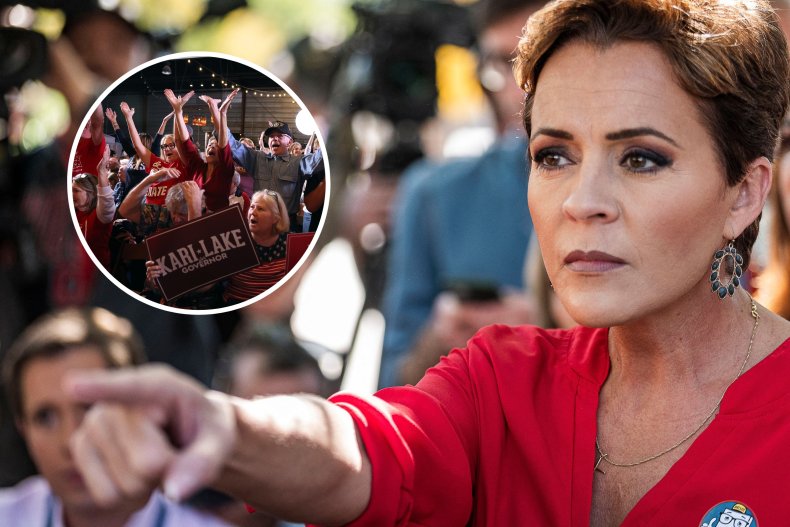 Lake's supporters responded to the tease, promising prayers, while at least one asked if the date would be her "inauguration day." Others responded by asking whether the announcement would involve "more losing" and ridiculing her as a "MAGA moron."
Some suggested that Lake could be planning to announce a 2024 bid for the Senate seat held by Democrat-turned-independent Senator Kyrsten Sinema. Lake recently blasted speculation over her Senate ambitions as "fake news" and a distraction from her ongoing 2022 fraud claims.
In the hours before teasing the date, Lake shared multiple tweets promoting conspiracy theories about "rigged elections." In one tweet, she claimed that Democrats and "RINOs," or "Republicans in name only," had stolen an election that "everyone" in her state "knows" she won.
"The Red Wave happened in AZ. Crooked Dems and RINOs rigged our Elections," said Lake in response to a tweet from election conspiracy theorist Greg Rubini. "EVERYONE knows Arizonans did NOT vote for Cartel-controlled goons like Hobbs, Fontes & Mayes. Frauds stole Arizona's state Government."
A video shared to the Kari Lake War Room Twitter account on Wednesday features Lake telling conservative commentator JD Rucker that "earth-shattering" evidence would soon "wake up" those who do not believe her election fraud claims.
"We have evidence that has come to light that is very shocking," she said. "I can't get into the details right now because I'm not privy to release it. We're double, triple, quadruple-checking it and I think it's earth-shattering evidence in our case.
"We're hoping to somehow get that to the courts because it is really shocking, the levels that they went to to cheat," she continued. "And I believe that when additional evidence comes out, people will wake up—even people who have been reluctant to accept that there's any problem."
Newsweek has reached out to the Lake campaign for comment.