Failed Arizona gubernatorial candidate Kari Lake took aim at people remaining "silent" on "corrupt elections" on Wednesday while responding to a blog post about Fox News' level of coverage of her election lawsuit.
Lake, a former news anchor who secured the Republican nomination in the Arizona governor race, lost to Democrat Katie Hobbs in the 2022 midterm elections. Though Hobbs has already been sworn in as Arizona's governor, Lake has continued to allege that the election results were fraudulent and refuses to accept the outcome of the race.
In December, an Arizona judge dismissed a lawsuit Lake filed challenging the midterm election results. Lake appealed her case to both the Arizona Appeals Court and Arizona Supreme Court. While the Supreme Court shot down her direct appeal, the Appeals Court agreed to expedite her case and is now expected to hear her challenge on February 1.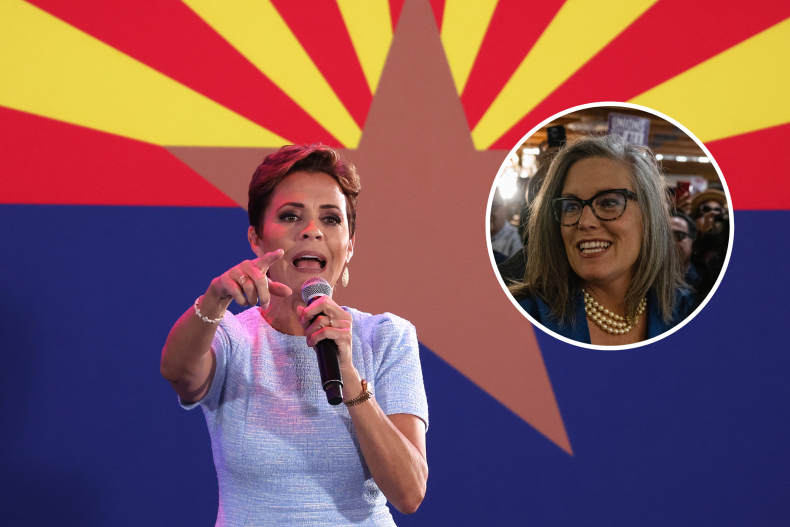 In the meantime, Lake appears to be taking issue with how Fox News has chosen to cover her election challenge. Lake shared a link to an American Thinker blog post from December 11 titled "Fox News MIA on Lake Lawsuit." The post said that from what its author had seen, Lake's lawsuit "wasn't given even one second of airtime" the night before on popular shows hosted by Fox News' Jesse Waters, Tucker Carlson, Sean Hannity and Laura Ingraham.
In the tweet where she shared the American Thinker blog post, Lake wrote: "Corrupt elections lead to Selections instead of Elections. This is THE Issue of our time. Yet the people who say they love America are silent."
Fox News has, in fact, covered Lake's lawsuit since it was filed. It has reported on new developments in the case such as an Arizona judge ruling that some of Lake's claims in the lawsuit could go to trial and that same judge ordering her to pay $33,000 in costs after dismissing her case to overturn the election.
Carlson, who hosts Tucker Carlson Tonight on Fox News, did have Lake on as a guest in December to discuss her lawsuit.
"When do we say we need to have our elections run fair?" Lake said near the end of the interview.
"I completely agree with you," Carlson responded. "And if you care about Democracy, this should be [at] the top of your list. I'm glad you're doing this."
An Arizona lawyer has also filed a petition aimed at getting a judge to void the order that dismissed her election challenge.
Newsweek reached out to Fox News and Lake's campaign for comment.