Karen Huger was full of revelations about her co-star Robyn Dixon's fiancé on the latest episode of The Real Housewives of Potomac (RHOP).
Huger, 59, and Dixon, 43, star on the Bravo show, which is currently in its seventh season, together, along with cast members like Gizelle Bryant, Mia Thornton and Candiace Dillard-Bassett.
The last few episodes of RHOP have followed the ladies as they traveled to Mexico to celebrate Ashley Darby's birthday, with fans watching as Huger and "friend of" the show Charrisse Jackson-Jordan's long-standing tension has boiled over.
Huger and Jackson-Jordan's feud led Dixon to question Huger on why she tends to deflect from discussing her real issues with her former friend, Jackson-Jordan, but this question caused Huger to retaliate by bringing up stories about Dixon and her fiancé.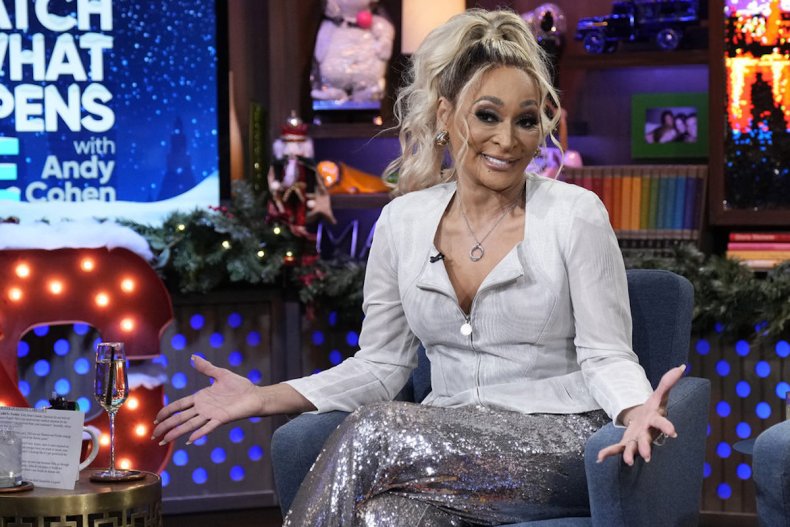 Robyn is currently engaged to Juan Dixon, who is also her ex-husband. The couple, who share two sons, first married in 2005 before splitting due to Juan's infidelity in 2012, and then got engaged again in 2019.
During the January 22 episode of RHOP, Huger claimed that Juan has a secret girlfriend who he has been seen holding hands with, and that Robyn knew about it. Juan and Robyn both denied this.
Huger then later told the group that, after one of the past RHOP reunions, Juan had asked her to join him and Robyn in a threesome. She also said he hugged her "inappropriately."
While at lunch in Mexico, Huger began her story by saying that at the RHOP reunion three years ago, Robyn and Juan said they were open to threesomes. Footage was then shown of Robyn saying, "hell no" when asked about being open to threesomes by the reunion host Andy Cohen.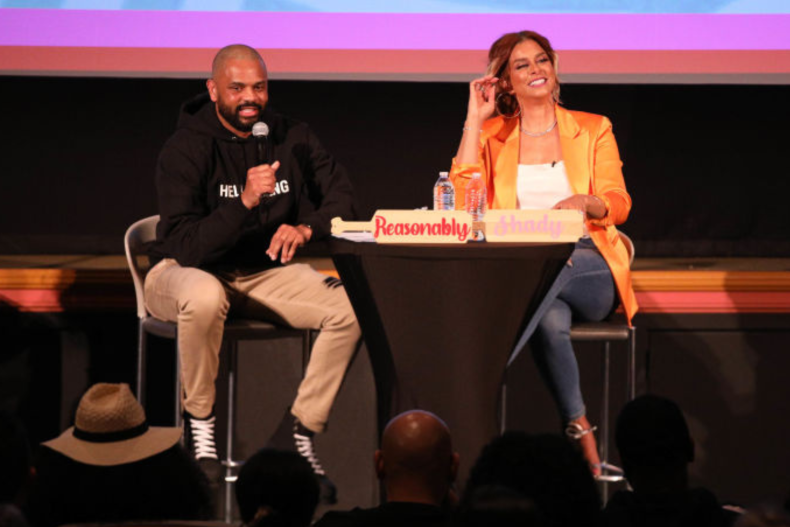 "So then we all go to dinner," Huger continued. "I said, 'Hi Juan, how are you doing?' and Juan proceeds to take me in his arms, squeezed me so tight my breasts went back to my vertebrae, and says to me, 'I want you to be the number three in the threesome.'"
The accusations were largely laughed off by the rest of the cast, with Jackson-Jordan calling them "delusional," though Bryant did tell the cameras in her confessional that Huger had told her the story before but hadn't said Juan was the man in question.
Huger's co-stars' response, or lack thereof, to her claims did not go unnoticed by fans, who called out the hypocrisy of some of the other cast members.
Viewers called back to Bryant's similar past accusation towards Dillard-Bassett's husband, Chris, who she says made her feel uncomfortable by coming to her hotel room to chat after the Season 6 reunion.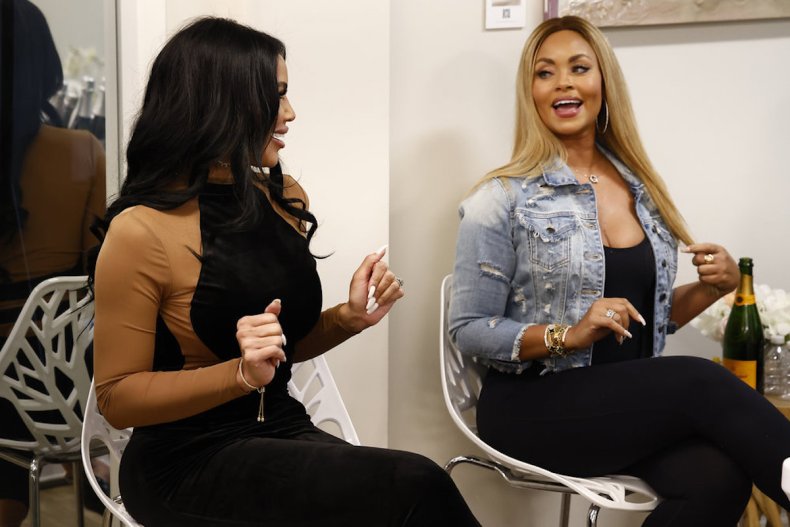 Fans pointed out that Bryant expected the women to listen to her story but didn't give Huger the same grace.
One fan posted: "I personally think they are both full of s*** but it's interesting that Karen gave Gizelle grace with the Chris situation, & Gizelle immediately disregards what Karen is saying. There is never any consistency with Gizelle or Karen—it's annoying #RHOP."
While another wrote: "So Gizelle believes everyone's story except when Karen says something, suddenly it involves Robyn/Juan and it just cannot be #RHOP."
"WAIT so Gizelle expects Candiace to believe that Chris ASKING her a question made her uncomfortable but Karen's claims are unbelievable? Nahhh Rolling Hills of Neck is the biggest hypocrite living #RHOP," added a third.
Similarly, another viewer said: "So let me get this right, Gizelle doesn't believe Karen but expects us to believe Chris made her feel [un]comfortable? Chileee make it make sense #RHOP."
"gizelle you see what karen did?? she actually had EXAMPLES of what made her feel uncomfortable and actually put reasons behind it. but continue to say chris made you uncomfortable even thought he didn't say anything or touch you inappropriately i guess [shrugging emoji] #rhop," wrote yet another Huger fan.
Newsweek has contacted representatives for Dixon for comment.
As is expected with Real Housewives, it doesn't look like this drama will be dying down any time soon.
In the preview for next week's episode, Dixon appears to be hosting her bridal shower but Huger and Wendy Osefo, who Dixon has had issues with in the past, are not included in the event.
The Real Housewives of Potomac continues Sundays at 8 p.m. ET on Bravo.