Kamala Harris Omitting 'Life' From Declaration Rights Speech Sparks Debate
Vice President Kamala Harris sparked a debate on social media after she omitted "life" from a speech addressing the rights that are mentioned in the Declaration of Independence.
Harris delivered a speech in Tallahassee, Florida, on Sunday to mark the 50th anniversary of Roe v. Wade, the Supreme Court case that for decades guaranteed abortion rights across the United States. However, the Court last year overturned the decision in Dobbs v. Jackson Women's Health Organization. As a result, several states quickly moved to ban or greatly limit the medical procedure, stifling access for millions of Americans.
Harris, a staunch supporter of reproductive rights, emphasized the importance of laws allowing for abortion during her speech, making a reference to the Declaration of Independence. The document, written in 1776, was drafted to officially declare independence from Great Britain and names three unalienable rights—life, liberty, and the pursuit of happiness.
"America is a promise. It is a promise of freedom and liberty—not for some, but for all. A promise we made in the Declaration of Independence that we are each endowed with the right to liberty and the pursuit of happiness," Harris said. "These rights were not bestowed upon us. They belong to us as Americans."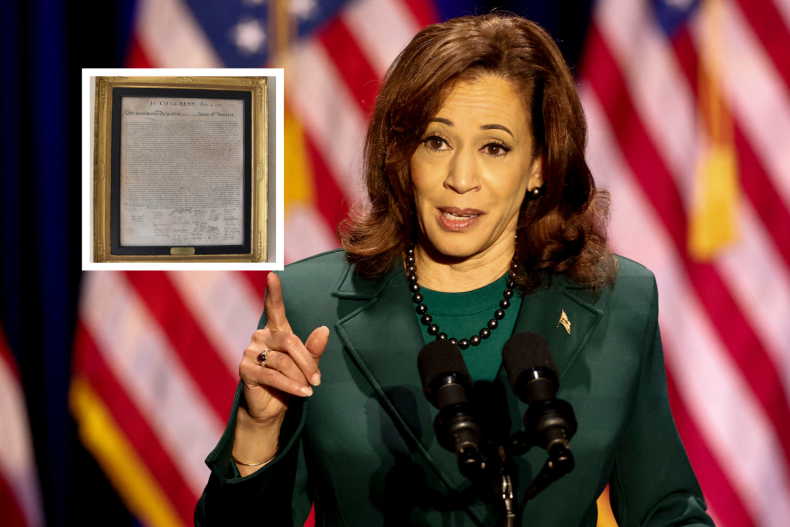 However, critics quickly pointed out that Harris did not mention the declaration's quote in full, omitting that it also describes "life" as one of three unalienable human rights. This omission prompted debate on Twitter, with several conservatives calling the vice president out for not mentioning it.
"Hey @VP, It's LIFE, liberty and the pursuit of happiness. We have the right to LIFE," tweeted Representative Lauren Boebert, a Colorado Republican, on Monday.
Commentator Catherine Hadro tweeted: "In her remarks for the 50th anniversary of Roe v. Wade ,@VP Kamala Harris conveniently leaves out the "right to life" when discussing the Declaration of Independence."
Representative Ken Buck, also a Colorado Republican, tweeted: "This is shameful. @VP doesn't get to rewrite the Declaration of Independence. It's "Life, Liberty and the pursuit of Happiness."
However, others came to Harris' defense, arguing that the Declaration of Independence never made a clear reference to abortion. Although conservatives sought to criticize Harris for not mentioning the the right to life, this line of the declaration is viewed by many historians as a reference to John Locke's Two Treatises of Government, in which he was writing about property, not abortion.
Furthermore, the Declaration of Independence is not legally binding, but is viewed as a philosophical framework for the U.S. government.
Amy Fried, professor of political science at the University of Maine, questioned conservatives' understanding of the document.
"The right to life in the Declaration of Independence has nothing to do with abortion and it's historically illiterate to suggest otherwise," she tweeted on Monday.
Author Landis Lain pointed out that women and people of color were not given equal rights at the time the Declaration of Independence was drafted, tweeting: "The Declaration of Independence only applies to white men. It does not mention women or children or fetuses at all. Thus, women and children have no right to life. That has been illustrated over and over again in this life in America."
Meanwhile, Twitter user Nick Peterson wrote: "The declaration of independence has no legal authority. It's a glorified break up letter from men who didn't want to pay their taxes. It also these inalienable rights were specifically stated to only include white men."
Newsweek reached out to Harris' office for comment.