Gisele Barreto Fetterman has shared an update about the health of her husband, Democratic Senator John Fetterman, after he was admitted to hospital on Wednesday.
"Friends, thank you to everyone who has sent good wishes our way during this hectic time," Gisele Barreto Fetterman wrote on Twitter on Thursday. "We are happy to share that there are no signs of a stroke the amazing doctors & staff @GWHospital continue monitoring and I'm so grateful to them and to all of you."
The senator was admitted to George Washington University Hospital on Wednesday after he started to feel lightheaded toward the end of a Democratic Senate retreat in Washington, D.C., according to a statement from his office.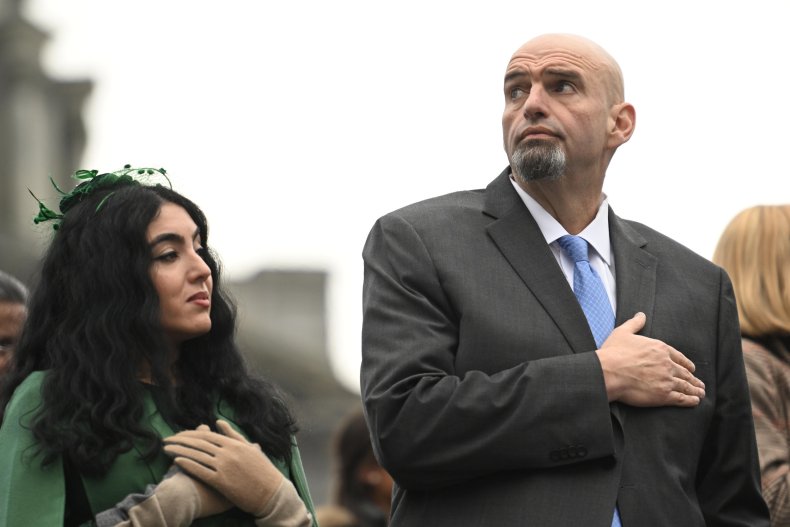 Fetterman's office issued another statement about the senator's health on Thursday, also confirming that there were no signs of another stroke. He had suffered a stroke in May 2022 while campaigning for the Democratic nomination for Senate in Pennsylvania.
Fetterman's communications director, Joe Calvello, said in a statement shared with news outlets that the senator had received the results of an MRI scan.
"According to John's doctors at The George Washington University Hospital, the results of the MRI, along with the results of all of the other tests the doctors ran, rule out a new stroke," the statement said.
"He is being monitored with an EEG for signs of seizure—so far there are no signs of seizure, but he is still being monitored."
Fetterman's office also said they would provide updates when more information becomes available.
The senator's office issued a statement on Wednesday explaining that Fetterman "began feeling lightheaded" during the Democratic retreat and that his staff "picked him up and drove him to The George Washington University Hospital."
"Initial tests did not show evidence of a new stroke, but doctors are running more tests and John is remaining overnight for observation," the statement went on. "He is in good spirits and talking with his staff and family. We will provide more information when we have it."
On Twitter on Thursday, Gisele Barreto Fetterman also shared a photo of her children, saying she was "grateful I get to do the fun days and the really hard days with this crew right here."
Fetterman's health has been the subject of scrutiny since he suffered a stroke in 2022 before the Democratic Senate primary in Pennsylvania, which he won.
Fetterman went on to defeat Republican Senate candidate and celebrity surgeon Dr. Mehmet Oz in the November election. The Oz campaign had sought to make Fetterman's health a campaign issue.
During his victory speech, Fetterman told supporters: "Health care is a fundamental human right. It saved my life and it should all be there for you whenever you might need it."