Joe Manchin Won't Rule Out 2024 Run: 'Everything Is on the Table'
Senator Joe Manchin, a West Virginia Democrat, said on Sunday that "everything is on the table" when it comes to 2024 in regard to a presidential run or a Senate reelection bid.
During an appearance on NBC's Meet the Press, Manchin spoke about his future saying, "I haven't made a decision what I am going to do in 2024. I've got two years ahead of me now to do the best I can for the state and for my country."
He added: "Everything is on the table. The only thing I can tell you is what I will do is whatever I can, when I make my decision what I think is the best that I can support and represent the people of West Virginia, but also be true to this country and the Constitution of this country." The senator also didn't rule out if he would run as a Democrat or a Republican.
Over the years, Manchin has been a reoccurring problem for the Democratic Party by repeatedly stalling legislation, and occasionally siding with Republicans. Most notably, he refused to vote for President Joe Biden's "Build Back Better" plan if it contained funding for climate change or increased taxes on wealthy Americans and corporations, The Washington Post reported last July.
Meanwhile, Jim Justice, West Virginia's Republican governor, said he is "seriously considering a run for Senate," in a potential blow to Manchin, the state's sole Democratic senator.
The governor made the announcement earlier this month and said he will "absolutely run through the finish line with being your governor," before saying he wanted to help West Virginia "in any way, whether it be the Senate or the House or the next governor-to-be, whatever it may be."
Political analyst Craig Agranoff told Newsweek on Sunday, "Manchin has not been considered a 'real' Democrat by many in the party due to his handling of recent issues."
He added: "Realizing the Republicans are going to try and flip the seat and hearing him say 'everything is on the table' alludes to the fact he could possibly consider switching parties. Democrats should be very concerned with this and start to try and keep him instead of smearing him in the press for his wanting to slow down spending."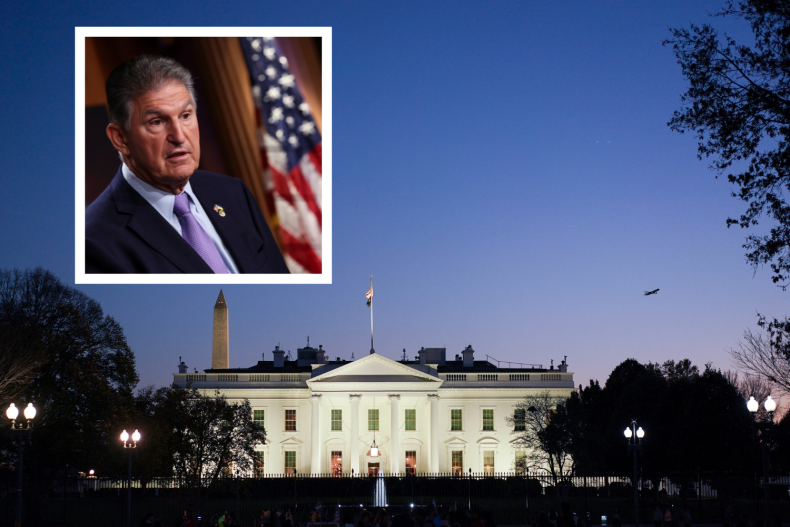 Manchin also spoke about Biden's future on Sunday and the job he has done thus far. When asked if he wants Biden to seek a second term as president, Manchin responded, "He'll have to make that decision. I think that is a personal decision."
The senator continued: "I haven't decided on anything I'm going to do until I see what the lay of the land is going to be at that time, because this country needs to unite, we need to come back together. I think he's [Biden] done a good job on so many factions on so many areas, I think there's a lot more to be done. I think he's been pulled to the left too far."