Joe Biden's Appointment of Jeff Zients as Chief of Staff Angers Both Sides
President Joe Biden's reported decision to appoint Jeff Zients as the new White House chief of staff after the expected departure of Ron Klain has sparked anger from both sides of the political spectrum.
Conservatives have responded to reports of Zients' appointment by resurfacing the sobering warnings the government official—then White House Coronavirus Response Coordinator—gave to unvaccinated Americans in December 2021, when the Delta variant was ravaging the country.
Zients said during a White House briefing that the unvaccinated were "looking at a winter of severe illness and death" for themselves, their families, and the hospitals they "may soon overwhelm."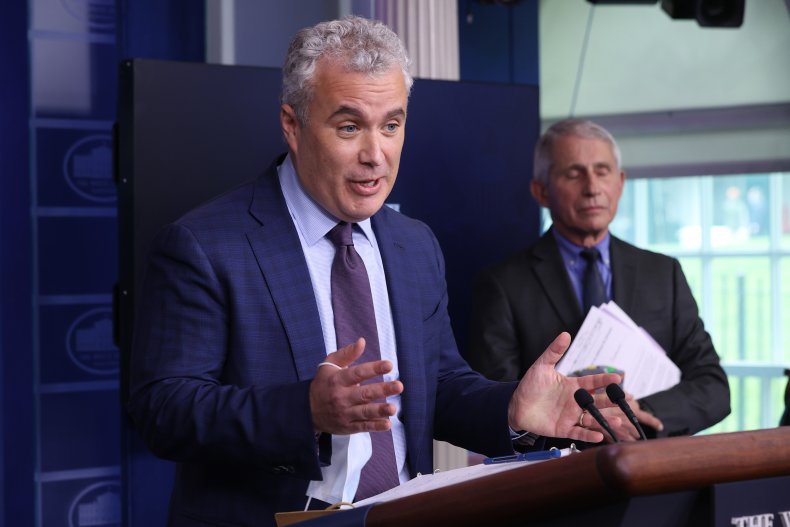 Steve Guest, a communications advisor for Texas Republican Senator Ted Cruz, shared a clip of the news conference containing Zients' remarks on Twitter on Sunday, introducing "Joe Biden's new Chief of Staff" with a quote from his warnings to the unvaccinated.
Former MLB star Lenny Dykstra shared a transcript of the same quote from the December 2021 press conference, commenting: "F*** Zients."
But the appointment of the Biden administration's former most senior coronavirus coordinator has also sparked the anger of progressives, who have condemned Zients for the massive personal wealth he has accrued during his years working in the private and corporate sectors.
After serving in the Obama administration in several roles, Zients—who at the age of 35 was named among Fortune magazine's prestigious 40 under 40 list—returned to the private sector, working for the likes of Facebook and Wall Street investment firm Cranemere between 2018 and 2020.
"Quite possible this is the day Ron DeSantis became president," Jeff Hauser, the founder and director of the Revolving Door Project, a project of the Center for Economic and Policy Research (CEPR) monitoring executive branch appointees, tweeted on Sunday.
Florida Governor DeSantis is considered a frontrunner to get the Republican Party nomination for the 2024 presidential election, though he has not yet announced that he intends to run.
In a later tweet, Hauser called Ziets "a predatory private equity executive."
Imani Oakley, who lost the Democratic primary for New Jersey's 10th Congressional District last summer, tweeted: "Can anyone explain to me what's progressive Biden's play on this one? I'm oh so sure there's a deeper plan here. A sort of greater good that just hasn't revealed itself outside of DC."
In 2021, Ziets reportedly had an accumulated wealth between $89.3 million and $442.8 million in assets.
"He built his wealth partly through healthcare companies that were forced to pay tens of millions of dollars to settle allegations of Medicare & Medicaid fraud," New York Times reporter Kenneth P. Vogel wrote on Twitter.
According to an article published by The American Prospect in April 2022, Zients "built his wealth through billing practices that have been alleged as fraud, triggering hundreds of millions in fines."
Newsweek reached out to the White House for comment.