President Joe Biden on Sunday said that he is monitoring developments of the mass shooting that took place in Monterey Park, California, on Saturday night, adding that he and his wife Jill are "praying" for the victims.
"Jill and I are praying for those killed and injured in last night's deadly mass shooting in Monterey Park. I'm monitoring this situation closely as it develops, and urge the community to follow guidance from local officials and law enforcement in the hours ahead," Biden tweeted.
At least 10 people have been killed in the shooting that happened at a dance studio, the Los Angeles County Sheriff's Department confirmed on Sunday morning.
Attendees at the studio were "pouring out of the location, screaming" when officers arrived, the sheriff department's Captain Andrew Meyer told reporters during a press conference.
Meyer added that 10 people have also been injured, and are currently being treated at the hospital with their conditions ranging from critical to stable.
Meanwhile, videos circulating on social media showed first responders handling the situation, with one clip showing a person being loaded onto a stretcher and into an ambulance. Another video on Twitter showed several law enforcement vehicles gathered at the scene.
The sheriff's department initially described the shooter as a male, but gave no further details, including a possible motive behind the shooting. Meyer later told reporters that the shooter has not been apprehended.
The suspect "fled the scene and remains outstanding," he said in his opening comments to the media.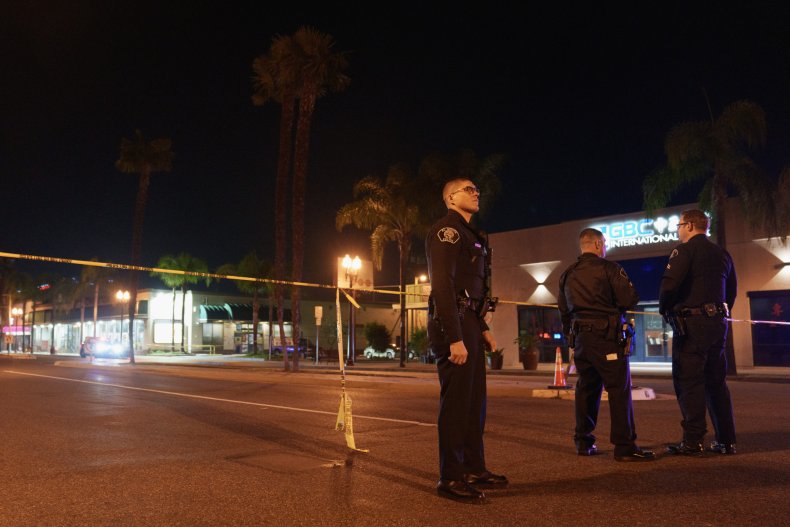 The shooting came amid Chinese Lunar New Year celebrations. The U.S. Census Bureau's data reports that 65 percent of Monterey Park residents identify as Asian American. The city had planned an entire weekend of celebrations for the holiday, which had attracted more than 100,000 visitors each day in previous years, according to the city's official page.
The events kicked off at 10 a.m. local time on Saturday and were supposed to continue throughout the weekend, but Monterey Park Police Chief Scott Wiese confirmed that Sunday's events have been cancelled.
He said the decision had been made "out of an abundance of caution and reverence for the victims."
In a statement, Kenneth Mejia, Los Angeles' city controller, said, "Our hearts go out to those who lost loved ones tonight in our neighboring city, Monterey Park, where a mass shooting just occurred. Monterey Park is home to one of the largest Asian communities in Los Angeles County and many were out celebrating the Lunar New Year."
Meanwhile, former President Donald Trump tried to use the fatal shooting to defend January 6 rioters who stormed the Capitol building in 2021, even though both events have no connection or resemblance.
"[Ten] dead in California shooting, horrible gun wielding ANTIFA protest against our great police in Atlanta – Nothing will happen to them despite night of rage and destruction," Trump's wrote on Sunday morning on his social media platform, Truth Social. "Yet our January 6th protestors, over a Rigged Election, have had their lives ruined despite nobody killed except true Patriot Ashli B. This situation will be fully rectified after 2024 Election. Thank you!"
Newsweek reached out to the White House and the Monterey Park Police Department for comment.
Update 1/22/2023, 1:09 p.m. ET: This article has been updated with additional information.