Joe Biden More Popular Than Donald Trump at Halfway Point of Presidency
President Joe Biden is more popular now than Donald Trump was at the same point during his term in office.
Friday marks two years since Biden took the oath of office on January 20, 2021 and at the halfway point of his term, the president's approval rating is several points higher than his predecessor's at the same stage of his presidency.
Polling analysis from poll tracker FiveThirtyEight found that Biden's approval rating stood at 43.4 percent as of January 19, while 51.3 percent of Americans disapproved of the job he was doing.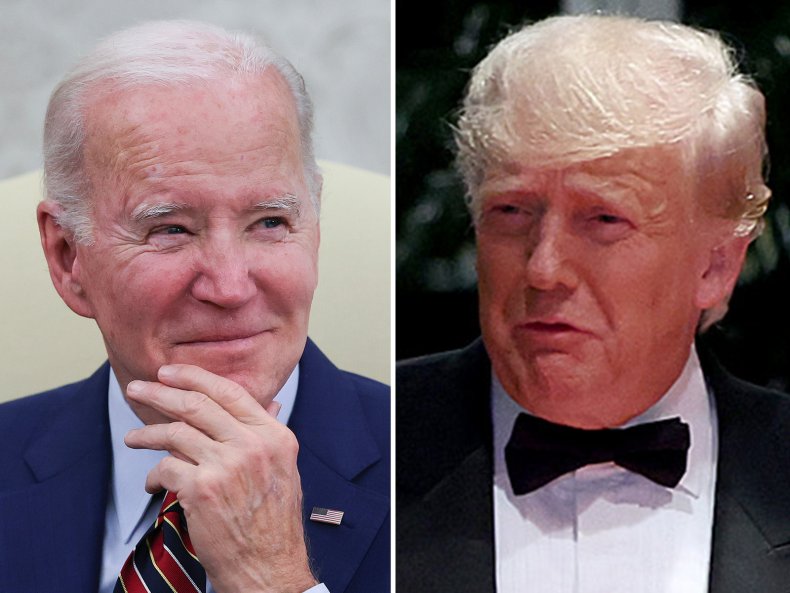 Those figures represent a slight improvement on December as Biden's approval rating was 43 percent on December 19 with 51.6 percent disapproving of him.
Though the president's approval rating is still in negative territory, he's performing better than former President Trump was when he marked the second anniversary of taking the oath of office.
On January 19, 2019, Trump's approval rating was at 40 percent, according to FiveThirtyEight, while disapproval of him stood at 55. 2 percent.
The slight improvement in Biden's approval rating will be welcome news for the White House as the administration braces for a difficult year that is likely to be marked by investigations by the new Republican majority in the House of Representatives.
Republican Representative James Comer, chair of the House Oversight and Accountability Committee, has sent a letter to Secretary of the Treasury Janet Yellen, seeking information about the Biden family's financial affairs.
Biden is also facing a probe by recently appointed Special Counsel Robert Hur, who will investigate the fact that classified documents from Biden's time as vice president were found at his home in Delaware and his former private office.
A Yahoo News/YouGov poll published on Wednesday found that 64 percent of Americans—and 52 percent of Democrats—favored Congress "investigating the classified documents found at Biden's home and post-vice-presidential office."
Trump, who has already announced his intention to seek another term in the White House, is also being investigated by Special Counsel Jack Smith over his handling of classified documents at his Mar-a-Lago residence in Florida.
The former president formally confirmed his presidential campaign shortly after the November midterms, though the primary process for both parties will not begin until early 2024.
Biden has not yet announced another campaign but he's previously said it was his intention to run again and that Vice President Kamala Harris would be his running mate.
Polling from Morning Consult on Thursday showed Biden defeating Trump in a hypothetical rematch in 2024 with 43 percent to the former president's 40, while 6 percent answered "don't know" and 11 percent supported someone else.
The survey was conducted among a representative sample of more than 6,000 registered voters from January 10 to 12 on the question of a potential 2024 matchup. The poll had a margin of error of plus or minus 1 percent.
Newsweek has asked the White House for comment.