A hilarious cat has gone viral on TikTok after attempting to make herself a coffee by putting a pierced pod in her water dish.
Sidney Morgan came into the kitchen to find her cat, Abby, had tried to create her very own morning coffee by putting one of Morgan's pods into her refilling water bowl. The video was shared by Morgan on her TikTok account, @sydnimini, on January 25, and it quickly amassed 3.5 million views.
After discovering her cat's newfound preference for caffeine, Morgan told Newsweek: "Abby likes to put toys in water but decided to grab a coffee pod. I keep a display of Keurig coffee pods on the counter and she picked it up with her teeth and that punctured it open."
The punctured seal of the coffee pod meant the caffeine flowed out into the water dish, creating Abby's very own morning coffee mix. Morgan wasn't quite sure what she was seeing when she first walked in, but realization quickly dawned on the cat owner. "I was confused when I saw brown water and then realized what had happened," she said.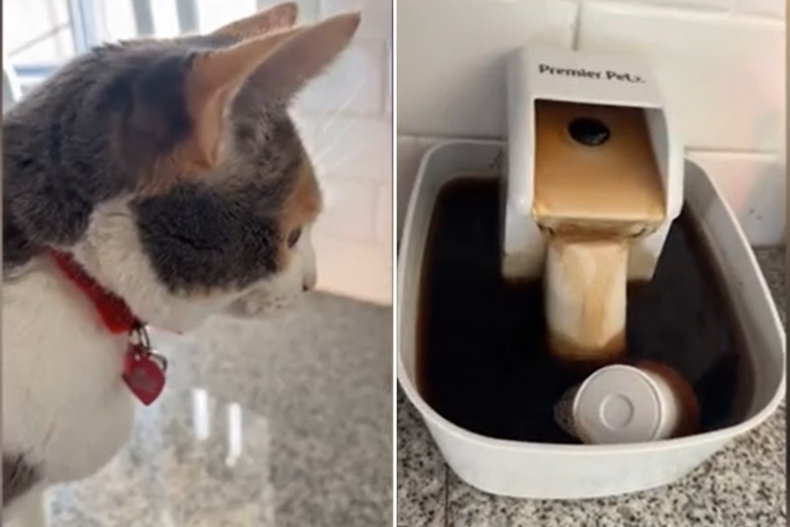 Fortunately Morgan was sure that Abby didn't actually drink any of her coffee creation as caffeine isn't safe for cats to consume.
According to advice from VCA Animal Hospitals: "pets that consume caffeine may have an increased heart rate and become hyperactive. They get jittery and restless and do not want to lie still." The caffeine has the same impact it would on humans, however due to the relative size difference, it only takes a tiny dose of caffeine to have a large impact on pets.
Serious cases of caffeine toxicity in pets can lead to raised blood pressure, cardiac arrhythmia, seizures and vomiting.
This is the first time Abby has put coffee in the water, as Morgan claims she usually does this with her toys instead. In the now viral TikTok video, Morgan can be heard asking Abby, "who made coffee for themselves? Who did it? Did you make coffee for yourself? You can't have that!"
With over 2,000 comments on the video so far, many people have shown their appreciation for Abby's ingenuity, as one person commented saying: "it's a catpacinno,"
Another person said that a "coffee fountain is actually a great idea," but not all the comments were quite so positive. Morgan explained: "People have been very concerned about my cat being on the counter, but I don't use that counter for cooking, and it gets wiped down daily."
Do you have funny and adorable videos or pictures of your pet you want to share? Send them to life@newsweek.com with some details about your best friend and they could appear in our Pet of the Week lineup.