Attorney Alan Dershowitz likened a potential indictment against former President Donald Trump to "segregation" during a recent interview on a conservative podcast.
Trump is facing a possible indictment in Manhattan District Attorney Alvin Bragg's investigation into a $130,000 payment allegedly made to adult film actor Stormy Daniels ahead of his 2016 presidential campaign in relation to an alleged affair between the two, which Trump has denied.
Prosecutors argue this payment should be probed to determine if it violated campaign finance laws, but Trump and his allies have denied wrongdoing and accused them of engaging in a politically-motivated "witch hunt" aimed at targeting his 2024 presidential bid. Over the weekend, Trump said he anticipated being arrested on Tuesday, though officials believe the arrest will come at a later date.
Dershowitz, who served in Trump's legal team during his first impeachment trial, compared the treatment of the former president to that of activists who fought for civil rights during the era of segregation. He made the remarks during an appearance on the Real America With Dan Ball podcast.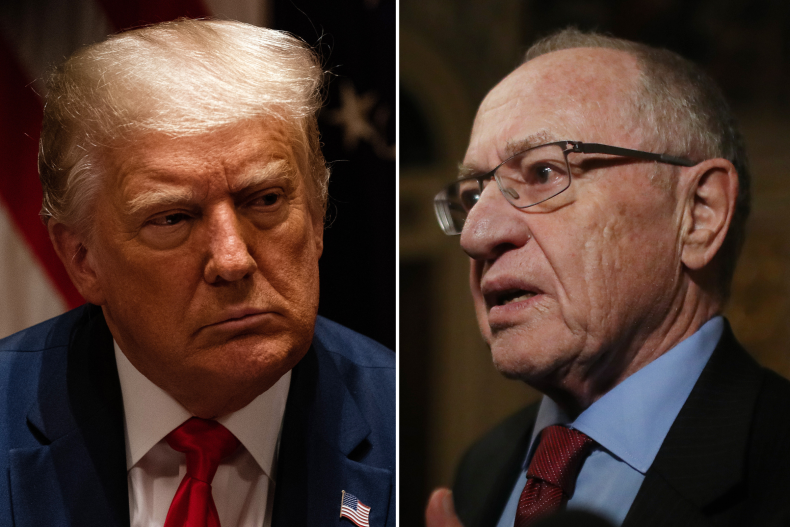 "Segregation prosecutors used to go after every civil rights worker, and they would tell the police, 'Find something on this guy. We've got to get rid of him.' And we civil libertarians all oppose that," Dershowitz said.
Although Dershowitz has long identified as a liberal Democrat, he has broken from his political party over the treatment of the former president in the justice system. He has said Democrats unjustly targeted Trump with legal investigations throughout his tenure.
He accused prosecutors targeting Trump of using similar legal tactics as segregationists.
"Now the same civil libertarians are all cheering Bragg on, saying, 'Please expand the statute. Get him. Get him at all costs. Don't worry about the Constitution,'" he said. "Do these people not realize that they're following in the footsteps of segregationists? People who they appall from the civil liberties point of view?"
Dershowitz expanded on his stance in a phone interview with Newsweek on Tuesday afternoon.
He said the comparison stemmed from his own experiences from his civil rights work. He said that while he trained to travel to the southern United States for civil rights work, he was warned not to even spit on the sidewalks or put out a cigarette because his work made him a "target."
"I've been allergic to targeted prosecutions, he said. "And they campaigned—both Bragg and [New York Attorney General] Letitia James—campaigned on the promise to get Trump, and then they just spent months and months and months rummaging through statutes in an effort to get him. And that's just not the way the American legal system is supposed to operate."
Dershowitz described Bragg's case as "about the worst case of prosecutorial discretion" he has ever seen. However, he said the other investigations into Trump, including probes into his conduct surrounding the 2020 presidential election and classified documents found at the Mar-a-Lago residence, are "much more arguable" and "legitimate."