Idaho Suspect Returned to Scene for One of These Two Reasons: Ex-FBI Agent
Bryan Kohberger, the suspect in the University of Idaho murders, may have returned to the scene of the crime for one of two reasons, former FBI agent Jennifer Coffindaffer said Sunday.
"Why, if found guilty, did #BryanKohberger return to the scene: "1-Was he looking for the sheath? Likely, in the frenzy, he had no idea where it fell. 2-Some murderers return to relive/watch response to their handywork. Examples: Chambers, Bundy, & Kemper," Coffindaffer tweeted.
On November 13, students Kaylee Goncalves, 21, Xana Kernodle, 20, Madison Mogen, 21, and Ethan Chapin, 20, were found fatally stabbed in an off-campus residence near the University of Idaho in Moscow, Idaho. According to the probable cause affidavit that was released by police, investigators believe the homicides occurred between 4 and 4:25 am.
Police also said that Kohberger's cell phone "utilized cellular resources that would provide coverage to the King Road Residence between 9:12 a.m. and 9:21 am."
Kohberger, a 28-year-old Ph.D. student studying criminal justice and criminology at Washington State University (WSU), was arrested on December 30 at his parents' home in Albrightsville, Pennsylvania, and charged with four counts of first-degree murder and one count of felony burglary.
Kohberger has maintained his innocence in the case, with his former public defender, Jason LaBar, saying in a statement that his client was "eager to be exonerated."
Coffindaffer told Newsweek on Sunday, "I believe Kohberger went back to look at the crime scene. I envision him waiting for the news to break, and out of sheer curiosity, I think he went back to revel in his crime."
When asked if she thought it would be difficult for the state to get a conviction against Kohberger, Coffindaffer said, "I don't think it'll be hard. I think he left breadcrumbs from his house to the scene of the crime. Like leaving the sheath behind and leaving his DNA on the sheath."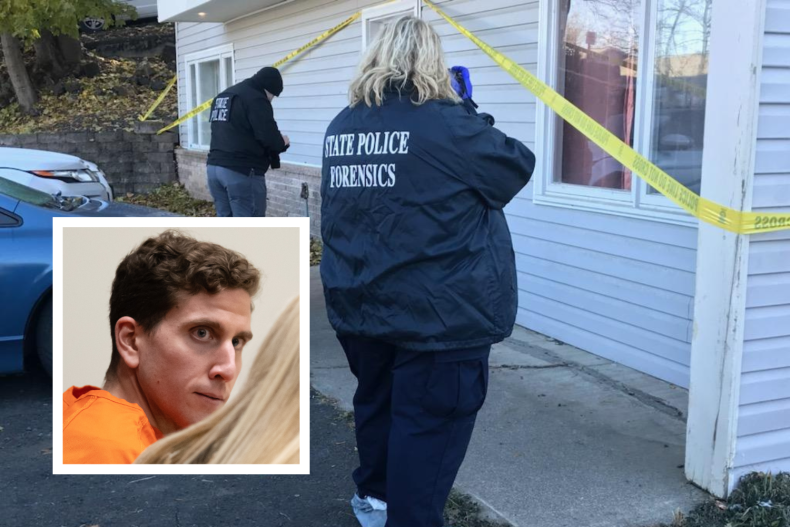 On December 27, before Kohberger's arrest, police in Pennsylvania recovered trash from his family residence, and sent it to a lab for testing.
According to the affidavit, the "Idaho State Lab reported that a DNA profile obtained from the trash and the DNA profile obtained from the sheath, identified a male as not being excluded as the biological father of Suspect Profile." The affidavit also said that at least 99.9998% of the male population would be expected to be excluded as the suspect's father.
Meanwhile, in a recently unsealed search warrant, police took one nitrite-type black glove, eight possible hair strands, one possible animal hair strand, and two cuttings from an uncased pillow that had a "reddish/brown stain," among other items from Kohberger's Washington state apartment.
The warrant also said no murder weapon was found, as police continue to search for the fixed-bladed knife that was used in the crime.