The suspected perpetrator of the grisly Monterey Park shooting appears to have bucked a growing trend among mass shooting suspects: age.
On Saturday evening, a mass shooting broke out in the predominantly Asian American Los Angeles suburb of Monterey Park when a gunman opened fire in a dance studio, killing 11 and critically wounding others. The venue had been hosting an event for the Chinese Lunar New Year holiday.
Following a search for the alleged shooter, police on Sunday confirmed that the suspected gunman, Huu Can Tran, 72, had been located in a white van roughly 30 miles southwest of Monterey Park in Torrance. He was found dead in the vehicle from a self-inflicted gunshot wound.
While further details about the alleged shooter continue to emerge, it can be determined now that Tran is the oldest mass shooting suspect in at least a decade, bucking the recent trend of suspects getting younger.
According to the Rockefeller Institute, the average age of mass shooters between 1966 and 2020 was roughly 33 years old. An increasingly large contingent of shooters is even younger than that, about 21 and younger.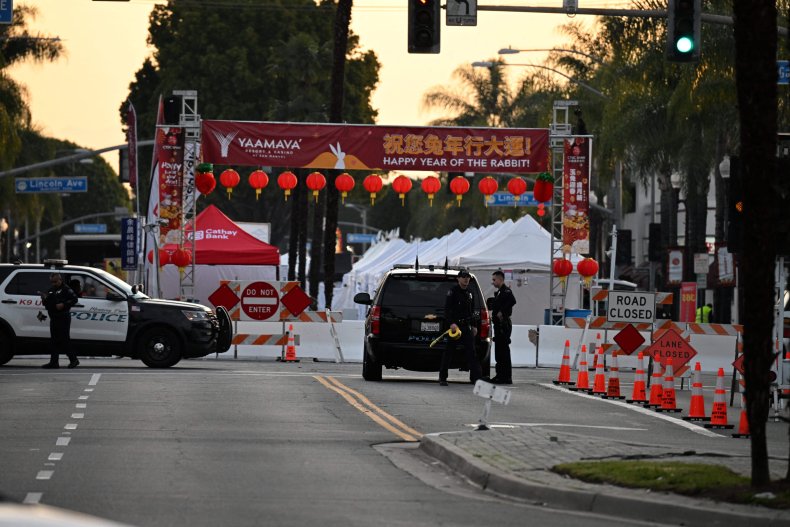 "We see two clusters when it comes to mass shooters, people in their 40s who commit workplace type shootings, and a very big cluster of young people—18, 19, 20, 21—who seem to get caught up in the social contagion of killing," Jillian Peterson, a criminal justice professor and co-founder of the Violence Project, told The New York Times.
Speaking with Newsweek, Peterson said that, at this time, there are too few instances of elderly mass-shooting suspects in the U.S. to define similar pathologies between them, as can often be done with younger and middle-aged suspects. While details about Tran's motives are slim, she did note that he may have shown signs of psychosis or other mental health issues.
Peterson also expressed concern over the possibility that older suspects might begin to act based on incidents like the Monterey Park shooting. In younger suspects, a "contagion" effect can often be observed, in which they are directly inspired by past shooters and pursue similar notoriety. As the Las Vegas shooting did not result in a notable uptick in older suspects, however, Peterson said that such a phenomenon has not taken hold yet.
A database maintained by the news outlet Mother Jones collects statistics about mass shootings in the U.S. and the alleged or convicted shooters involved in them. Most suspects on the list do indeed fall into the late-teens/early-20s or 40s-50s age groups, though some skew notably older.
According to the data, Tran is the oldest mass shooting suspect going back to at least early 2013. The second-oldest suspect in that timeframe was Robert Findlay Smith, who was 70 years old when he was accused of opening fire at St. Stephens Episcopal Church in Vestavia Hills, Alabama, during a potluck dinner in June 2022, killing three people, according to WBMA-LD.
A 2017 report from the Atlanta Journal-Constitution found around five notable suspects who were in their 60s, including Stephen Paddock, who was 64 when he carried out the deadliest mass shooting in U.S. history in Las Vegas.
In October 1981, William 'Okie' Bevins, a 70-year-old retired miner, shot dead five men and wounded three others in an attack on a store in Allen, Kentucky. A number of witnesses said it followed an argument with the wife of one of the victims.
As of Monday, Tran's potential motives have not been determined, aside from hearsay. Los Angeles County Sheriff Robert Luna said that all of the shooting's victims appeared to have been at least 50 years old, according to CBS News.
Newsweek reached out to experts at The Violence Project for comment.