Hunter Biden Staring Down the Barrel of at Least Two Committee Probes
House Republicans on at least two committees have the Biden family and their alleged compromising business ties in their crosshairs as part of long-pursued investigations ramping up in the new Congress.
The House Oversight Committee, led by Kentucky Representative James Comer, will likely take the reins by looking into both Hunter Biden and his father, President Joe Biden. Comer and other Republicans have questioned Hunter's "questionable foreign business dealings in Russia and Ukraine" for well over a year.
Previous probes launched by Comer and company have included questions about Hunter Biden's company allegedly receiving over $3 million in 2014 under a consultancy agreement with a Russian oligarch. Another one inquired about Hunter Biden's involvement in the 2016 sale of a cobalt mine in the Democratic Republic of the Congo, from an American company to a Chinese company.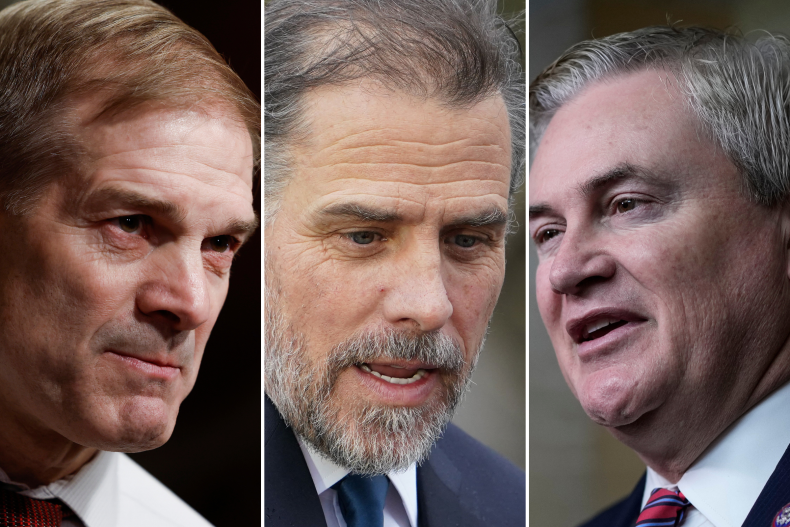 On January 11, Comer and his committee pressed Treasury Department Secretary Janet Yellen for information about the Biden family and "their associates' suspicious business transactions flagged by U.S. banks."
The House Oversight Committee has stated that investigations into the Biden family's domestic and international business dealings are meant to find out whether U.S. national security has been compromised, and if the president has the "ability to lead with impartiality."
"Members of the Biden family have a pattern of peddling access to the highest levels of government to enrich themselves, often to the detriment of U.S. interests," the committee states on its website. "We are committed to following the Biden family and associates' money trail—consisting of many complex, international transactions worth millions of dollars—and providing answers to the American people."
Comer added that evidence obtained by House Republicans "reveals Joe Biden lied to the American people about his involvement in his family's business schemes" and that "Biden family members sold access for profit around the world to the detriment of American interests."
New questions are being raised following the discovery of two separate batches of classified documents possessed by President Biden in a Pennsylvania think tank and at his Wilmington, Delaware, home.
Speculation on behalf of Republicans has coincided with a supposed background check form signed by Hunter Biden, indicating a monthly rent payment at an undisclosed property totaling $49,910 per month.
Comer previously told Newsweek that the documents discovered in a garage in the Delaware home are important because Hunter Biden indicated the Delaware residence was a personal asset and his residence as recently as 2018.
"We need to know if Hunter Biden's shady business partners located in China and Russia had access to these classified documents," Comer said.
Comer discussed the monthly payment Tuesday evening with Sean Hannity, who questioned the large amount being affiliated with the Delaware home—saying it would make more sense to subsidize real estate in California or Florida, for example.
Comer agreed that it "doesn't make sense," seeming to imply that the House Ways and Means Committee will look into tax records in the same manner Democrats did on former President Donald Trump.
Trump in a Truth Social post on Tuesday referred to the approximate $50,000 monthly payment as "just the beginning of one of the greatest political and money laundering Scams of all time."
Ohio Republican Jim Jordan, chair of the House Judiciary Committee, has also alluded to looking into Hunter Biden's laptop as part of a wider, overarching investigation into the FBI and its alleged censorship on social media platforms like Twitter.
The network has been widely accused of suppressing stories on the laptop, such as those originally reported by the New York Post, in the days prior to the contentious 2020 presidential election.
Georgia Representative Marjorie Taylor Greene, who on Tuesday was appointed to the House Oversight and Accountability Committee and the Homeland Security Committee, has previously tried to impeach President Biden and been vocal about the family's business dealings.
"The upcoming Republican led investigations into Hunter Biden's laptop are an investigation into Joe Biden himself," Greene tweeted in December.
Newsweek reached out to Comer and Jordan for additional comments.