How to Watch Lisa Marie Presley's Memorial Service at Graceland
A memorial service will be held for Lisa Marie Presley at Graceland on Sunday morning, and members of the public are invited to attend.
A member of Graceland's media team told Newsweek "thousands" of people are expected to pay their respects in person. Graceland will also stream the memorial live online.
The singer-songwriter died on January 12 at age 54. She was the only daughter of Elvis Presley.
The memorial service is scheduled to begin at 9 a.m. local time on Graceland's front lawn in Memphis, Tennessee. A procession to her grave at Graceland's Meditation Garden will follow.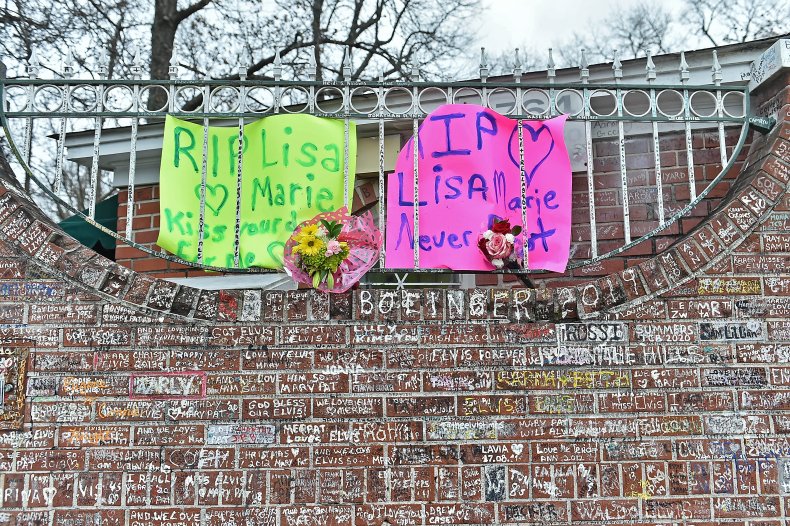 Members of the public who attend in person will be instructed to position themselves on the north portion of the lawn for the first part of the service, while the Presleys' friends and family members will gather in a seated section in the center of the lawn.
People will be able to start lining up to await entrance to Graceland at 5 a.m. on Sunday before the service begins. Before entering Graceland, everyone in attendance will be required to go through security screenings, which are set to begin at 7 a.m.
Tens of thousands of people paid tribute to Elvis Presley during a service at Graceland more than 45 years ago, with Rolling Stone estimating at the time that the number of mourners was close to 75,000.
In a Wednesday news release about his daughter's upcoming memorial service, Graceland said the space where members of the public will be able to gather can hold "hundreds of people," which means some mourners may have to wait outside the gates until the first part of the service is over.
The north portion of Graceland's front lawn will "be limited to standing room only, and once the area is full, fans will be asked to remain outside the gates until the procession to Meditation Garden begins," the release said.
Lisa Marie Presley's death was announced last week in a statement released by Graceland on behalf of the Presley family. Lisa Marie Presley's mother, Priscilla, said in an earlier statement that she was taken to a hospital in the hours before her death.
Part of a 911 call placed the morning of January 12 from Lisa Marie Presley's Calabasas, California, home has become public in the days since her passing. Officials with the Los Angeles County Fire Department have said paramedics attended to a woman at that residence who was reported by the caller as being "in full cardiac arrest," according to the Associated Press.
Two days after Lisa Marie Presley's death, the Los Angeles County Coroner's Office examined her body but deferred releasing an official cause of death.
The county's medical examiner "is requesting more investigation into the death, including additional studies" and will release a ruling at a later date, a spokesperson for the medical examiner told CNN this week.