How Joe Biden's First Two Years Compare to Donald Trump's
As Joe Biden marks 24 months in the White House, Newsweek looks at his achievements—and failures
The current president is credited by political experts with bringing expertise back into government
But the Afghanistan withdrawal, public discontent and recent controversies continue to raise doubts about whether he should run for office in 2024
Joe Biden has reached the milestone of two years as president. While those two years may not have been quite the rollercoaster that marked his predecessor's opening 24 months, it's been far from a smooth ride.
When Biden was inaugurated as 46th president on January 20, 2021, he was entering office in a heavily divided America which was still grappling with the devastating COVID-19 pandemic.
Over the course of the next 24 months, Biden has managed to surpass some of his critics' expectations—as seen with the 2022 midterm elections—and helped to push through a number of popular bills and relief packages, all while facing concerns about whether he should even lead the Democrats into the 2024 election.
He is also entering his third year facing a fresh controversy over the appearance of Obama-era classified documents at his Delaware home and an office in Washington D.C. that he previously used.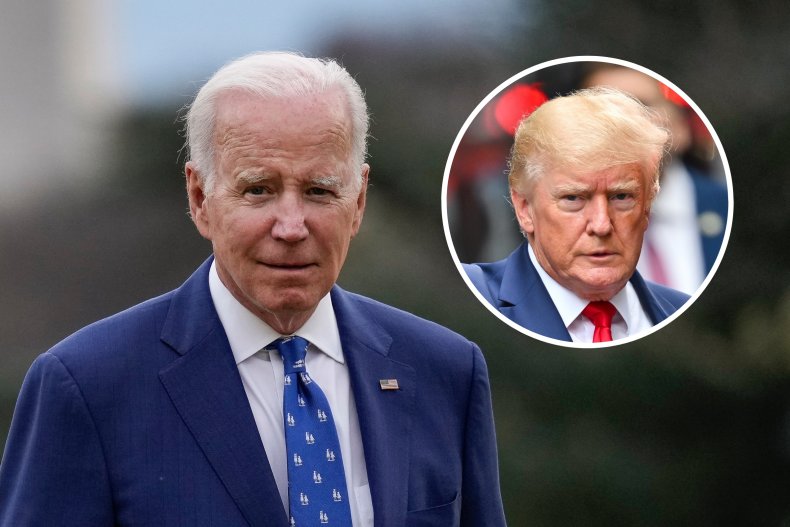 While it is the second half of Donald Trump's presidency which may be best remembered—which featured the January 6 attack, him being impeached twice, the outbreak of the coronavirus, and his 2020 election loss—his first 24 months in the White House were also marked by what one political expert described as "chaos."
Trump's First Two Years
In his first few days, the Trump administration falsely attempted to claim his swearing-in ceremony attracted the largest inauguration crowd in U.S. history, despite photos proving otherwise, then caused worldwide controversy by introducing a so-called "Muslim ban," preventing people of seven predominately Muslim countries from entering the U.S.
Trump's first year in office was also defined by special counsel Robert Mueller's investigation into allegations that his campaign colluded with Russia in the 2016 election. The claims were dismissed, but the Russia probe did bring forward convictions of Trump officials, such as former U.S. national security adviser Michael Flynn and campaign manager Paul Manafort.
Trump's first two years in office also featured high levels of cabinet and executive staff turnover, including that of Anthony Scaramucci, who lasted only 10 days as White House communications director before being fired in July 2017.
Bernard Tamas, associate professor of political science at Valdosta State University in Georgia, said that in its first two years the Trump administration was run by a group of "political amateurs" with Trump surrounding himself "sycophants with little idea of how to run a government," including members of his own family.
"It was two years of self-generated chaos with little policy output," Tamas told Newsweek. "In sharp contrast, the Biden administration has seen a return to government run by political professionals with vast government experience and policy expertise."
Trump began as the most unpopular new president in modern history, according to polling, and later recorded a near all-time low of 36 percent in August 2017.
The 36 percent approval rating came after the deadly neo-Nazi rally in Charlottesville, Virginia, in which Trump said there were "very fine people" on both sides of the violent clashes.
As noted by FiveThirtyEight's average poll tracker, Trump's approval rating was never above 50 percent during his entire time as president.
Biden, on the other hand, hit the ground running as soon as he became president. In the first few months he was frequently recording approval ratings in the low and mid 50s, helped by the passing of a $1.9 trillion coronavirus relief package in March 2021—one of the largest economic relief measures in U.S. history—as well as increasing the pace of the vaccine rollout.
When Biden entered office, less than 1 percent of the U.S population was fully vaccinated against COVID-19, albeit with the rollout still in its early stages. By March 2021, more than 10 percent of the population (33 million) was fully vaccinated.
Biden Loses Support
However, Biden's honeymoon period ended after he was severely criticized for the handling of the Afghanistan withdrawal in August 2021, when more than 180 people, including 13 U.S. service personnel, were killed in suicide bombing at Kabul airport just prior to the Taliban retaking the country.
Following the Afghanistan withdrawal, Biden's approval rating fell below 50 percent, and he has not been above that level since.
Biden's polling numbers continued to fall, reaching just 38 percent in July 2022, as the country grappled with decades of high levels of inflation and record-breaking gas prices in the wake of Russia's invasion of Ukraine.
Discussing both presidents' approval ratings, Tamas said that both Biden's and Trump's "consistently low" numbers in their first two years despite their different track records suggest the county has "entered a new phase in U.S. politics, one that is fueled primarily by partisan popularization and high levels of public discontent."
Biden's poor approval ratings led not only to concerns about whether he should run for office again in 2024, but also to predictions that the Democrats would be heavily punished in midterms.
In the end, it was the GOP that underperformed, only narrowly managing to achieve a majority in the House and failing to retake control of the Senate, as had been widely predicted.
Factors in the Democrats managing to avoid a "red wave" included voters being motivated to protect abortion rights after the Supreme Court overturned Roe v. Wade in June, and others being unconvinced by election-denying candidates endorsed by Trump in races across the country.
Even in the wake of the positive midterm results, Biden's approval rating has remained in the low 40s until his two-year anniversary as president.
Failed And Successful Policies
In terms of domestic policies, Trump did manage to push through a major piece of legislation—the Tax Cuts and Jobs Act of 2017. He also engaged in a number of international matters, such as ending the Iran nuclear deal and pulling the U.S. out of the Paris climate agreement.
However, Trump failed to repeal the Affordable Care Act, known as Obamacare, while the GOP was in control of the House and Senate. He also failed to make any real progress toward his much-hyped 2016 election promise to build a wall across the U.S.-Mexico border to control illegal immigration, instead merely managing to replace miles of existing barriers by January 2019.
Biden's domestic record is also mixed. The current president was left frustrated by his failure to push through his $3 trillion Build Back Better Act in the Senate, largely thanks to moderate Democrats Joe Manchin and Kyrsten Sinema.
However, a scaled-down version of the policy was eventually passed, with Manchin's approval, as the Inflation Reduction Act.
Since Afghanistan, Biden's foreign policy has been dominated by the Russia-Ukraine war, especially the issue of sending additional aid to Ukraine.
Thomas Gift, founding director of University College London's Centre on US Politics, said that Biden's first two years as president have been "rough-and-tumble," but he has succeeded in bringing back a sense of "normalcy" to Washington following the turbulent Trump years, as well as other other achievements such as the American Rescue Plan and the Inflation Reduction Act.
However, Gift said that Biden has so far failed in his goal of uniting the country.
"Biden hasn't figured out how to solve, much less alleviate, extreme partisan popularization afflicting the nation," Gift told Newsweek.
"If anything, the MAGA wing of the Republican Party has only radicalized during his tenure, and the Democratic Party also continues to face its own internal divisions. That Biden hasn't fixed what ails a divided electorate is neither surprising nor his fault.
"Nevertheless, as a benchmark that he set for himself, Biden hasn't delivered on his pledge to heal the country."
Biden's Future
Sean Freeder, an assistant professor of political science at the University of North Florida, said that a key difference between Trump and Biden's first two years are their "rhetorical" differences.
"Trump spoke in a confrontational and unfiltered manner, using Twitter to bypass traditional media channels, while Biden looks more like a traditional president who relies on occasional speeches and mostly less confrontational rhetoric," Freeder told Newsweek. "I do think that they are similar in that I would consider both presidents to be relatively poor public communicators for a variety of reasons."
Looking ahead, Freeder predicted that Biden may be placed in the "rough middle-of-the-pack" in the list of great U.S. presidents—in stark contrast to Trump.
"Biden has had enough significant legislative accomplishments to be seen as successful, but he will not be regarded as a Reagan/Clinton/Obama-like strong communicator, nor a Johnson-like master influencer within Congress," Freeder said.
"I will be interested to see how much credit presidential historians give him for his successes in the future, and how they will evaluate his international leadership.
"That said, Biden benefits tremendously from simply following Trump's act; in surveys of presidential experts, Trump ranks among the very worst presidents in American history, and I very much doubt that those rankings are going to change in the future."